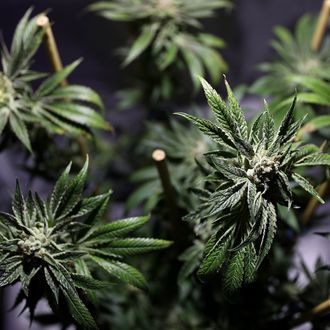 Odds are good California will join the list of states to legalize recreational marijuana use this November.
Photo: Justin Sullivan/Getty Images
To the surprise of no one who lived in or observed California back in the Age of Aquarius, the Golden State began the current U.S. movement toward legalizing cannabis products by authorizing medical marijuana back in 1996. But Left Coast weed fanciers suffered a blow when the first statewide initiative for legalizing recreational marijuana use, Proposition 19, lost by a 47-53 margin in 2010. A similar initiative will be on the ballot this November, an election official certified today.
A lot of different theories were advanced for the defeat of Proposition 19. Law-enforcement officials, both major political parties, and the Democratic and Republican candidates for governor all opposed it. Some popular impetus for legalization had been sapped by rapidly declining penalties for recreational use (it had basically become like a sporadically enforced traffic offense), and thwarted by the refusal of federal law-enforcement officials to defer to state or local laws in this area. There was also a notable lack of enthusiasm for Prop 19 in Northern California pot-growing areas, which feared a major takeover of the industry by medical-marijuana distributors or even big tobacco companies. And since no other jurisdiction had at that point legalized pot, there were a lot of fears about the legalization regime's feasibility. 
Finally, and perhaps most important, 2010 was a midterm election, which invariably brings out an older, more conservative electorate.
That will not be a problem this November. 
The sponsors of this new initiative have dressed it up with a lot more safeguards against minors' use of pot, and a lot more provisions to make effective state regulation of the pot industry possible. Its overall message is to suggest that, this time around, legalization will be "done right" — the official slogan is "Let's Get It Right, California" — with the experience of legalization pioneers Washington, Colorado, Oregon, and Alaska taken fully into account. The draft initiative prescribes harsh penalties for marijuana sale and use not authorized by the measure, and also bans pot advertising. But sponsors were also careful to include language encouraging deincarceration of people serving time for minor pot offenses, tapping the bipartisan criminal-justice-reform movement.
What hasn't changed is the early financial lead of the "pro" cause, provided again mostly by Napster founder Sean Parker.
Political sponsorship has grown, too. While lame-duck governor Jerry Brown still opposes pot legalization, his lieutenant governor and putative successor, Gavin Newsom, has made himself the public face of the initiative drive. 
The big question is whether public opinion has changed enough since 2010 that this new initiative — again, aided by the turnout dynamics of a presidential election year — will escape the fate of Prop 19. The latest detailed polling, from Public Policy Institute of California, suggests it has. In May, PPIC showed support for legalizing pot rising to 60 percent of likely voters (with 37 percent opposed), up from 56 percent in a March 2015 survey. Of the major demographic groups, Republicans and Latinos still opposed legalization, and there's the inevitable age gap (66 percent of under-35 voters favor it, as opposed to 48 percent among over-65 voters). But, in general, the outlook for passage is pretty bright barring some change in the overall political climate.
If California is to salvage its Summer of Love rep as a great place to get high, it needs to get a move on. Nevada, Maine, Massachusetts, and Arizona are also likely to have legalization ballot initiatives this fall. California doobie-lovers indeed need to "get it right" between now and November.