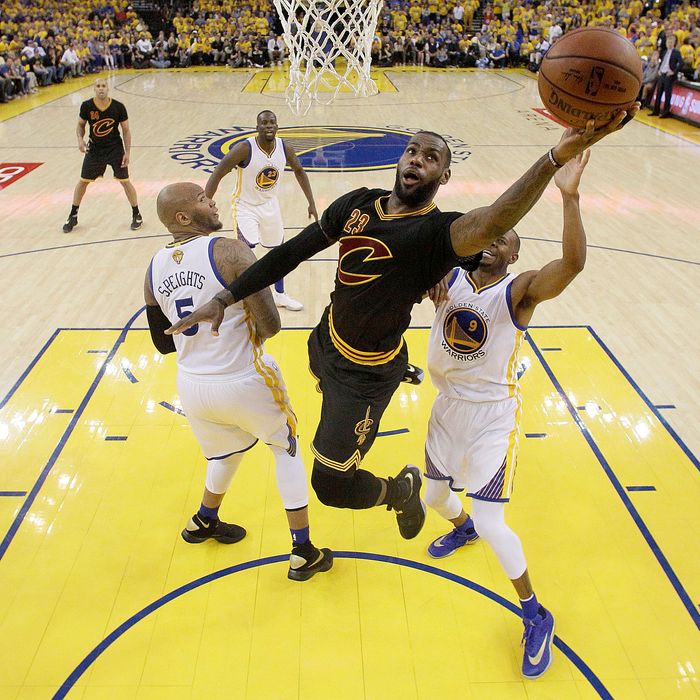 In Game 7, LeBron was unstoppable.
Photo: Pool/2016 Getty Images
So that definitely shouldn't have just happened. It's hard to even process. After the Golden State Warriors took a 3-1 lead in the NBA Finals on the Cleveland Cavaliers, that was supposed to be that: No team had ever come back from a 3-1 Finals deficit, and the Cavs were facing a historically good opponent in the Warriors, who won a record-breaking 73 games in the regular season. It didn't matter. On Sunday night, Cleveland won, 93-89, and LeBron James, who notched a triple double, was the reason.
Unlike every other game in the series, this one was tight all the way through. Kevin Love, invisible for basically the whole series, was huge on the boards in the first quarter — he had seven rebounds, four of them offensive, to go with five points. The Warriors got balanced scoring from their own stars — Draymond Green had seven, Stephen Curry six, and Klay Thompson five. It was 23-22, Cavs after one.
For basically the rest of the half, things stayed extremely close. Toward the end, Golden State was finally able to put some daylight between themselves and the Cavs — thanks in large part to Green's superhuman efforts. In what was likely the best half of his career — definitely so when you factor in the situation — he had 22 points on eight-of-ten shooting, including five-for-five from behind the arc. The Warriors went into the half 49-42, in large part because Cleveland went 1-14 from behind the arc in the first half. That trend would continue.
In the third quarter, Cleveland was able to build up a brief seven-point partly due to an 11-0 run keyed by a fair bit of Irving brilliance. His ability to flip in the ball from awkward angles over seven-footers might be unparalleled in the league — I feel like if you shot him out of a cannon directly away from a basketball hoop with a basketball in his arms, he'd figure out a way to effortlessly toss it over his shoulder and in. But by the end of the quarter, Golden State had erased that lead and was up 76-75.
The fourth quarter was incredibly tense, not because both teams were scoring a lot but because neither was — the last 12 minutes featured a lot of missed shots from the Warriors and stagnant offense from the Cavs, who fully embraced a "Let's have LeBron dribble up top until there's very little time left on the shot clock" approach.
Three key moments in the fourth, each involving one of the Cavs' Big Three, went a long way toward deciding the game. With 1:50 left, it was tied 89-89. First, James raced back on a Golden State breakaway for a devastating, mile-high block on Iguodala that is going to get replayed forever because it is a thing of defensive beauty. We should just call it the Block, because there is no other block quite like it: 
A minute later, Irving, after working Curry on the dribble on the right elbow extended, pulled up and hit a tightly contested three. Then, in one of the gutsiest moments of the Finals — and his career — Love, so frequently criticized and forgotten, found himself forced to guard Steph Curry on a switch. Nine times out of ten, Curry dazzles Love off the dribble and gets off a good shot, potentially tying the game. Not so here: Love's defense was stalwart, and for an incredibly tense five-second-or-so sequence, he prevented Curry from getting off a good look. In fact, Golden State did not score in the last 4:39 — a Thompson layup tied things at 89-89 and constituted the Warriors' final points of their season.
Soon it was over: 93-89. It's pretty hard to describe what the Cavs just pulled off. Again: It shouldn't really have been possible. Despite Irving's brilliance, this really is James's team. It was James orchestrating the offense, dribbling the ball at the top of the key during tough possession after tough possession against the Warriors' very tough defense. It was his brilliance that got his team open look after open look tonight — if things had gone the other way, one of the key story lines would have been how his teammates didn't take advantage of the numerous wide-open threes he got them (Cleveland ended with an abysmal 6-of-25 from behind the arc).
Instead, Cleveland gets its first major sports championship in 52 years, and LeBron can put to bed at least some of that silly, persistent chatter about whether he's really that great, about whether he should really be spoken of in exactly the same way we speak of Jordan and Johnson and Bird. He is, and he should be, and he showed it again tonight, despite poor shooting, gritting together a triple-double (27 points, 11 rebounds, 11 assists, and, oh my dear God, that block) that brought the trophy home. Maybe we can't yet talk about LeBron being the best basketball player ever — I'm sure talk radio will have plenty to say about that in the days to come — but for a 31-year-old, he's certainly on track.