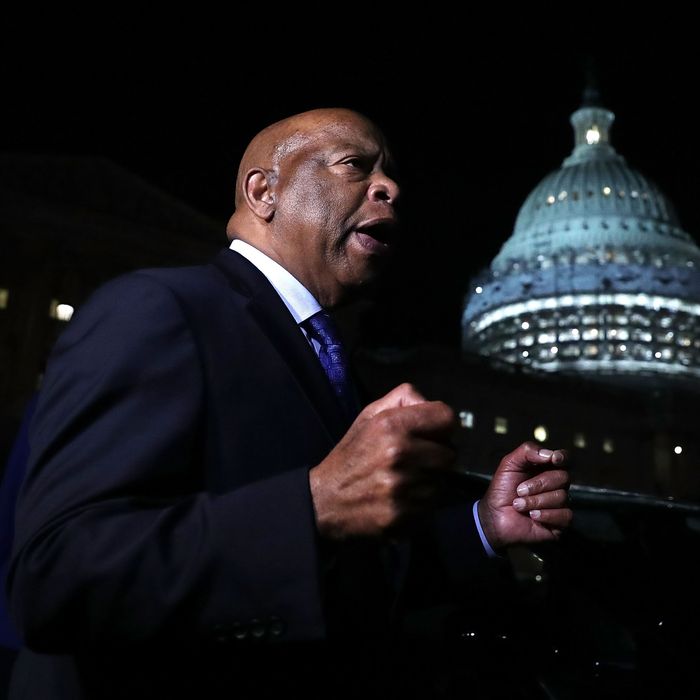 Representative John Lewis, who initiated the sit-in, spoke to protesters outside the Capitol.
Photo: Alex Wong/Getty Images
Democrats called off their gun-control sit-in Thursday afternoon — a protest that lasted more than 25 hours. Democrats had seized the House floor Wednesday, staging a sit-in that turned chaotic overnight, with lawmakers chanting over Paul Ryan and breaking into song as he attempted to resume House business, and one representative — Louie Gohmert of Texas — engaging in a shouting match with Democrats holding the podium.
Democrats held firm through Thursday morning, though the House had already adjourned for a long July 4 holiday — without any vote on gun-control legislation. Democratic lawmakers indicated that their protest was suspended but not over, and that they'd be resuming the battle once lawmakers returned to session. "We must never, ever give up or give in," declared Representative John Lewis, who kicked off the sit-in Wednesday. "We must come back here on July 5 more determined than ever." 
Lewis, who's well-known for his leadership during the civil-rights movement of the 1960s, called the sit-in to force a vote on two gun-control measures: one that would expand background checks to those who purchase guns at gun shows and online, and another that would allow the attorney general to keep anyone on the government's "no-fly" list from buying a gun, barring an appeal. "Sometimes you have to do something out of the ordinary," Lewis said as he began the sit-in. "There comes a time when you have to say something, when you have to make a little noise, when you have to move your feet. Now is the time to get in the way."
He and fellow Democrats continued the sit-in all day Wednesday, but as the hour drew later, tensions rose. House Speaker Paul Ryan attempted to regain the floor around 10 p.m. EST, but he was shouted down by chants of "No bill, no break!" as Democrats brandished signs bearing the names of shooting victims.
After being shut down, Ryan — who earlier called the sit-in a "publicity stunt" — walked off the House floor.
As he walked out, cameras and microphones in the chamber (which are controlled by the majority party) were turned off, effectively keeping C-SPAN from broadcasting the sit-in. But representatives used their phones to stream video to sites like Periscope and Facebook Live, and C-SPAN circumvented the blackout by picking up those live streams and broadcasting them instead. (This is the first time C-SPAN has ever broadcast Periscope feeds.)
Recording devices aren't technically allowed on the House floor, but Democrats held on to their cell phones despite the rule. According to the Chicago Tribune, Representative Tammy Duckworth — an Iraq War veteran — "removed her leg prosthetics and secreted her smartphone inside one of them so the phone wouldn't be taken away."
About a half-hour after Ryan walked out, House Democrats broke into the popular protest anthem "We Shall Overcome." 
As the night progressed, tensions flared. When noise in the chamber began to rise, one congresswoman said, "I know it's hard, but try to have some respect for your colleague." Minutes later, Representative Louie Gohmert of Texas confronted one of the speakers, shouting, "Radical Islam killed these people."
Names of Democratic speakers continued to be announced throughout the night, and each lawmaker discussed gun control in America and vowed not to leave the chamber until Republicans agreed to vote on both measures. Many shared personal stories about constituents, friends, and family members affected by gun violence, and Representative Debbie Dingell gave an impassioned speech about being threatened at gunpoint as a child.
Michigan representative Sander Levin, who told the House he began pushing for gun control just after the Kennedy assassination, said the sit-in felt like a watershed moment. "I think this may turn out to be a Selma-like moment relating to gun violence in the United States of America," he said. "Gun violence in this country needs a turning point, and we Democrats are going to stay here until it happens." 
Some, like Representative Stephen Lynch, said they were uncomfortable with the idea of breaking the rules, but their caused justified it. Lynch, a Democrat from Massachusetts, called himself a "rule guy," and said that when Lewis first approached him with the idea of a sit-in, he hesitated. "But when they shut off the cameras and they shut off the microphones," he said, "well, then it's time to get into some good trouble."
As Wednesday night turned into Thursday morning, lawmakers brought pillows and blankets into the chamber, and Senator Elizabeth Warren made a Dunkin' Donuts run.
Meanwhile, hundreds of protesters gathered outside the Capitol building to show their support for the lawmakers within.
The House reconvened at about 3 a.m. EST not to vote on either gun-control bill, but to rule on a bill that would fund the ongoing fight against Zika. The House approved $1.1 billion to fight the virus — far less than Barack Obama's requested $1.9 billion — and Republican representatives left Capitol Hill to reassemble in July.
Democrats were understandably displeased. "The Republicans are leaving town with unfinished business," House Minority Whip Steny Hoyer told reporters outside the Capitol as officials closed the doors to the House. "The American people should not be happy about that, and I don't think they will be happy about that, and you bet your sweet life the fight will continue."
Hoyer also suggested, after the sit-in, that Democrats, at least, would be working over their holiday break, trying to drum up support among constituents in their districts for these measures. 
This post has been updated throughout.