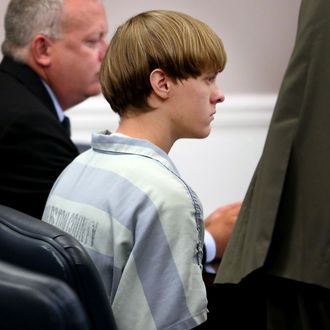 Dylann Roof appears in court.
Photo: Grace Beahm-Pool/Getty Images
Dylann Roof, the perpetrator of the mass shooting at a black church in Charleston, South Carolina, last year, has asked to waive his right to a jury trial. In court documents filed Thursday, Roof stated that he wished to be tried and sentenced by the court instead, Reuters reports, although he did not give any explanation. Federal prosecutors said they would not consent to Roof's request "at either stage of this case."
The 22-year-old defendant, who shot and killed nine black parishioners attending a Bible-study session at Charleston's Emanuel African Methodist Episcopal Church in a racially motivated attack last June, is facing trial in both federal and state courts, with prosecutors in both cases seeking the death penalty.
In the federal trial, set to start November 7, Roof is charged with 33 counts including hate crimes, obstruction of religion, and firearms offenses. His state trial for murder and attempted murder will begin in January, with jury selection scheduled for December.