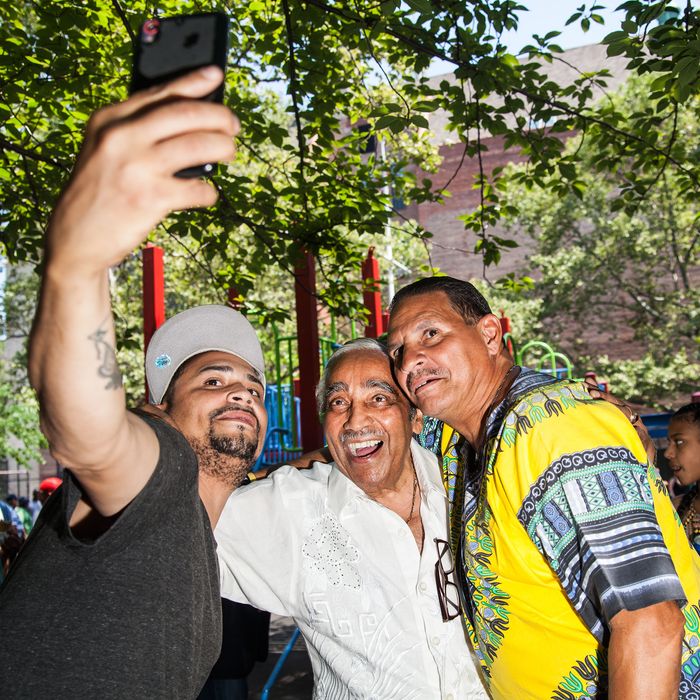 A Rangel selfie at a Father's Day block party in East Harlem.
Photo: Konstantin Sergeyev
It was nearing ten o'clock on Saturday night, and hundreds of alumni of Alpha Phi Alpha, the nation's oldest African-American fraternity, were gathered in black tie at Terrace on the Park, a gaudy 1960s-era banquet hall in Queens, for the annual Juneteenth Gala
dinner.
Among the honorees was Charlie Rangel, dressed in a sparkling white tuxedo jacket. Just past his 86th birthday, Rangel — recipient of a Purple Heart and Bronze Star for leading his unit for three freezing days behind enemy lines in the Korean War, founder of the Congressional Black Caucus, survivor of scandal and censure that would have felled lesser politicians — stood up to the microphone. He talked about his own life, coming from a broken home, and finding support and strength in a black fraternity when he returned home from the war. He told the alumni that they were blessed that Donald Trump had emerged as the Republican nominee, since "he exposed the racism that exists in this country," and that even if they didn't march with him and Martin Luther King in Selma, they could tell their children they saved the nation from an even greater threat by registering voters in this election.
The room stood to applaud. Rangel gathered the statue that had been given to him, shook a few hands, and made his way back to his seat.
And then he collapsed.
The room gasped. Half a dozen people rushed to help him up, but Rangel stayed on the ground a moment longer, before getting up, waving to the crowd, and making his way, on his own, back to his seat, the award broken in two pieces. (Rangel later said he tripped over something but wasn't sure what.)
The next afternoon, Rangel is dancing across a playground in East Harlem, seemingly fully recovered from whatever ailed him the night before. It is a neighborhood Father's Day party, and Rangel shimmies while 1970s soul classic "Let Me Be Your Rockin' Chair" blares in the background. He twists his hips and punches the air.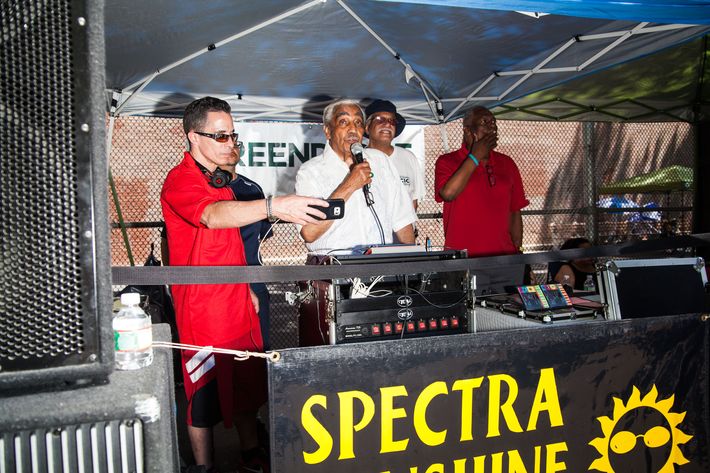 This is how Rangel has spent all of his Sundays for the past 45 years, going from block party to barbecue to senior center. Wherever ten or more voters have gathered, a visit from Rangel is likely. In an era in which distrust of politicians runs deep, the reception Rangel receives on these neighborhood tours seems like something more befitting a cultural icon.
Old men jump up from their domino game, put down their Coronas, and rush to him. "1972, you got me my first summer job," says one, then tries to remind Rangel of another time he ran into him, downtown, sometime in the 1990s. Rangel feigns a memory. A pair of young toughs sitting on the back of a park bench barely nod their heads when he walks by, but kneel in the front when a group gathers for a photo. "We are going to miss you!" says one middle-aged woman as she goes in for a hug and a photo (she estimates she already has 30 or so photos of herself with the congressman at home).
"I'm not going anywhere!" Rangel barks back.
But Rangel is going somewhere. After 23 terms in the House, the dean of the New York delegation is at last retiring. Today marks the first Democratic primary in more than four decades that voters in New York's 13th congressional district have not been able to cast a ballot for Rangel. The Harlem political graveyard is full of would-be Rangels, aspiring members of Congress who thought they could wait out Rangel's reign. For 40 years, Rangel ran virtually unopposed. Then, in 2010, a series of scandals led him to become only the sixth member of Congress censured by the House in 120 years, and President Obama shoved him toward the exits.
"These allegations are very troubling, and you know, he's somebody who is at the end of his career," Obama told an interviewer. "I'm sure that what he wants is to be able to end his career with dignity."
Rangel, sitting in the leather-upholstered front seat of his luxury Chrysler in between events, suggests reluctance. "I don't want to get in a pissing contest with the president."
He proceeds to get into a pissing match with the president.
"But I don't know anyone in the House or the Senate that knows Obama well enough to answer the question 'Why did he say what he said?' I can't think of anybody that he has embraced politically, and that is true for Democrats, Republicans, white or black. And so his remark to me is like a pimple on an elephant's behind, if you are going to ask why he is that way."
In 2012, taking advantage of new district lines that had extended the district beyond Rangel's native Harlem and into the Bronx, and an influx of immigrants and gentrifiers into what was once the capital of black America, Adriano Espaillat, a hard-charging Dominican state lawmaker, came within a thousand votes of beating Rangel in the Democratic primary.
And even though Rangel made it to the House by knocking off the legendary Adam Clayton Powell Jr. in 1970, he still takes the presumption of Espaillat personally.
"He ran against me because I was in the hospital," Rangel said, referring to the back injury that laid him up for several months back in 2012. "He would call the hospital and say, 'Don't worry about the rumors.' He thought I had cancer."
After the back injury, Rangel faced a staph infection that nearly killed him. He said it was then, lying alone in the hospital, that he decided it was time to retire — after he gave it one more go in order to set up his chosen successor, Keith Wright, with time to lay the groundwork for his own campaign. 
"I don't remember, except in combat, ever being alone with myself, with nobody," says the Korean War vet. "I had more time in the world to think about things other than legislation and politics. It was just me. They weren't on the agenda."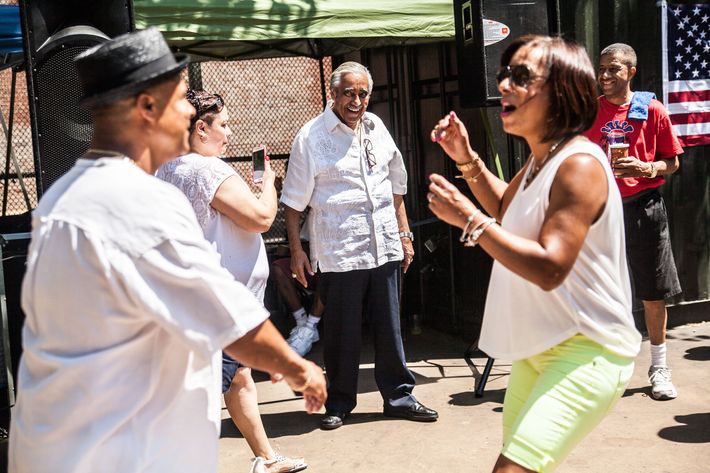 Espaillat ran again in 2014, and Rangel, now fully healthy, beat him by about a thousand more votes than he had the previous election. This time, Espaillat is facing Wright, a state assemblyman and the chair of the Manhattan Democratic Party. Rangel is as involved in Wright's campaign as he was in his own — he helped nudge aside would-be challengers to his chosen heir, and keeps a folded-up print-out of Wright's daily schedule in the front seat of his car to keep tabs on his protégé's movements.
Rangel doesn't much like to discuss it, but it is hard not to read the upcoming Wright-Espaillat campaign as a battle about the future of Harlem. The congressional seat that Rangel held for 46 years was created in 1942 in order to elect an African-American to Congress. Rangel and Powell have been the only two people ever to hold it. Year by year, though, the neighborhood's historical black voting base has been nudged aside, either by white gentrifiers thrilling to its brownstones, or the immigrants from the Dominican Republic and points south whose numbers have swelled in recent years.
In the race's final days, these racial tensions have burst out into the open, with Wright and the Reverend Al Sharpton accusing Espaillat of attempting to "suppress" the black vote, and Espaillat, who long suspected that Board of Elections shenanigans were responsible for his earlier losses, calling on the Justice Department to monitor the election.
"Historically we have always had an anchor in this community," Rangel said. "It's a historic legacy."
When he first came into office, parents crossed the street to avoid taking their kids to school past empty lots full of rats, and the city painted fake metal windows on abandoned buildings to make them look occupied, he recalls. "Everybody knew somebody that had been mugged that week," Rangel says.
Things began to change when Rangel, along with Bill Clinton, ushered in the Upper Manhattan Empowerment Zone. Crime went down, too, helped in part by Clinton's 1994 crime bill. Rangel originally opposed that, but relented after pressure from the White House and local ministers. He later urged Hillary Clinton to move to New York and run for the Senate, and served as one of her top surrogates in that campaign.
And he has looked on with dismay as the current crop of civil-rights activists and supporters of Bernie Sanders have pinned the fault of the crime bill on her.
"What was her role?" he shouts. "She was married to the president! What the hell she had to do with the crime bill? Nothing! Who gives a damn whether Obama's wife, Michelle, supports anything?"
What about the time Clinton warned of a new generation of "super-predators" that would roam the streets with impunity if it were not for her husband's tough-on-crime measures, a comment that, two decades on, carries more than a tinge of race-baiting?
"Now you really are looking for something. In the course of defending her husband she made some stupid statement," he says. "Are you really going to charge her with the passage of the bill? Hell no!"
Foremost among those who have been guilty of saddling Hillary Clinton with her husband's actions, in Rangel's view, is Bernie Sanders.
"He is a socialist Democrat. I don't know anybody that is a socialist Democrat. I never had a conversation with Bernie Sanders about anything, and I don't know anybody in the House that has had a conversation with him," he says. "I have never been involved in a civil-rights struggle or a campaign for any Democratic issue that Bernie has been involved in."
Hillary's struggles, he adds, are easy to explain.
"Clinton is Clinton is Clinton. This is a bad year for political credibility. C'mon, so some guy gets out there on the street corner and says, 'Free college, free health care, free this and free that, peace in the streets.' Hell, sounds good to me. Everything he says sounds good to me. I don't remember him doing anything about it over the last 46 years — but what the hell."
Although Rangel was instrumental in getting Clinton to New York to run for the Senate, and stumped on her behalf, he has been unwelcome on the trail for her in 2016. Even Fox News, which delighted in having the brash Democrat on when he was mired in scandal, has ceased asking him to weigh in on the news.
Which doesn't mean that he can't swing the hammer on the GOP.
Trump, he says, is just taking up the mantle of Richard Nixon's race-driven "southern strategy."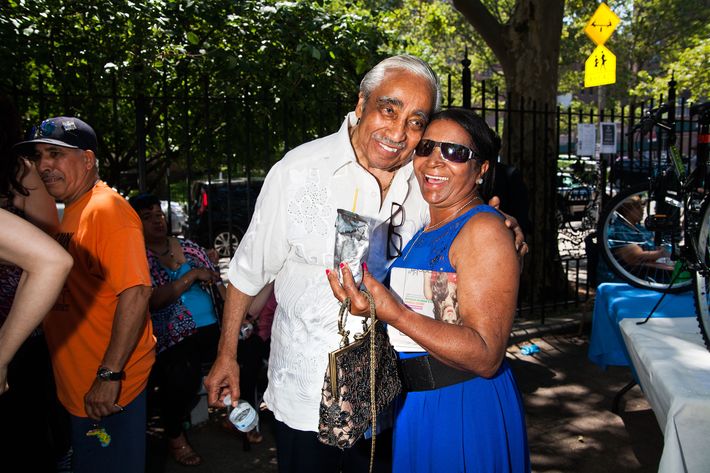 "I thought the Klan people would have said, 'Hey, keep quiet about this guy, he's our best shot," Rangel continued. "But they were too excited about him, so they came out for this big blond-headed white guy married to three foreigners who says, 'Hey, there are too many goddamn non-Christians, and immigrants, and so put up a goddamn wall to keep those people out, and keep Muslims out of the goddamn country, too.' I never thought that could happen in America."
The two know each other a bit. Trump has given more than $20,000 to Rangel over the years, and they would see each other at events.
"It is hard for me to think of a guy that was so self-promoting. It's an illness. I've got a lot of people that are trying to impress me with how smart they are, but I've never seen anyone go on about himself like this," he says. "Deals he would close, how important he is. If you were playing poker with him you would say, 'Why are you always blowing this hot air out of your ass?' But he's rich, so you got to tolerate it, I guess."
It is getting late, and Rangel still has an afternoon's worth of work to do for the Wright campaign before heading to another awards dinner in his honor uptown. For 45 years, Rangel had no life other than politics, other than traveling around Harlem and talking to his people. He insists he was ready to move on, to spend more time with his family. What next? He talks about getting on the speaking circuit, giving whatever he earns so that poor students can attend City College. 
Before he leaves, an MTA employee walks up to the car and asks Rangel to move. The Chrysler has been in a bus lane for over an hour. When Rangel rolls down the window, the bus driver pulls back.
"Oh, it's you, congressman," he says. "Everybody knows you. You can stay right here."