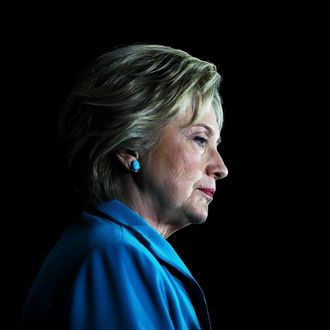 Damn emails.
Photo: Justin Sullivan/Getty Images
The Executive branch of the United States government houses more than a few positions that can be — and, historically, have been — held by any well-connected political donor with decent table manners. Ambassador to Liechtenstein, for example. Or chief diplomat to the Bahamas. Or — at least for a brief time during Hillary Clinton's tenure as secretary of State — top adviser on nuclear security.
In 2011, Rajiv K. Fernando was a high-frequency trader with no experience in the realm of national-security policy. But he had donated a lot of money to Hillary Clinton's 2008 presidential campaign and to the William J. Clinton Foundation. Through this association with Fernando, Secretary Clinton apparently developed an appreciation for his experience with "sophisticated risk management tools." And her chief of staff Cheryl Mills decided that financial savvy was just the thing the International Security Advisory Board needed to diversify its analysis on containing the nuclear threat posed by Pakistan.
The appointment first caught the attention of ABC News in 2011, and Fernando resigned shortly after the network began asking questions. But newly declassified emails obtained by ABC give more insight into how Fernando obtained the job — and how State Department public-relations operatives worked to keep Clinton's name out of the story.
In an email exchange from August 2011, a press aide asks one under secretary of State for the rationale behind Fernando's appointment.
"The true answer is simply that S staff (Cheryl Mills) added him," Wade Boese, who was chief of staff for the Office of the Under Secretary of State for Arms Control and International Security, replied. "Raj was not on the list sent to S; he was added at their insistence."
That press aide, Jamie Mannina, wrote in a separate email: "We must protect the Secretary's and Under Secretary's name, as well as the integrity of the Board. I think it's important to get down to the bottom of this before there's any response."
And in another one: "As you can see from the attached, it's natural to ask how he got onto the board when compared to the rest of the esteemed list of members."
The emails further show that the appointment qualified Fernando for access to top-secret intelligence, which makes sense, considering the gravity of the board's mission.
"It is certainly a serious, knowledgeable and experienced group of experts," Bruce Blair, a fellow member of the board who researches nuclear stability and disarmament at Princeton, told ABC News. "Much of the focus has been on questions of nuclear stability and the risks of nuclear weapons use by Russia and Pakistan."
After a couple of days of stalling, Mills drafted a statement on Fernando's resignation.
"Mr. Fernando chose to resign from the Board earlier this month citing additional time needed to devote to his business," it read, further noting that membership on the board was intended to be "fairly balanced in terms of the points of view represented and the functions to be performed by the advisory committee."
"As President and CEO of Chopper Trading, Mr. Fernando brought a unique perspective to ISAB," it continued. "He has years of experience in the private sector in implementing sophisticated risk management tools, information technology and international finance."
Fernando has displayed a resilient interest in national-security policy in the years since his resignation, serving as a board member of a private group called the American Security Project and as a member of the Chicago Council on Global Affairs. He's also retained an interest in funneling money to the Clintons' charities and political endeavors. In July 2015, he hosted a fundraiser for Hillary Clinton's campaign and became one of its first "bundlers." According to the Clinton Foundation website, he has given the organization between $1 million and $5 million.