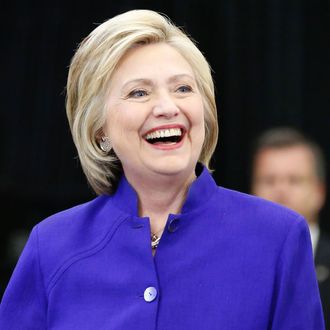 Happy!
Photo: JONATHAN ALCORN/AFP/Getty Images
In recent days, multiple national polls have shown Hillary Clinton opening up a double-digit lead over Donald Trump. But as RealClearPolitics' Sean Trende noted, such lopsided results were inconsistent with the Democratic nominee's polling averages in key swing states, which had her up by only 3.4 points in Florida, 2.7 in Ohio, and 0.5 in Pennsylvania. Trende identified two possibilities for this discrepancy: Either state polls were lagging behind the national data, or Trump's unusually weak standing in deep-red states like Utah and Kansas was dragging down his national vote share, even as he remained competitive in the Electoral College.
A spate of new swing-state polls lend credence to the former. Hillary Clinton swept all seven of Ballotpedia's battleground surveys, and boasted double-digit leads in four of them. Her biggest advantage came in Michigan, where she leads by 17. The Wolverine State is a relatively safe one for Team Blue, but Trump has indicated he thinks his protectionist message can deliver it in November.
The Democratic nominee boasts similar margins in Florida and Pennsylvania, leading both by 14. And Clinton is up by a full ten points in profoundly purple North Carolina, nine in all-important Ohio, and seven in Virginia. Trump proved most competitive in Iowa, where he still trailed by four.
These results are consistent with recent polls showing Clinton up by 12 nationally. But they are outliers among other surveys of these individual states. So it's possible that Ballotpedia's sampling model is off. But it's also possible that Trump is already getting lapped in a horse race that's only just begun.