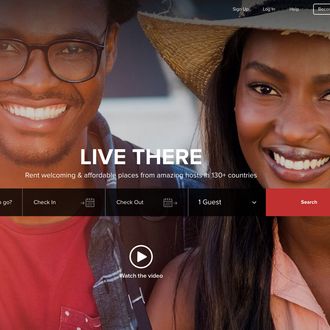 Airbnb has a race problem. Black users have had rentals declined by hosts for no reason other than their race; some have had the police called on them while in the midst of a rental. These stories and others have been shared on Twitter with the hashtag #AirbnbWhileBlack, and a man named Grergory Selden has even filed a lawsuit against the company, arguing it violated the federal Civil Rights Act.
As Selden's lawsuit winds its way to conclusion, Ronnia Cherry, Stefan Grant, and Rohan Gilkes have put together a Silicon Valley–style solution: short-term rental platforms created specifically for and by people of color, as a means to circumvent the racial discrimination that nonwhites, particularly black people, face on Airbnb. There's just one small hiccup: Gilkes founded a website called noirebnb.com, while Cherry and Grant started one named noirbnb.com. As of yet, the site's founders say they will not be joining forces.
Cherry, Grant, and Gilkes came up with the idea for an Airbnb for the POC community independently, each spurred on by encounters with racism while using the original service. For Cherry and Grant, it was having the police called after neighbors spotted them in an Airbnb rental in Georgia last October. (Cherry is a strategist, producer, and designer. Grant is an event coordinator and performer. The two were in Georgia working on a music festival.) "The cops thought we were robbing the place," Grant said. "They showed up guns drawn. Luckily, we were able to deescalate the situation. We took a selfie and turned it into something positive."
This May, Gilkes tried to book a room on Airbnb in Idaho for the Fourth of July. After his would-be host told him the dates were no longer available, he tried, and failed, to book the room for a different weekend. When Gilkes asked a white friend to book the same dates, "well, you can probably guess what happened … my friend was able to book the room," he said. (Gilkes penned a Medium essay about the incident, which you can read here.)
Both Grant's selfie and Gilkes's essay quickly went viral, spurring responses from Airbnb. The company apologized to both parties, offering free stays to make up for what happened. Gilkes told me he declined the offer, and Cherry and Grant said they "knew that wasn't going to solve the bigger issue." (They were right, given that their bad experience predated Gilkes's by about six months.)
Airbnb seems to have recognized the challenges it faces: It just announced a new diversity-hiring initiative (Airbnb's staff is 63 percent white), in what seems like an attempt to undo some of the bad press the company has seen of late (including Selden's lawsuit); the company also publicly banned two hosts this month for harassing black and transgender travelers. Meanwhile, a Harvard study found people with African-American–sounding names have a harder time booking on the platform.
But Gilkes, a tech entrepreneur by trade, says Airbnb's response to his essay was "too little, too late." "When I started getting all these emails from people — black people, trans people, gay people — who were all going through the same thing, I felt like I had an obligation to do something," Gilkes told me. He started working on Noirebnb this spring.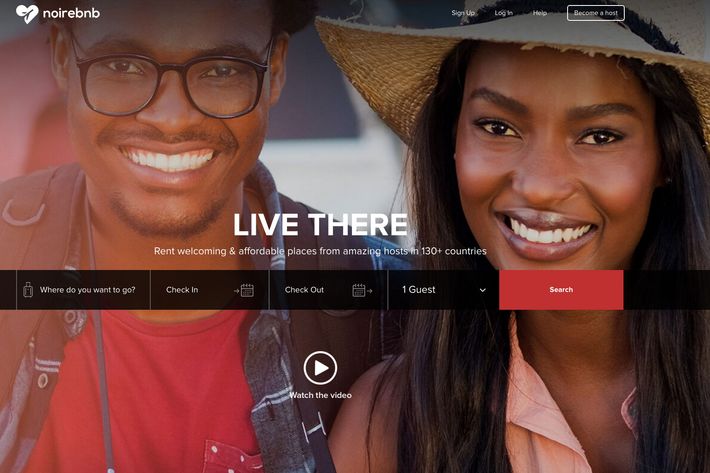 Cherry and Grant started planning Noirbnb in early November 2015. When they reached out to Airbnb about their project, the company flew the pair to San Francisco to discuss it. "We gave them the full pitch for the site and told them our main goal was to make sure these situations never happened again," Grant said. "We told them we foresaw more of these discrimination issues happening in the future. This was before #AirbnbWhileBlack happened." Still, Cherry and Grant say Airbnb didn't prioritize their proposal. "Airbnb thought these issues would go away, but instead they've just gotten bigger," Cherry said. "We decided to do it on our own after we realized Airbnb wasn't going to be directly tackling the issues."
And while each site will cater to people of color, they both plan to welcome all people looking for a safe and inclusive travel experience. (Neither party provided explicit ways they will enforce this inclusivity, but Cherry said Noirbnb is being designed to "educate and empower," while Gilkes said Noirebnb will feature "strong discrimination policies.")
Both websites are currently accepting names, but aren't operational yet. Cherry and Grant's site went live last Friday and they already have numbers "in the thousands," while Gilkes's hit the web on Saturday and "over 23,000 people have already inquired." (Airbnb declined to comment on either site.) "Prior to Friday, we had been holding the domain name and working on our backend," Cherry explained. "When we announced [on Friday], another company with a similar name, Noirebnb, contacted us."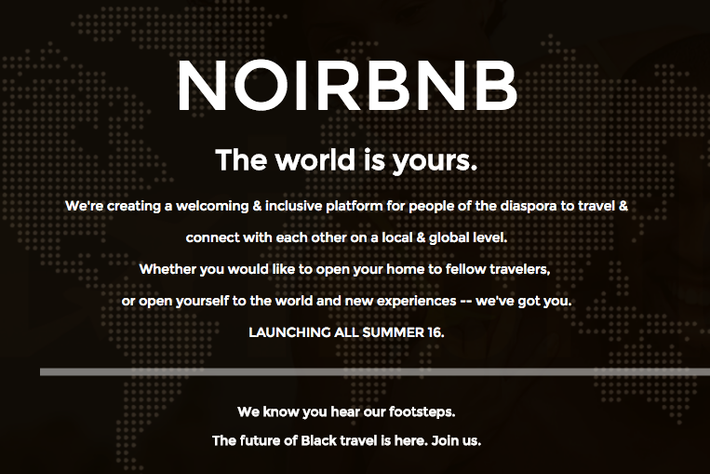 The two sites have been in discussions since last Friday, but have not come to any agreement about joining forces. "Initially we were ready to merge together, but we've had to take some steps back as a business to make sure it makes sense for us," Cherry said. "Merging is something that could happen, but if it doesn't happen, we're going to keep moving independently," Gilkes said of his website. For Cherry and her team, moving past the name debacle can't happen quickly enough. "It's just been distracting from the main issue at hand, solving the racial discrimination problem," she said.
A bigger problem might be money. Noirbnb is "still in the seed phase," and Gilkes is currently bootstrapping his site, which he said should be operational in six to eight weeks. While all are optimistic, finding VC money can be difficult for founders of color. (A 2010 data study found that 87 percent of VC-backed founders are, not surprisingly, white.) Given that Airbnb's business model operates in a bit of a legally gray area (most New York City residents who rent on the site are effectively breaking the law), capital is going to play a key role if either of these websites is to succeed. Disrupting the hotel industry and fighting housing laws costs some serious cash. (By comparison, Airbnb is valued at over $25 billion.) Creating businesses that cater to people of color is one way to counter the sharing economy's race problem — but only if you can create those businesses in the first place.