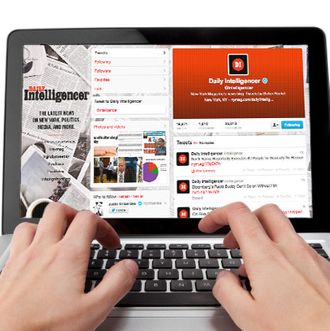 Welcome back to the New York Magazine Competition. On alternate Mondays (or, this week, Tuesday), we lay out a challenge and offer sample responses. Enter in the comments section or on Twitter with the hashtag we've provided, and the editors will select a winner. Criteria are highly subjective, but heavily retweeted and favorited posts will have an advantage. The prize is a year's subscription to New York in print or a two-year subscription to the iPad edition (winner's choice). Full rules are here.
COMPETITION NO. 71: "FAMOUS MISSED CONNECTIONS." Please write a Craigslist "Missed Connections" ad placed by a possibly familiar figure from fact or fiction. For example:
"You: prettiest girl in Central Park. Me: red hunting hat, wouldn't shut up about the goddam ducks. Would love to meet again, if you really want to hear about it."

"You were cute, tall, supportive of artists, really good listener. You used to come in all the time when I worked at Café Grumpy. I was the barista with the tattoos. Possibly a voice of her generation? :)"

"We were talking inequality, democratic socialism, voter turnout, the broken system. You were running your fingers through my (white) hair, messing it up. I seemed like I was getting annoyed, but I wasn't. Hope I didn't blow my chance at this." 
Enter on Twitter with the hashtag #famousmissedconnections, or in the comments thread below, by June 17.
RESULTS OF COMPETITION NO. 70, "MAKE A FILM TARDY," in which you were asked to alter a film title to suggest lateness.
HONORABLE MENTION TO:
Late to School Of Rock
—@grace_elsie_
Couldn't Find a @#$%^&*! Taxi Driver  
—BENLINUS99  
Ben-Hurry Up  
—Brilliantname   
The Girl With The Pearl Earring Is Still Looking For The Other One  
—rmtmiller   
The Lateful Eight  
—NYCTarHeel  
Purple Rain Delay
—gianna13   
With Snail and I
—kaboomm   
A Time to Kill Time  
—BobKopac
 Frankenstein Needs Parts
—VillagesBob
Around the World in 85 to 90 Days
—kg1958
Please fill out an online Service Request and submit to Maintenance to replace your burnt-out Spotlight.
—3North
Coming Home After Curfew
—jbinfh  
Taxi Driver On Valerian
—@YettaTelebenda
The Graduate Candidate Who Needs Fifteen More Credits yo Make Up for the Last Semester Due to a Bout of Mono   
—kate.noll  
Starting Over, and Over, and Over
—Econpete  
Heaven Can Wait for Tech Support to Answer
—OurHero
Rebel Without a Watch 
— @daniloalfaro
The Devil Would Have Worn Prada But She Got Splashed By a Cab and Had to Go Home to Change
—@debfreedman1
While You Were Oversleeping   
—nycityofmind 
From Here to You Are Taking an Eternity
—rgqueen  
3:10 to Yuma 0:25 LATE 
—duggardamnnearkilledher  
Being There Eventually
—@Mixticism
Avatardy
—Groversbathtub  
AND THE WINNER IS:
Dude, Where's My Period? 
—Sccop_K