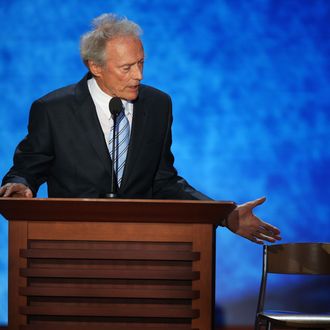 Clint Eastwood's disastrous star turn at the 2012 GOP convention is a cautionary tale of what could go wrong with this year's lurch into conventions as entertainment spectacles.
Photo: Mark Wilson/Getty Images
The minute Donald Trump secured the Republican presidential nomination, it became all but certain the traditional norms of the national political convention would give way to something different. Certainly we would not see a return to the "deliberative" convention of the distant past, where delegates would actually choose a nominee, write a platform, and freely express their sentiments, whether or not they projected a poll-tested "message." But now we had a figure from the entertainment world in charge of what was, after all, four nights of prime-time television content. 
Sure enough, Trump made it known his convention would have some serious showbiz pizzazz, along with the personal flourishes you would expect from a guy who managed to stand head and shoulders above other politicians in narcissism. 
"This is the part of politics he would naturally enjoy, and he wants to control it 100 percent," said a high-level Trump campaign source. "This is a massive television production, and he is a television star."

Indeed, Trump is viewing the convention as a showcase for the brand he built in entertainment over three decades and then melded with a political persona developed over the past year.
Particular Trump ideas floated back in May included unveiling his vice-president or even his prospective cabinet during convention prime time, and his own self speaking on all four nights (instead of the usual single-appearance grand finale). His past involvement with WWE conjures up more lurid possibilities, just like some of the stunts he's pulled already this year.

"He's a political Kardashian," said Democratic strategist Tommy Vietor, a former aide to Obama. "His campaign has been the longest, grossest sex tape ever released."
Well, that's one way to put it.

Knowing they would be competing with a Trump-a-thon seems to have liberated Democrats from the old assumptions that a convention is essentially 200 or 300 politicians in suits saying more or less the same words from behind a single podium. 
Democratic operatives planning next month's national convention in Philadelphia have reached out to Lin-Manuel Miranda, the Tony Award-winning writer and star of the hit Broadway musical "Hamilton," about performing at the Wells Fargo Center, sources told POLITICO.

It's part of an ambitious plan to generate excitement and boost television viewership for the party convention after what Democrats expect to be a four-day reality show at the Republican convention in Cleveland.
Whether or not Democrats snag the cast of Hamilton, their advantage among Hollywood personalities and executives (which any number of conservatives can tell you all about) means they'll be in a pretty strong position when it comes to a showbiz throwdown. Scheduling could be tight, though. While Democrats won't have to deal with a nominee who lacks the self-discipline to stay away from the podium, they do have a larger cast of obligatory political stars, including the president and vice-president of the United States, a certain former president of the United States, and the cranky old socialist who is a bigger draw among millennials than any five hip-hop stars put together.
The Politico article on the burgeoning entertainment competition between Cleveland and Philadelphia noted it's possible some of the glitz could backfire:
[S]ome veterans of conventions past warn about relying too heavily on getting a lift from bold-faced names, pointing to the Republicans' failed Clint Eastwood strategy from 2012, when the actor delivered a widely mocked surprise speech at the Tampa convention, addressing an empty chair.
As a veteran of six conventions past, what I learned from the Eastwood debacle is that you don't let an octogenarian curmudgeon who disdains the use of teleprompters wander onto the stage at the convention's very climax. That's the good thing about deploying the cast of Hamilton. They already know the script.