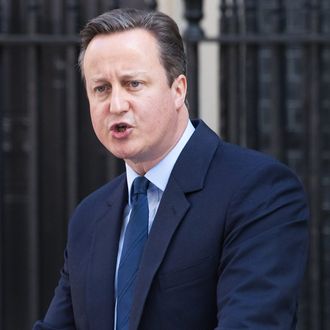 Cameron announced he would resign Friday.
Photo: Matt Cardy/Getty Images
Following Britain's vote to leave the European Union, British prime minister David Cameron announced Friday he would resign his post. In his announcement, Cameron said he believed the country required "fresh leadership" to steer it through the aftermath of the Brexit vote, and that a new PM would be in place before the next Conservative Party conference in September.
"I do not think it would be right for me to be the captain that steers our country to its next destination," he told reporters outside his Downing Street office, according to Reuters, adding that he had informed Queen Elizabeth II of his decision. 
"This is not a decision I've taken lightly, but I do believe it is in the national interest to have a period of stability and then the new leadership required," he said. "I think it's right that this new Prime Minister takes the decision about when to trigger article 50 [an article in the Lisbon Treaty that would allow the U.K. two years to negotiate its exit] and start the process of leaving the EU."
Cameron was a vocal member of the "remain" faction. Although he called the referendum (in large part to placate his own Conservative Party), he reportedly did not expect the Brexit to come to fruition. Global markets are in crisis following the vote, and the British pound plummeted to a 31-year low. The Bank of England said it would take "all necessary steps" to ensure monetary stability, but there's no doubt Cameron is leaving a country in crisis.
This post will be updated as more information becomes available.