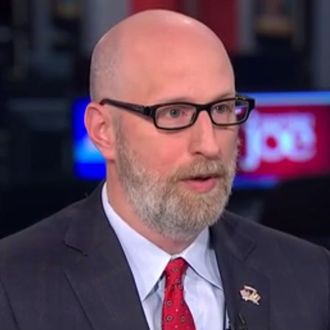 David French, the National Review blogger who briefly considered mounting an independent presidential bid, says that Donald Trump tried to preempt his campaign through intimidation.
"Well, you know, it was probably one of the more ham-handed attempts at intimidation, which out of the Trump operation you can expect things to be done in the most incompetent way possible," French told MSNBC's Morning Joe, before describing a phone call his wife's family had recently received. "An individual calls — he says, 'I'm sorry, but I've been asked by the Trump campaign to make sure that David knows this will be really, really bad for him.'"
French said his critical writings of Trump — combined with the fact that he and his wife have an adopted daughter from Ethiopia — had already inspired violent threats from the GOP nominee's supporters long before Bill Kristol declared him a potential presidential candidate.
"I assumed if I did this, look, I have been up against Trump for some time, and the assaults on my family have been overwhelming just as a writer," French said. "As everyone knows, Trump has an online racist mob that he often stokes by retweeting some of these horrible white supremacists. As that online racist mob is fond of pointing out, I have a multiracial family, and so they have gone after my youngest daughter in the worst way imaginable."
French provided no evidence that the phone call was made by the Trump campaign itself rather than by one member of that online racist mob. Still, this isn't the first time a Trump surrogate has been accused of aiding his candidacy through intimidation.