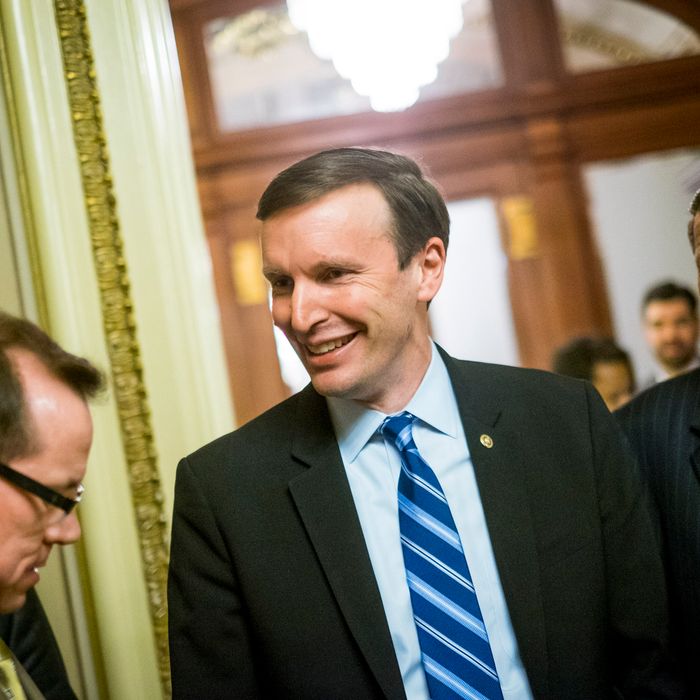 Chris Murphy finally cedes the floor.
Photo: Pete Marovich/2016 Getty Images
This week has been, if not productive, certainly a chaotic one for members of Congress. After a lone gunman opened fire at a gay club in Orlando, killing 49 people and wounding 53, Democrats are demanding action on gun control, and early this week, Republicans showed no signs they were ready to comply. Indeed, House Speaker Paul Ryan steamrolled through protests on Monday when, after holding a moment of silence for the victims, Democrats shouted, "Where's the bill?"
So, on Wednesday morning, at 11:21 a.m., Connecticut senator Chris Murphy launched an unexpected filibuster on the Senate floor to force a debate on gun control. "I am prepared to stand on the Senate floor and talk about the need to prevent gun violence for as long as I can," Murphy tweeted at the outset. Throughout the day, he was joined on the floor by dozens of lawmakers (most of them Democrats), and when it ended just after 2 a.m. EST, Murphy's filibuster had become the eighth-longest in history.
Murphy and the various senators he called to the floor were pushing for a vote on two gun-control amendments. One, which was written jointly by Republican senator Pat Toomey and West Virginia senator Joe Manchin, requires criminal mental-health background checks at gun shows and for online gun sales — two "loophole" areas where potential buyers have historically been able to avoid scrutiny. 
The other is a proposal by California senator Dianne Feinstein that would allow the attorney general to prevent potential terrorists from purchasing guns. During the filibuster, Murphy said that these two policies were chosen not only because they would make a difference in the number of mass shootings perpetrated in America, but because they have the most bipartisan support. 
"Having come through the experience of Newtown, I've had enough," he told the Senate. "It's been four years, and nothing has been done." 
Off the floor, Murphy's colleagues attempted to reach a compromise, but criticism flew on both sides. Toomey reportedly engaged in talks with Everytown for Gun Safety, a group backed in part by Michael Bloomberg, to design a measure that would prevent potential terrorists from obtaining firearms. "There's an obvious opportunity here, guys, to work together and find a solution," Toomey — who was the only Republican with permission to speak — said during the filibuster at around 3 p.m. But by evening, an Everytown representative told the Washington Post: "We're not there yet." 
Meanwhile, Feinstein carried on separate negotiations with Texas senator John Cornyn. Feinstein told the Post that her proposal would keep guns from people on the terror watch list going back five years — a period that would've covered Orlando shooter Omar Mateen, who was removed in 2014. Cornyn's measure, on the other hand, would allow the attorney general to delay a gun purchase for up to three days. But after an attempt to meet in the middle, on Wednesday evening, Feinstein told reporters, "I don't think it's going to work out."
"This is a lot more nuanced than some people appreciate," Cornyn told Politico. "We're trying."
While they tried, Murphy held the floor for just under 15 hours, all the while wearing dress shoes. He called dozens of senators to the floor, and rather than read the Constitution or from the Bible, every speaker used their time to address the issue of guns in America and, in many cases, the toll mass shootings have taken on the country's collective psyche.
Several mentioned the tragedy in Orlando — Wisconsin senator Tammy Baldwin erected a poster showing the victims' photos before she spoke, and near the end of the night, Murphy memorialized Luis Vielma, a 22-year-old Universal Studios employee who was killed in the shooting.
Senator Cory Booker joined in at the start, saying he "cleared his entire day" to "stay on this floor and support Senator Murphy as he pushes this body to come to some consensus in a way the country has already done. It will not be business as usual," he promised. 
The hashtags #filibuster and #holdthefloor ignited as Twitter monitored the senators' progress and called into the offices of their representatives.
Booker remained on the floor with Murphy, who concluded the filibuster by remembering Dylan Hockley, a 6-year-old boy who died in the mass shooting at Sandy Hook Elementary School in Newtown, Connecticut. 
And finally, at around 2 a.m., Murphy announced that Senate Republicans had agreed to vote on both measures. There's no guarantee they'll pass, but the filibuster accomplished what Murphy was hoping for: It got people's attention.