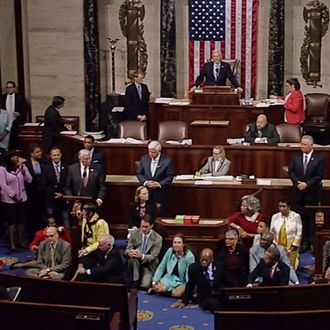 The sit-in.
Photo: C-Span
Democratic representative John Lewis called his colleagues to join him as he spoke on the House floor Wednesday afternoon. A few dozen traveled down the aisles and fanned out on either side of Lewis's podium as he began: "What would bring this body to take action? What would finally make Congress do what is right, what is just, what the people of this country have been demanding, and what is long overdue? We have lost hundreds of thousands of innocent people to gun violence."
Lewis, who fought on the front lines of the civil-rights movement, delivered an impassioned speech about the need for action — for House Speaker Paul Ryan to simply allow a vote — on gun-control measures. "Sometimes you have to do something out of the ordinary. Sometimes you have to make a way out of nowhere," Lewis said. "We have been too quiet for too long. There comes a time when you have to say something, when you have to make a little noise, when you have to move your feet. Now is the time to get in the way. The time to act is now. We will be silent no more. The time for silence is over."
"We have to occupy the floor of the House until there's action," Lewis declared. With that, over the bang of the House gavel (in the hands of stand-in Representative Ted Poe, not Paul Ryan at the time), House Democrats kicked off their sit-in for a gun-control vote. Poe called recess, so the sit-in is not being broadcast. But Democratic House members don't appear to be going anywhere; they're taking turns speaking and even sitting on the congressional carpet in their suits and business attire, chanting and tweeting from the floor with the hashtag #NoBillNoBreak.
The sit-in has stretched since the noon recess, with Democratic senators — many of whom are coming off their historic 15-hour filibuster — dropping in to show support.
These kinds of protests — which violate House rules — are pretty rare. According to the Washington Post, Congress has only attempted a sit-in twice since the 1970s. Even if it's successful in forcing the House Speaker to bring a bill to the floor for a vote, it's very, very unlikely that any measure will pass the GOP-led House. The House is supposed to recess Friday for a long July 4 holiday and won't return until July 5. 
This post has been updated throughout.