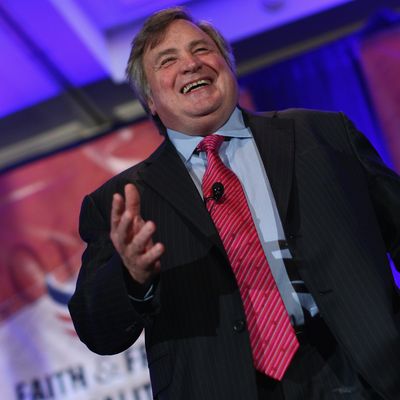 Dick Morris was an adviser to Bill Clinton in the 90s.
Photo: Win McNamee/Getty Images
Before Donald Trump's campaign was derailed by his racist attacks on a federal judge, the GOP nominee was surprisingly disciplined in his attacks on Hillary Clinton. His chief strategy: recycling the scandals of the 1990s. Now, even as Trump is doubling down on his rants about the judge, it appears he's not entirely given up on his original plan. According to two sources with direct knowledge of the talks, the Trump campaign is in discussions with Dick Morris, the former Clinton adviser turned Clinton nemesis, about joining the campaign as a strategist. Morris would "join the Hillary unit," one source explained. "It's on the table," a senior Trump adviser added. "Some of the most important info about the Clintons is 20 years old."
Whether a deal is imminent isn't clear. Morris did not respond to requests for comment. Trump spokesperson Hope Hicks did not respond to a request either.
Still, there are signs that Morris has been moving into the Trump orbit this campaign season. In recent days, the National Enquirer, which has been a loud pro-Trump outlet, named Morris its "chief political commentator." And Morris has told people he's been a longtime acquaintance of Trump campaign chairman Paul Manafort. Morris has been looking for a high-profile perch since being dropped by Fox News in 2013. 
In many ways, the Trump campaign is the most natural fit. Where else could the right's biggest fact-denying pundit feel at home?