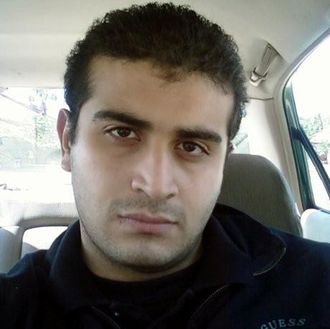 Omar Mateen.
Photo: Undated Selfie of Omar Mateen/Myspace
Omar Mateen entered the Pulse nightclub in the early morning hours of Sunday, just before last call. He was armed with a .223-caliber assault rifle and 9mm semiautomatic pistol. He purchased both legally the weekend before; with them, he fired again and again and again. The carnage left 49 dead and more than 53 wounded, the worst mass shooting in the history of the United States. 
Investigators are speedily trying to put together all of the details about the shooter's motivations, his history, and his ideology. Mateen, in 911 calls before the attack, allegedly pledged his allegiance to ISIS and called the Tsarnaev brothers, who are responsible for the Boston Marathon bombing, his "homeboys." But based on what federal investigators have uncovered so far, his extremism appears to be homegrown, the product of internet propaganda rather than direct links to overseas terror networks.
Another big question looms around Mateen's motivations: What, if anything, was known about his potential infatuation with violent, radical ideology before the Orlando massacre? Mateen worked for major security firm GS4 and was licensed to carry a weapon on the job. He passed background checks in 2007. He passed all mandatory background checks and had multiple security licenses, according to the gun-shop owner where Mateen purchased his arsenal.
But not long after the attack, sources revealed that the FBI had investigated the would-be gunman on two separate occasions in recent years. Twice federal authorities said he did not pose a threat.
Mateen first landed on the Feds' radar in May 2013, after he allegedly bragged to co-workers that he had ties to terrorist networks. Mateen was working as a security guard at a local courthouse (employed by security firm GS4) when he told his colleagues that he hoped the FBI raided his home and would "assault" his wife and kid, so he could die a martyr, according to FBI director James Comey. But Mateen's boasts to colleagues didn't quite add up: He claimed that he had family ties to Al Qaeda, the extremist Sunni group, and Hezbollah, the Lebanon-based, Iran-backed Shiite militia. The two are rival organizations, with different ideologies and goals. (ISIS, which Mateen most recently claimed his support for, doesn't get along with either — especially Hezbollah — in Syria.)
The FBI responded by placing Mateen under surveillance, wiretapping his phones, checking his records, and sending an undercover agent to make contact. The FBI placed Mateen on the terror watch list and interviewed him twice. According to Comey, Mateen had said he made everything up because he was angry at his co-workers, who discriminated against him because of his Muslim background. The investigation lasted about ten months; the FBI concluded that he wasn't a real threat and removed him from the watch list in May 2014.
The FBI had also coordinated with Saudi authorities after discovering that Mateen had traveled to Saudi Arabia in 2011 and 2012. He made the earlier visit to complete the hajj, the Muslim holy pilgrimage to Mecca. Nothing suspicious turned up. 
It didn't take long after the first investigation for Mateen to pop back up on the FBI's radar. In July 2014, just about two months after the Feds suspended their initial investigation, Mateen's name resurfaced in connection to Moner Mohammad Abusalha, an American man from Florida who fled to Syria and carried out a suicide attack for the Nusra Front, an Al Qaeda–affiliated group. Mateen had apparently attended the same mosque, and a witness said the gunman had watched videos of a "radical cleric, named Anwar ­al-Awlaki, who was a top leader and propagandist in al-Qaeda's branch in Yemen," reports the Washington Post. (Al-Awlaki was killed by the American government in a 2011 drone strike.) Yet the witness had told authorities that Mateen, married and with a kid, had abandoned his interest; another interview with Mateen seemed to confirm the witness's report. The FBI closed the second case. 
GS4, the security company that employed Mateen, told CBS News that Mateen — not the FBI — reported that he was involved in an investigation in 2013. The company did not know what, exactly, the agency was probing. The security firm also did not know about the second investigation that began in July 2014.
Now investigators are backtracking to see what, if anything, they may have missed in those previous investigations. They are also probing new details about his life, including the possibility that he may have scoped out other potential targets — other gay clubs or even the Walt Disney World Resort. FBI sources have said Mateen definitely visited Disney World for "more than tourism," but it's unclear if he was seriously plotting an attack on that popular tourist spot. CNN reports that he visited at the end of May and early June, which coincided with the park's Gay Days celebration. Authorities are also looking into reports that Mateen was a regular at Pulse and may have tried to pick up men there or made overtures to men on gay-dating apps. 
According to the Washington Post, the current investigation is stretching from Florida to Kabul, Afghanistan. Authorities have searched Mateen's Port St. Lucie condo and confiscated documents there, as well as from the homes of his parents, sister, and brother-in-law, says CNN. The items recovered include a Dell computer, a smartphone, and a digital camera. Authorities also found a cell phone belonging to Mateen at the crime scene, which he used during the course of the attack to communicate with police and 911 operators. His second wife, who may have known about Mateen's plan, is also reportedly cooperating with investigators.
Authorities have also scoured at least one email address, but they've found no clear evidence of terrorist links in the early stages of the investigation. Investigators haven't confirmed what type of cell phone Mateen used, but it's believed to run on an Android operating system. The Orlando Sentinel reports that, at least right now, the encryption issues that popped up with the San Bernardino killers have not come into play in this particular investigation.