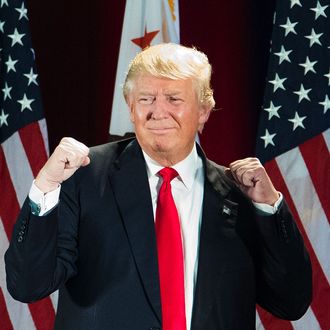 He also wants to be able to pick Supreme Court justices.
Photo: Josh Edelson/AFP/Getty Images
In an interview with John Dickerson that aired Sunday on CBS's Face the Nation, Donald Trump didn't just hold on to his notion that a judge with Mexican heritage is incapable of treating him fairly in court, he agreed that it was "possible" that Muslim judges wouldn't be able to either. Referring first to U.S. District Court Judge Gonzalo Curiel, the Mexican American judge who is presiding over a Trump University lawsuit, Trump reiterated his accusation of prejudice:
[Curiel] is a member of a club or society, very strongly pro-Mexican, which is all fine. But I say he's got bias. I want to build a wall. I'm going to build a wall. I'm doing very well with the Latinos, with the Hispanics, with the Mexicans, I'm doing very well with them in my opinion.
So in Trump's mind, despite his big beautiful wall idea, he's still "doing very well" with Latinos, Hispanics, and Mexicans, just not the ones that are members of pro-Mexican clubs or societies, and judges. And then there are those Muslims: Dickerson asked Trump if be believed he would also be unable to receive a fair shake from Muslim judges as a result of his proposed temporary ban on Muslims entering the United States, Trump responded, "It's possible, yes. Yeah. That would be possible, absolutely."
When Dickerson asked Trump whether he also believed in the American tradition "that we don't judge people by who their parents were and where they came from," he replied:
I'm not talking about tradition. I'm talking about common sense, okay? [Curiel's] somebody, he's proud of his heritage. And I think that's great that he's proud of his heritage. … You know, we have to stop being so politically correct in this country. And we need a little more common sense, John. And I'm not blaming. I'm proud of my heritage, we're all proud of our heritage. But I want to build a wall.
Then again, Trump's pseudo-suggestion that justice is more important than an intense love of one's racial or ethnic heritage may not register with at least some of his own supporters.
In other news, RNC chair Reince Priebus has assured the Washington Examiner that Trump's rhetoric regarding Hispanics is likely to evolve between now and the election:
I've said that I do think Donald Trump understands that his tone and rhetoric is going to have to evolve in regard to how we're communicating to Hispanics across the country. I think he gets that. Now, there's a lot of time between now and November, and I think you're going to see an evolution on that particular issue.
Of course, that theory of evolution is not yet supported by evidence outside the minds of establishment Republicans who now find themselves chained to the Trump Express.
Referring to the Trump University lawsuit and Trump's attacks on Judge Curiel, Priebus added that, while he didn't know much about the case, "I wouldn't invoke race into any sort of attack or commentary."
So which judges would be eligible, in Trump's mind, for the honor of treating Trump fairly? Philip Bump at the Washington Post thinks that can be figured out by process of elimination:
The benchmark for exclusion isn't solely membership in a group that Trump has criticized and/or sought sanction against. It's membership in a group that Trump might be able to argue could view him negatively. After all, he regularly insists that Hispanics love him, but he, for some reason, assumes Gonzalo Curiel doesn't. He assumes Muslims would judge him harshly but tells the world that Muhammad Ali's rebuke of his ban on Muslim entry into the United States wasn't about him.
Using that logic, Bump argues that Trump would also seek to exclude judges who are Democrats, immigrants, women, black, or have physical disabilities — leaving able-bodied white or Asian Republican men as the only remaining candidates. (It's probably also worth excluding otherwise eligible men who have low energy, have wives who aren't tens, or are named Mitt Romney.)
This post has been updated to include comments from Reince Priebus and analysis from Philip Bump.