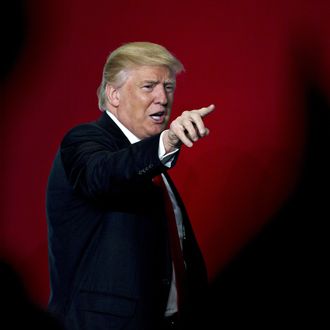 Just be quiet.
Photo: Andrew Harrer/Bloomberg via Getty Images
When elected Republicans are asked to justify their support for the authoritarian demagogue who won their Party's nomination, many will explain that Donald Trump is actually extremely receptive to critical guidance.
"One on one, Mr. Trump is a listener," congressman Chris Collins told The New Yorker's Ryan Lizza. "He's not a talker. When he's got a group of people, he wants to know what's going on in other people's districts." Congressman Tom Price echoed this claim, telling the magazine, "When I talk to people who work closely with Trump, what they tell me is that behind closed doors he's one of the best listeners they've ever worked for or with in their life."
A little over week ago, Trump gave credence to this notion. After virtually every member of his party begged him to stop talking about the "Mexican heritage" of the federal judge overseeing a pair of fraud lawsuits against him, the mogul relented. Trump didn't apologize for his remarks but he vowed to quit making them. Then he chained himself to a teleprompter and got through an entire speech without saying anything his co-partisans would have to distance themselves from.
And then Omar Mateen killed 49 people in the Pulse nightclub. And Trump reframed the 2016 election as a referendum on a proposal his party's leadership universally condemns.
The GOP nominee's renewed call for a blanket ban on Muslims entering the United States was met by a new wave of intraparty criticism. But Trump is done listening to the complaints of feckless politicians.
"You know, the Republicans, honestly, folks, our leaders — our leaders have to get tougher," Trump declared at a rally Wednesday. "This is too tough to do it alone. But you know what? I think I'm gonna be forced to."
The GOP standard-bearer then offered some advice to those Republicans who think the government should not discriminate against citizens on the basis of their religious beliefs.
"Don't talk. Please, be quiet," Trump said. "Just be quiet, to the leaders, because they have to get tougher, they have to get sharper, they have to get smarter, and we have to have our Republicans either stick together or let me just do it by myself."
To demonstrate the kind of toughness our country needs, Trump called for the "respectful" surveillance of American mosques.
"We have to maybe check, respectfully, the mosques, and we have to check other places," Trump explained. "Because this is a problem that, if we don't solve it, it's going to eat our country alive."
The man is a listener, not a talker.