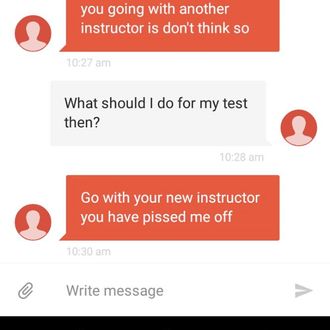 Parallel parking is the worst. (And I'm not just saying this because I failed my road test three times for hitting the curb.) To make sure he didn't suffer the same fate, 18-year-old Matt booked himself regular lessons with a local driving instructor.
"I'm going to university in September and to get there I need to pass my driving test, as I am planning on living at home. I've been having driving lessons with an instructor since January," Matt told me via Twitter. "My test is in July and the waiting list is already into September so if I fail I will have to find another way of getting to university until I can resit."
The British teen said his first instructor's schedule was pretty crowded, so Matt was only able to take one lesson a week. "I got in touch with a second instructor for extra lessons to increase my chance of passing," he said. Except when Matt texted his first instructor to let him know he'd be supplementing their lessons, the instructor didn't take it super well.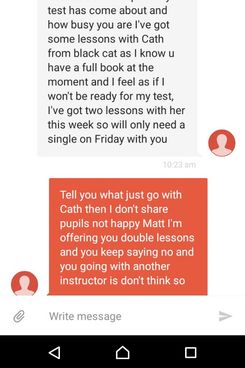 "Tell you what just go with Cath [the second instructor] then I don't share pupils not happy Matt I'm offering you double lessons and you keep saying no and you going with another instructor is don't think so," the instructor, who clearly forgot the conventions of sentences in a fit of rage, texted Matt. "Go with your new instructor you have pissed me off."
Matt shared screenshots of their text exchange on Twitter, where they have been faved and retweeted more than 100,000 times. "I thought he would have been happy that I was getting extra practice," Matt said. "To be fair, he was always calm and laid-back, we got on well I thought, and I was shocked with his reaction to something which would have improved my chances of passing my test."
Matt says he filled in his second driving instructor on the situation, and he'll be taking his road test with her in July. I asked if there was anything he was particularly worried about.
"Well, we [Matt and the first instructor] hadn't practiced maneuvers much at all, to be honest, and that was one reason I was worried about getting extra lessons as my slot was on Friday afternoon and the roads were constantly packed. From everything I have done, parallel parking has to be the hardest thing I've found whilst driving." Same, Matt. And good luck!