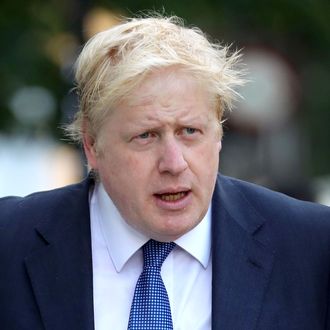 Boris Johnson.
Photo: Christopher Furlong/Getty Images
Days after Britain voted to leave the European Union, former London mayor and leader of the "Leave" campaign Boris Johnson hailed Brexit as "the most extraordinary political event of our lifetime" — then promised it would change almost nothing.
"British people will still be able to go and work in the EU; to live; to travel; to study; to buy homes and to settle down. As the German equivalent of the CBI – the BDI – has very sensibly reminded us, there will continue to be free trade, and access to the single market," Johnson wrote in The Telegraph. "The only change – and it will not come in any great rush – is that the UK will extricate itself from the EU's extraordinary and opaque system of legislation."
In short, Johnson assured the British public that they would regain "democratic control of immigration policy" while losing none of the benefits of EU membership.
But on Tuesday, German chancellor Angela Merkel said the EU isn't interested in that kind of relationship.
"Whoever wants to leave this family cannot expect to have no more obligations but to keep the privileges," Merkel told the German Parliament, before heading to Brussels for meetings with other European Union leaders. "We will ensure that the negotiations will not be a matter of cherry-picking."
European Commission president Jean-Claude Juncker put the matter less delicately.
"I am accused of being undemocratic, as a faceless bureaucrat, as some kind of robot," Juncker said at a meeting of the European Parliament. "That's the way I'm portrayed in the United Kingdom. I respect what the British people have said. But I think we've got to see some consequences."
Juncker delivered his remarks in French, a linguistic choice he hoped would "send a message that English was fading as an official language of Brussels with the British departure," the Washington Post reports.
One of the men who portrayed Juncker as a tyrannical robot, UK Independence Party leader Nigel Farage, addressed that same Parliament with the manic giddiness of a triumphant supervillain.
"Isn't it funny: When I came here 17 years ago and said I wanted to lead a campaign to get Britain to leave the European Union, you all laughed at me," Farage said. "Well, you're not laughing now."
Farage also made sure to personally insult the faceless bureaucrats in his midst.
"Virtually none of you have done a proper job in your lives. Or worked in business or worked in trade or indeed ever created a job," Farage said, before daring the EU to deny the U.K. access to its common market. "If you were to decide to cut off your noses to spite your faces and to reject any idea of a sensible trade deal, the consequences would be far worse for you than it would be for us."
EU leaders will meet with outgoing U.K. prime minister David Cameron on Thursday. Cameron has refused to invoke Article 50 — which would formally initiate Britain's divorce proceedings with the EU — and has deferred most questions about what Britain will seek in negotiations to his eventual successor. Cameron's Conservative Party will select a new, presumably pro-Brexit leader in September. This leisurely timetable has frustrated European leaders, who believe that keeping Britain in geopolitical limbo will mean a full summer of market chaos.
On this side of the Atlantic, President Obama told the Western world to take a deep breath and count to ten.
"There's been a little bit of hysteria post-Brexit vote, as if somehow NATO's gone, the trans-Atlantic alliance is dissolving, and every country is rushing off to its own corner," Obama said in an interview with National Public Radio Tuesday. "That's not what's happening."
Still, it's far from clear what is happening. Boris Johnson is the early favorite to become the U.K.'s next prime minister, and, unlike Farage, he seems to care a lot more about common-market access than restricting immigration.
"It is said that those who voted Leave were mainly driven by anxieties about immigration. I do not believe that is so," Johnson wrote in The Telegraph. "After meeting thousands of people in the course of the campaign, I can tell you that the number one issue was control."
Many readers have taken Johnson's column as a sign that the Tories will seek an arrangement akin to that enjoyed by Norway, which is not an EU member but still has access to the common market. However, as part of that arrangement, Norway has forfeited democratic control of its immigration policy, accepting the EU's commitment to the free movement of people across borders. Thus, as EU officials tell BuzzFeed News, Johnson is ostensibly proposing that Britain retain most of its obligations to the union, while forfeiting all control over EU rule-making:
EU governments have said that the Norway option would be the most feasible route for the UK.

But officials have privately expressed bewilderment at why the UK would go though a referendum, and a cumbersome negotiation, to ultimately end up in an arrangement that involves accepting most of the current rules and regulations, including freedom of movement, while still paying into the EU budget at similar levels to current net contributions but losing any chance to influence future rule-making.
These contradictions have fueled speculation that when Johnson says Brexit was "about control," what he really means is his control of the Conservative Party — and not much else.
On Tuesday, Times deputy political editor Sam Coates explained that the likely next prime minister's promises about life after Brexit shouldn't be taken too seriously, as he wrote them while "tired."