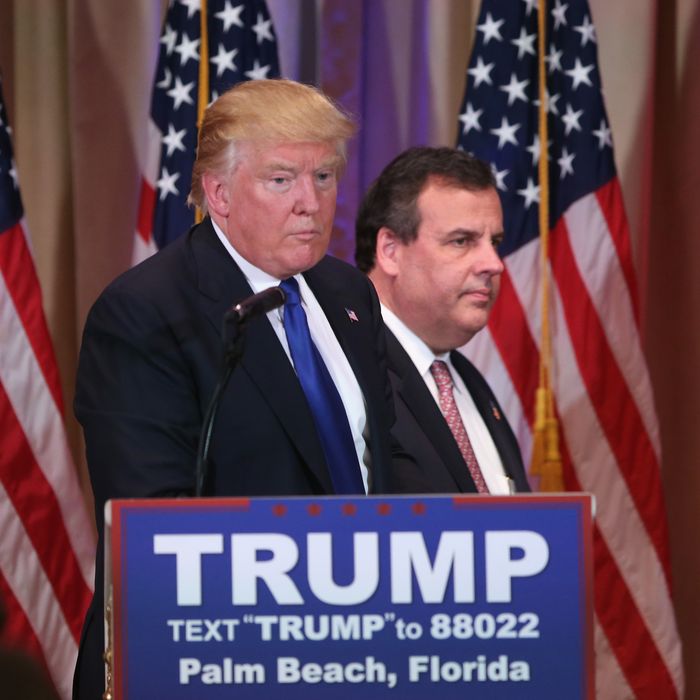 Current veepstakes mood.
Photo: John Moore/2016 Getty Images
At this point in the election cycle, the average presidential nominee would have a list of people who've proven they're desperate to be vice-president, whether by releasing a book and singing the candidate's praises at every opportunity, or by actually auditioning for the role of campaign attack dog. But of course, Donald Trump is not your average presumptive nominee; he's a guy who can't find any politicians who want to speak at the Republican National Convention, and whose top surrogate declared that he has "major defects" as a candidate. Thus, it's no surprise that pretty much everyone on his rumored VP short-list has serious misgivings about his campaign, or seems ambivalent about the prospect of joining his ticket.
The big exception is Chris Christie who, according to the New York Times and CNN, has earned himself a spot on the veep short-list by defending Trump's most troubling statements, getting rained on, and reportedly fetching Mr. Trump's McDonald's. As New York's Eric Levitz noted, the governor's approval rating in New Jersey is only 26 percent, so he would be the rare running mate who could actually hurt the campaign's chances in his home state. However, Christie remains a top contender, as he has only said that he finds Trump deeply offensive with his eyes.
The same cannot be said of Newt Gingrich, who is rumored to be the leading candidate. The Washington Post reports that both Gingrich and Christie are being formally vetted by Arthur B. Culvahouse Jr., a former White House counsel who vetted Sarah Palin in 2008 and assured the McCain campaign that she was ready for prime-time. The former House speaker and Clinton foil only formally endorsed Trump in May, but he was said to be quietly urging other GOP Establishment figures to rally behind the candidate for months. When Sean Hannity asked several weeks ago if Gingrich was interested in being Trump's vice-president, Gingrich said he "wouldn't turn it down automatically," and is "in the 'not no' column," which is essentially Washington-speak for "I'm actively campaigning for vice-president."
Yet, even Gingrich recoiled when Trump suggested that the judge in the Trump University civil-fraud case was biased against him due to his Mexican heritage. "It was one of the worst mistakes Trump has made. Inexcusable," Gingrich said on Fox News Sunday, though he stopped short of calling it racism.
It makes sense that Christie and Gingrich are the most likely VP candidates, as former Trump campaign manager Corey Lewandowski (who would never mislead the media) said this week that his old boss is looking at "people that everyone will know … they're household names." The pool of high-profile Republican Trump-backers is a shallow one. According to the Post, people who have spoken with Trump officials say Senators Jeff Sessions, Bob Corker, Richard Burr, Tom Cotton, John Thune, are also being considered, as well as Indiana governor Mike Pence. There are even two ladies in the group, Senator Joni Ernst and Oklahoma governor Mary Fallin.
Supposedly, campaign chair Paul Manafort is a fan of Corker, but Trump has been put off by his recent criticisms; the senator said he can't support the campaign's "slurs and innuendo," was "personally discouraged" by Trump's response to the Orlando shooting, and thinks the candidate is "going to have to change."
If that's disqualifying, Trump should have no problem whittling his list. Thune recently remarked, "Everything he's said in the last couple of weeks has been concerning." Sessions said Trump "probably shouldn't have" made racist jabs at a federal judge, and Burr remarked, "I don't think there's a place for the comments that were made." While Cotton has fallen in line recently, earlier in the campaign he demanded that Trump apologize for attacking John McCain for being a POW, and spoke out against his proposed ban on Muslim immigrants.
Others just seemed unenthusiastic about the prospect of joining the Trump ticket. On Thursday, NBC News reported that Pence was told several weeks ago that Trump was eyeing him to be his running mate, but the Indiana governor — who endorsed Ted Cruz — said he's focused on his reelection bid. "I haven't spoken to Donald Trump since before the Indiana primary and I certainly have never spoken to him about that topic," Pence said, when asked about the rumor.
Similarly, Ernst said two weeks ago that she'd had no contact with the Trump campaign, and was fine with that. "I think he must have his eyes set on somebody else, and that's okay," she said. (Not that Ernst or Fallin are really in the running. Manafort said Trump probably won't pick a woman or a minority, as that would be "pandering.")
Finding a running mate who won't make him lose votes, hasn't publicly condemned him, and actually seems to want the job might be a tall order for Trump. But maybe his standards are too high. During last weekend's Politicon convention, Sarah Palin offered this bit of advice: "I would tell him to find someone who understands who the boss will be, someone who is not running too — someone who he could serve with who he wouldn't need a taste test, a food taste-tester around him, you know?"
We're willing to bet at least half of the people on that short-list wouldn't try to poison President Trump.