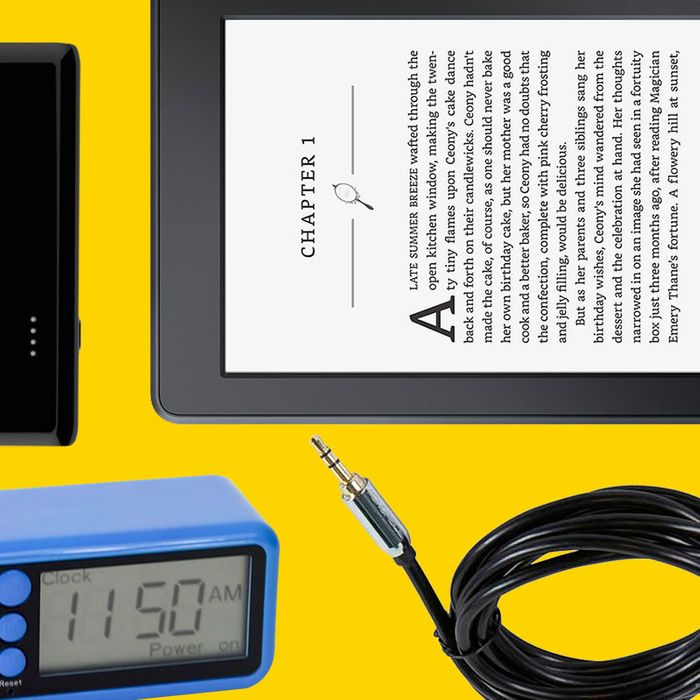 Father's Day is coming this Sunday, and along with it another great annual tradition: helping your dad set up new tech. Sure, you could get him a new laptop, but you're also inadvertently signing up for an entire afternoon of helping set it up. Below are some gifts that will be just as appreciated, but don't require too much work to set up or use.
What you think you should get: A Bluetooth speaker
What you should really get: A Bluetooth speaker and an aux cord
In the entire history of Bluetooth, I don't think anyone has ever paired a device successfully on the first try. Pairing your phone requires you to fiddle with menus and buttons and passcodes on two devices. It's a nightmare — and doubly so if you're doing it over the phone. To mitigate confusion, make sure that you buy your dad a nice 3.5-millimeter auxiliary cord to plug into the speaker directly. Its use is self-evident — just plug and play. Plus, you can easily switch devices without pairing and unpairing.
For the speaker, you can't go wrong with the popular, well-designed, and highly regarded UE Boom ($151, Amazon) or its smaller cousin the Roll ($96, Amazon). For the cable: Gold-plated cables are a sham; you can splurge on this six-foot cable from Monoprice ($3).
What you think you should get: A phone case with a battery in it
What you should really get: An external battery pack
If your dad is constantly running out of juice, he might be interested in one of those smartphone cases with extra battery built right in. But as a strict adherent to not using a case, I can't recommend them. I much prefer to have a dedicated external lithium battery with USB ports on it. They're simple to use, and you can just keep them in your car or bag until any of your devices need a charge. (If there's one thing dads love, it's carrying extra gear with them.) And with multiple ports, you can charge multiple devices at once. A phone case only works for your phone, but an external battery works on everything. Best of all, if you already have one of these, just regift your old one.
In the past, we've recommended battery chargers with built-in wall prongs, like this Zagg external pack ($20, Amazon). I'm personally fond of the Anker Astro ($47, Amazon), but maybe also grab a cheaper pocket-sized one. These things are always on sale and you really can't go wrong.
What you think you should get: A set-top box like an Apple TV or a Roku
What you should really get: A TV with a Netflix button
You used to only be able to get Netflix (or Amazon or HBO Go, etc.) via set-top boxes like the Apple TV. And while we recommend that anyone remotely tech-savvy get one for themselves, they add yet another remote and another HDMI cord to the nest of cables in your dad's living room, and are among the chief reasons for parents calling their children for IT support. Luckily, many televisions now have Wi-Fi capabilities and apps baked right into the set itself, negating the need for another piece of hardware. Even better, get a set with a remote control that has a Netflix button built in. That way you don't have to coach your dad through the menu to find the Netflix app.
If you want to be really sure, Netflix has a section on its site dedicated to the newest models it recommends. If you're looking to save a bit, here's last year's. If you just want a model, try the Vizio M43-C1 ($625, Amazon), a 43" screen that Wirecutter recommends — Vizio's TVs have fine Netflix interfaces and, importantly, a button on the remote.
What you think you should get: A Kindle without 3G
What you should really get: A Kindle with 3G
If you're willing to shell out a little more, Amazon's e-readers come with global 3G access, allowing your dad to buy books and sync data wherever he goes. The additional perk is that now you won't get a call whenever he can't get it to connect to Wi-Fi — the device will just flip over to 3G and he won't know the difference.
Kindle models with 3G run the price gamut from $170 to $360, but the Paperwhite ($100, Amazon) is a favorite.
What you think you should get: A new router and modem
What you should really get: An outlet plug that power-cycles
Router and modem problems — almost certainly the number-one IT problem children of pre-internet parents are forced to solve — are almost always fixed by power-cycling, which is an obtuse way of saying "unplug it and plug it back in again." There are plenty of outlet plugs available that will do this for you regularly and automatically, so that neither you or your dad have to root around under the desk for the right plug to yank out.
Try, for example, the Tech Restarter ($22, Amazon). You might also try the recently viral ResetPlug ($60).