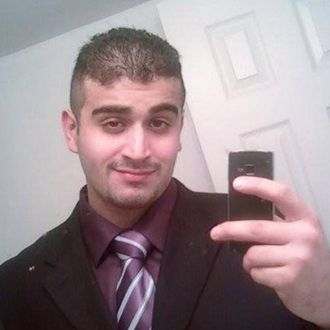 Witnesses came forward in the days after Omar Mateen killed 49 in an Orlando gay nightclub to say the shooter had been there before many times — as a patron. Then more testimonies started trickling out: Men recognizing Mateen's photo from gay dating apps; a former police-academy classmate who said Mateen had asked him out on a date. One man who claimed he had an affair with Mateen; he also alleged Mateen had threesomes with other men, including one who was HIV positive.
The FBI interviewed the man, named Miguel, but investigators reportedly said that the story did not check out. In fact, all FBI investigations into the claims that Mateen had a secret gay life have, so far, turned up empty. Federal investigators say they have searched all of Mateen's electronic devices, including his laptop and cell phone, and found no evidence that Mateen downloaded gay-dating apps and or tried to solicit men. Investigators verified cell-phone tower data and searched for gay porn, texts, and photographs that would hint at a hidden affair, reports the Los Angeles Times. Investigators also scoured the phones of those who've said Mateen messaged them on apps like Grindr and Jack'd, but discovered no proof. 
The FBI has said that they believe those individuals — especially those that recognized Mateen from dating sites — might be confusing the Orlando gunman with someone else, though investigators didn't say whether Mateen may have previously visited Pulse, as other club regulars have alleged. It's also plausible that Mateen used a secret cell phone to live out his secret life — or another device the FBI hasn't retrieved. Either way, the probe into Mateen's past isn't shut, and investigators are still trying to figure out Mateen's motivations and his movements in the weeks and days leading up to the attack. Mateen told 911 and crisis negotiators during the hostage standoff that he carried out his attack in the name of the ISIS. 
However, at least some witnesses who came forward are pushing back against the FBI and saying they're absolutely positive the man they're talking about is the same one who shot up Pulse. Kevin West, who gave police his cell phone and app information, was a Pulse regular who said he messaged with Mateen for more than a year on a gay dating site. "It's almost certain that he covered his tracks," West told the Orlando Sentinel. "Lots of people are still secretive about it. They say they don't show their face online because, 'I'm not out to my family, or because of my career.'"  Another man, Cord Cedeno said he had seen Mateen at Pulse, and they messaged on Grindr before Cedeno blocked him. "I can go take a lie detector test," he told the Los Angeles Times. "I know for a fact Omar messaged me."