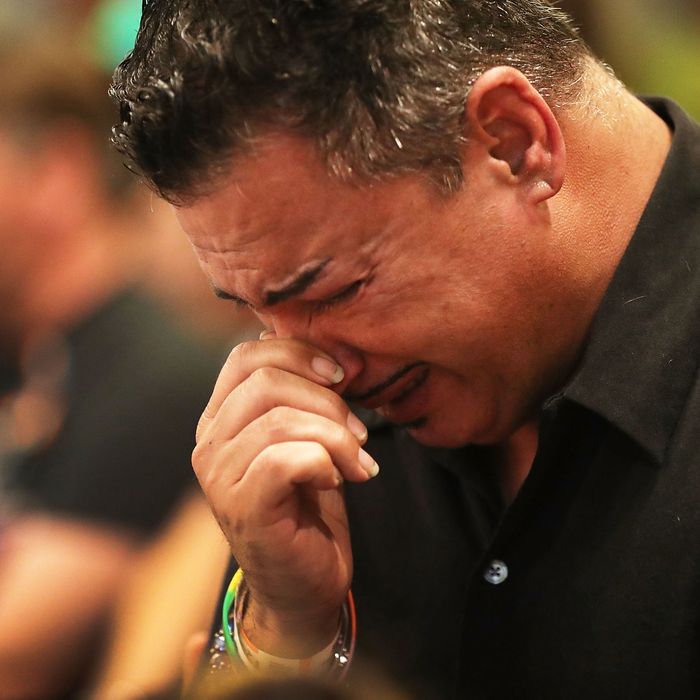 A man attends a memorial service in Orlando.
Photo: Joe Raedle/2016 Getty Images
Good morning and welcome to Fresh Intelligence, our roundup of the stories, ideas, and memes you'll be talking about today. In this edition, a mass shooting in Orlando leaves 50 dead, politicians react to the violence, and Bernie Sanders stays the course. Here's the rundown for Monday, June 13.
WEATHER
Thunderstorms in the Plains states and Midwest should help take the edge off the heat, but they may bring tornadoes. Expect a blustery day with temperatures in the mid-60s in the Bay Area, and another sunny one in New York City with temperatures as high as 80 degrees. [Weather.com]
FRONT PAGE
Deadliest Mass Shooting in American History Leaves 50 Dead
Early Sunday morning, 29-year-old Omar Mateen, an American-born security guard, walked into Pulse, a gay nightclub in Orlando, murdered 50 people, and seriously injured another 53 before being killed in a shootout with police. Before he began shooting, Mateen reportedly called 911 to declare his allegiance to ISIS. According to the shooter's father, Mateen was enraged after seeing two men kissing in public. The shooter had a history of mental instability and domestic abuse and was already known to the FBI for his connections to terrorists and his radical sympathies. Still, Mateen was able to legally purchase the pistol and assault rifle he used to perpetrate the massacre. Authorities in Orlando are gradually releasing the names of all 50 victims.
EARLY AND OFTEN
Politicians Have Very Different Reactions to Orlando Massacre
After news of the massacre in Orlando broke, all eyes turned to the president and the two presidential hopefuls. President Obama addressed the nation with a somber, mournful, and tragically practiced — yesterday's was the president's 18th speech in the wake of a mass shooting since taking office — bearing. Hillary Clinton released a statement saying we need to work to improve our domestic security, urged the country to adopt more sensible gun laws, and reassured the LGBT community that "hate has absolutely no place in America." For his part, the sun-burnt lesion that is running against her sent off an incoherent tweet congratulating himself for some reason, then called for the president to resign and Clinton to drop out of the race for not expressly discussing the gunman's religion. Then, of course, he reiterated his plan to ban Muslims from immigrating to the United States. [CBS]
Orlando Shooting Prompts New Gun Legislation That Everybody Knows Won't Become Law
As has become routine, a handful of lawmakers reacted to the mass shooting in Orlando yesterday with new gun-control legislation, and as is almost always the case, the new bills will certainly fail to garner enough support to become law. Democratic senator Robert Casey, for example, introduced a bill that would make it illegal for anyone who has been convicted of a misdemeanor hate crime to possess a gun — baby steps. Yesterday's shooter killed 50 people with two guns, including an assault rifle, which he purchased legally despite being known by the FBI as having extremist sympathies. [Reuters]
Bernie Sanders Still Thinks He's Running for President
Speaking yesterday, presidential hopeful (despite all evidence to the contrary) Bernie Sanders reiterated his commitment to stay in the race through Washington, D.C.'s primary on Tuesday. Sanders still believes he will be able to convince enough of Clinton's superdelegates to change their allegiance at the convention, though as big-name endorsements roll in for Hillary — including from Senator Jeff Merkley of Oregon, who had been the only senator to endorse Sanders — Bernie has made small signs that he is increasingly ready to step down and focus on molding the Democratic Party platform and defeating Donald Trump. [NYT]
Ryan Says Trump Will Not Be Challenged at the Convention
Speaking yesterday on ABC, House Speaker Paul Ryan addressed a growing chorus of voices calling for Donald Trump to be challenged at the Republican convention. Ryan said that there would be no challenge to Trump's candidacy, and though Ryan did continue to distance himself from Donald's racist rhetoric, he also conceded that Trump "won the thing fair and square." [Bloomberg]
THE STREET, THE VALLEY
America's Largest Pharmaceutical Companies Double Down on Diabetes Drugs
Merck and Pfizer, the two biggest pharmaceutical companies in the country, are doubling the size of their joint trial for new diabetes treatments. Diabetes medicine has become a $71.5 billion industry after it was recently discovered that certain treatments could cut down considerably on often-fatal strokes. [Bloomberg]
Walgreens Still Had a Partnership with Theranos?
Walgreens is ending its partnership with disgraced blood-testing start-up Theranos. The announcement is a huge blow for the company that had already been struggling in the face of botched tests and increasing government scrutiny; Walgreens was Theranos's primary source of revenue. [WSJ]
Merger Changes the Face of Computer-Security Technologies
It was announced yesterday evening that Symantec will go ahead with the acquisition of rival computer-security company Blue Coat Systems. For $4.65 billion, Symantec will take over Blue Coat's wide-ranging portfolio of cybersecurity technologies and also take on a new CEO, Greg Clark, who previously helmed Blue Coat. [WSJ]
Orlando Shooting Necessitates Facebook's First-Ever U.S. Safety Check
In a sad milestone, Facebook for the first time in its history enacted the safety check-in feature for the United States following the shooting in an Orlando gay club last night that left 50 people dead and another 53 injured. [The Verge]
MEDIA BUBBLE
Hamilton Cleans Up at Somber Tony Awards
In the wake of yesterday's mass shooting, this year's Tony Awards were mournful, somber, and defiant. Despite the subdued tone it was still a huge night for Hamilton, which turned its record-breaking 16 nominations into 11 wins, including the big one: Best Musical. [WSJ]
Gawker Files for Bankruptcy Protection
It seems the conniving power duo of Hulk Hogan and Peter Thiel has all but done Gawker in. After getting slapped with a $140 million jury verdict in March, the media company has filed for bankruptcy protection and has agreed to sell itself to Ziff Davis, a fellow digital publisher. [CNet]
Haven't Dish Subscribers Been Punished Enough?
A dispute between Tribune Media and Dish Network is heating up, and as usual it's the customer who's being punished. Thanks to a disagreement over new higher fees and something called "retransmission consent payments," Tribune Media's 42 television stations have been blacked out for Dish Network customers. [B&C]
PHOTO OP
Pride and Defiance
The day of the deadliest attack on America's LGBT population in history was also a day of Pride celebrations in many American cities. Crowds turned up in droves to participate and show their support in defiance of the violent zealots who don't believe they deserve to live.
MORNING MEME
Love Is Love Is Love Is Love
Another event with a history of LGBT solidarity, the Tony Awards, took place last night, and Hamilton creator Lin-Manuel Miranda accepted his award for Best Musical with an emotional reading of an original sonnet that paid tribute to those who died in Orlando.
OTHER LOCAL NEWS
Hot-Dog Princess Gets Exactly What She Deserves
The internet's favorite person of the week is Ainsley Turner, the 6-year-old from Holly Springs, North Carolina, who now famously wore a hot-dog costume to a princess-themed dress-up day at her dance school. Clearly enjoying her new internet celebrity, yesterday Ainsley was picked up with her family in the Oscar Mayer Wienermobile and driven to the dance school where that first viral photo was taken. Ainsley Turner is the hero this country needs. [News and Observer]
Today's Most American Story Has a Horse-Riding Rancher, a Walmart, and Even an Eagle
A would-be bicycle thief — we guess bicycle "rustler" is more appropriate in this context — was foiled over the weekend in Eagle Point, Oregon, when a shopper heard the woman he was robbing scream, took his horse out of his horse trailer, rode the thief down, and lassoed him, dragging him back across the parking lot. The hero rancher even offered up the perfect quote about his roping skills: "If it catches cattle pretty good, it catches a bandit pretty good."
HAPPENING TODAY
The Beginning of the End: Trump Begins General-Election Campaign
Donald Trump is in New Hampshire today for what is expected to be a major speech that will mark the beginning of his general-election-campaign efforts. New Hampshire was the site of an early Trump primary victory, also known as the moment many realized this all wasn't some enormous joke. [Boston Globe]
Warriors Shoot for the Championship in Oakland
The Golden State Warriors go up against the Cleveland Cavaliers tonight at home in Oakland in a game that could prove to be an exciting end to one of the most exciting seasons in modern NBA history. If they win, the Warriors will have officially won their second NBA title in as many years. [Times-Picayune]
World Braces for Annual Apple Event
Today is Apple's annual Worldwide Developers Conference, although if the rumors coming out of the company are true, it might be wise to temper your expectations. Apple isn't expected to unveil any new hardware but will focus instead on software, including new versions of mobile, desktop, and television operating systems and maybe even a desktop version of Siri, so you can never use it even when you aren't near your phone. [The Motley Fool]