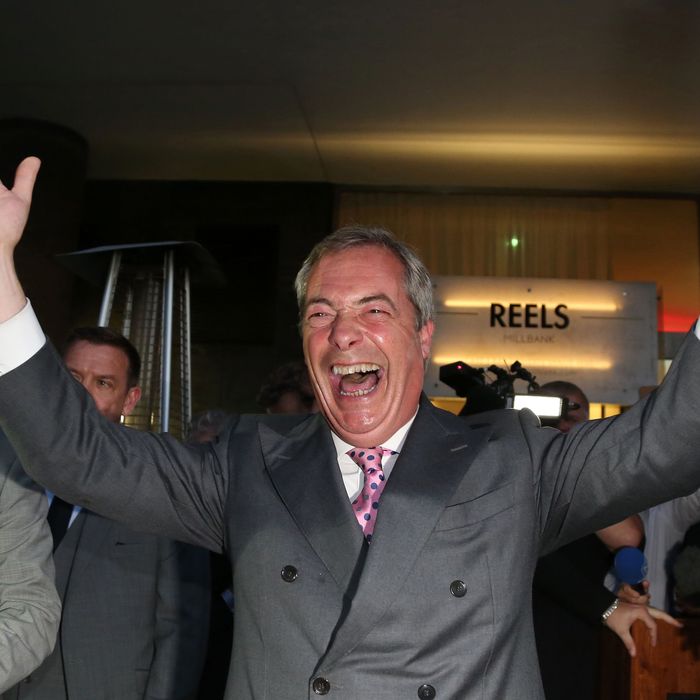 Nigel Farage laughing at a funeral.
Photo: GEOFF CADDICK/This content is subject to copyright.
Good morning and welcome to Fresh Intelligence, our roundup of the stories, ideas, and memes you'll be talking about today. In this edition, Britons vote to leave the European Union, Sanders still refuses to leave the race, and Trump leaves for Scotland. Here's the rundown for Friday, June 24.
WEATHER
Severe storms stand to get worse today in the Midwest and Northern Plains states, with the same hailstorms, strong winds, and possible tornadoes the region has been facing all week continuing through the weekend. New York City tomorrow will be hot and muggy, with temperatures topping out around 80. [Weather.com]
FRONT PAGE
Britain Votes to Leave the European Union
In an unprecedented move, Britons voted to leave the European Union yesterday. The contentious vote, which split the country down the middle and which was fraught with anti-immigrant rhetoric, ended up revealing deep-seated anti-EU sentiment among many, especially those in Wales and England's northern cities — two areas hit hard by the 2008 recession. Analysts have warned that the move could damage the nation's economy, and global markets have already reacted to the vote by taking a nosedive: The British pound almost instantly sank to a 31-year low, Japan halted trading, the value of the euro fell. Following the vote, British prime minister David Cameron announced he would resign.
EARLY AND OFTEN
Sanders Fights to Keep Message Alive in New York Speech
Despite announcing yesterday that he knows he probably won't be his party's nominee, Bernie Sanders gave a major speech last night in New York where he said the movement he'd inspired was worth more than one election and vowed to keep up the fight to change the way elections work and to make the Democratic Party more progressive. Sanders said he will keep Trump from the White House, reaffirmed his commitment to gun control, and pointedly didn't mention Hillary Clinton once, which at this point seems kind of rude.
Clinton Technician Pleads the Old 640th (The Fifth 128 Times)
Bryan Pagliano, the computer tech who set up Hillary Clinton's now-notorious private email server, was questioned by the court yesterday in the ongoing investigation into whether Clinton set up said server to keep information from the prying eyes of the public. If Pagliano wanted to give the impression that the server was an innocent mistake and that he and his ex-boss have nothing to hide, he didn't do a very good job: He pleaded the fifth and refused to answer the court's questions 128 times in less than an hour and a half. Sounds like a productive day all around. [Reuters]
Never Trump Movement Hits Major Snag: The Republican National Committee
The #NeverTrump movement's greatest hope for stopping Donald Trump at convention was in changing the rules of the convention to allow delegates to modify their votes in the first ballot. That change is looking increasingly unlikely now that the Republican National Committee has released the names of the 112 members of the convention's rules committee: More than a third are RNC members and unlikely to buck the system, and many of the others are Donald Trump loyalists or conservative rules committee veterans. It looks like Donald Trump may have been right all along: The system is rigged. [Politico]
Lewandowski Spills VP Beans: Scott Baio, Stacey Dash, Hank Williams II, and That Guy From The Profit
It looks like Donald Trump is keeping his list of potential vice-presidential candidates as streamlined as the rest of his campaign — so said recent ex-staffer Corey Lewandowski on his new employer, CNN, yesterday. Lewandowksi managed to control his temper long enough to confess that Trump's list was no more than four people long, but don't worry, they're all "of the highest quality" and already "household names." Robin Leach, Dennis Hastert, Henry Kissinger, and the ghost of Roy Cohn? Feel free to play along at home. [CNN]
THE STREET, THE VALLEY
America's Banks Ready for Trump Presidency
All of America's major banks have passed their severe stress tests, meaning they are strong enough to weather even the bleakest economic downturn. All 33 technically passed, but Morgan Stanley performed at a level way behind its peers. Deep breaths, Morgan Stanley. [Bloomberg]
Bank of America Must Pay $415 Million Over Misusing Client Funds
Bank of America has admitted it wrongly used billions of its clients' money in trades that would benefit the bank. The bank will pay out $415 million, $356 million of which is a fine, making it the largest fine in history ever leveled against a bank for breaking the Securities and Exchange Commission's customer protection rule. [Bloomberg]
Twilio Nearly Doublios
Cloud communications company Twilio's stock nearly doubled yesterday, the first day after its market debut. The company's huge success in the market has most likely confounded the naysayers who felt that the year's first Silicon Valley–backed IPO was in for a bumpy ride in a year that has proven unfriendly to the IPO market. [CNet]
Didn't Think You Could Get More Frustrated With Uber?
Realizing its customers were frustrated by the growing prevalence of surge-pricing notifications, Uber has done the obvious thing and done away with surge pricing. Just kidding — they did away with the notifications. Now riders will be presented with a fare upfront with tiny line of text saying "increased demand." There will still be lots of surge pricing, but now you won't know about it.
MEDIA BUBBLE
So That's One Song Led Zeppelin Didn't Steal
A federal jury in Los Angeles ruled yesterday that Led Zeppelin did not steal the iconic opening riff from "Stairway to Heaven," what has become one of the most famous songs in the history of rock and roll. It was alleged that Led Zeppelin lifted their guitar work from the song "Taurus" by Spirit, a band they shared gigs with in their formative years. [NYT]
YouTube Buys Series Based on 2006 Channing Tatum Vehicle Step Up
YouTube announced yesterday that it had bought the rights to a drama series based on Step Up, the 2006 dance hit that helped to launch Channing Tatum's career. On the same day the company discussed its foray into original content, it also announced a new live-video-streaming option, just in case you like your videos more amateurish than a Step Up remake. [CNet]
We Must Be eBaying Wrong
Somehow an astute and very lucky Nirvana fan found a reel of unreleased Nirvana music on eBay. The recording features unreleased versions of songs from the In Utero sessions as well as two wholly new compositions: a weird noodly psychedelic thing, which confirms our long-held suspicions that Kurt Cobain loved the Grateful Dead, and a more hard-rocking number in which Dave Grohl plays all the instruments. In a move that no doubt would have pleased Cobain, he uploaded the whole thing to YouTube. [CNet]
PHOTO OP
Another Puppet Politician 
A Bernie Sanders fan waits in line for Sanders's "Where Do We Go From Here" speech in New York City.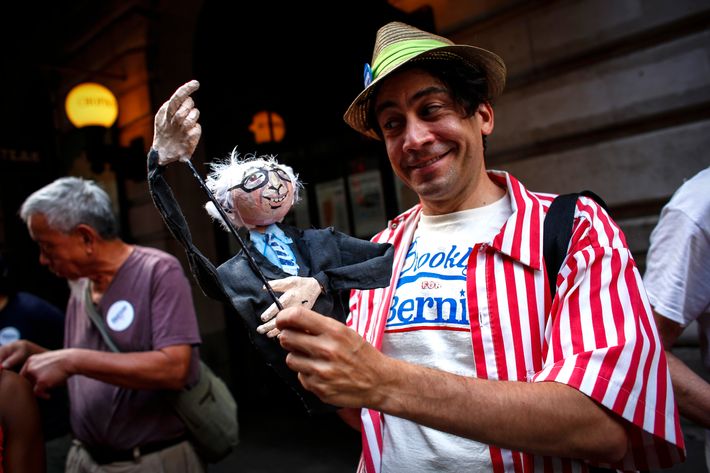 MORNING MEME
Take It From a Country That Knows All About Bad Choices at the Voting Booth
A meme equivalent of a condolences card from us to you, Britain.
OTHER LOCAL NEWS
Utah Has a Whole New Kind of Wiener Dog
Utah has found a new way to adorably squander its tax dollars. The state is trotting out a new specially trained porn-sniffing dog to find people carrying technology equipment such as hard drives that are commonly used to distribute porn. His name is URL (pronounced Earl, get it?), and he is also trained to sniff out phones. Are we the only ones who see a pretty big problem with this plan? [ABC]
If Irony Is What We Think It Is, This Story Sure Has a Lot of It
When a drunk driver crashed into Denis Lafferty's Cars and Trucks Collision Repair in Salem, Oregon, the story was already ripe for parody. Then Lafferty admitted that it was the fifth nearly identical accident in the same month, and then he said this last one was caused by the driver crashing into a car he had set up painted with the words "Don't Drink and Drive." [ABC]
HAPPENING TODAY
Stop Everything — Kanye West Has Something to Show You
According to unsubstantiated rumors, Kanye West will unveil the first music video from his perpetual work in progress, The Life of Pablo, tonight. He will play the video for "Famous" at the Forum in Inglewood, California. If you can't afford a ticket, don't worry: The whole event will be streamed (of course) on Tidal. [Hip Hop Wired]
Well, Trump Certainly Prioritizes Like a President
With his campaign facing unprecedented challenges and his personality under attack by foes who want to paint him as a witless billionaire disconnected from the issues of real Americans, Donald Trump decided to jet off to Scotland to visit his golf courses. [Heavy]
Now You Can Cry for Free
In huge news for anyone who has ever loved and lost or who just can't afford to keep going to karaoke four times a week, Adele's 25 is coming to Spotify today. It only took seven months, and we must have called a million times … [The Verge]