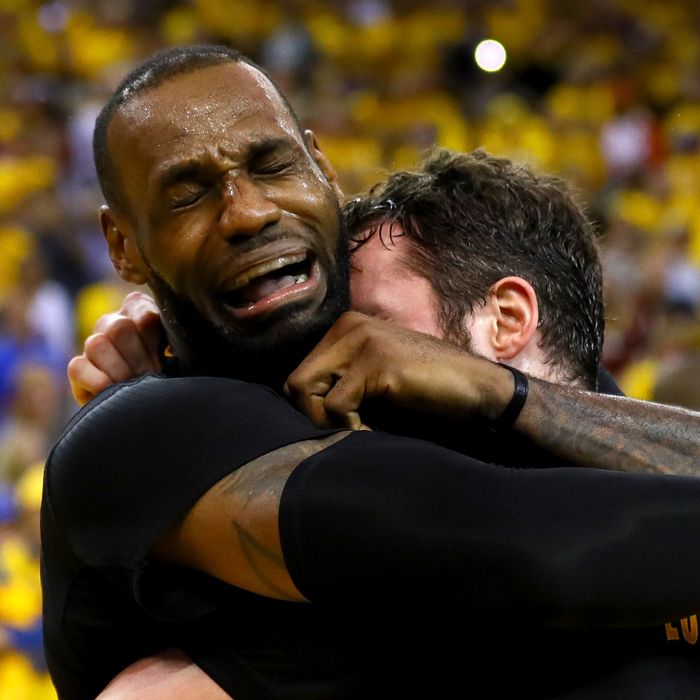 Congratulations, you big babies.
Photo: Ezra Shaw/Getty Images
Good morning and welcome to Fresh Intelligence, our roundup of the stories, ideas, and memes you'll be talking about today. In this edition, Cleveland gets a championship, Trump is all for racial profiling, and Airbnb's future in New York is uncertain. Here's the rundown for Monday, June 20.
WEATHER
Storms moving east through the Great Lakes and the Midwest stand to get more severe today and into the week, with the possibility of tornados and more of that scary tennis-ball-sized hail that fell in Minnesota over the weekend. New York City today will be sunny and hot with temperatures in the low 80s. [Weather.com]
FRONT PAGE
Cleveland Team Actually Wins Something
In a nail-biter that perfectly capped off a thrilling season and an equal parts exhilarating and infuriating seven-game championship series, the Cleveland Cavaliers beat the Golden State Warriors Sunday night in the last minutes of Game 7. Kyle Irving delivered the championship-winning three-pointer for a final score of 93-89, but LeBron James was the undisputed king of the court, pulling down 27 points, 11 rebounds, and 11 assists, and executing a maneuver that will hereafter be known simply as: the Block. The win makes the Cavs the first team in NBA history to come back from being down 3-1 to win the title — a title that is the first major sports-team championship for Cleveland since 1964.
EARLY AND OFTEN
Trump Comes Out in Favor of Racial Profiling, Presumably Not When It Comes to Orange People
Ignoring the growing chorus of Republican operatives begging him to tone down his inflammatory rhetoric on race, Donald Trump came out in favor of racial profiling while speaking on Face the Nation over the weekend. While Trump said he hates "the concept of profiling," he also said, "We have to start using common sense." Which is almost certainly not what he meant.
Putin Tempers Trump Praise
Russian president Vladimir Putin responded to reports that he called Donald Trump "brilliant" over the weekend, saying he had been mistranslated and what he really said was that Trump was a "bright person." When even Vladimir Putin feels it's wise to distance himself from you, it might be time to reevaluate your choices. Interestingly, Putin also said that he acknowledges that America is the world's only superpower, saying: "The U.S. is a great power. At the moment, it is probably the only superpower, and we accept this fact." [Politico]
Trump Not Content With Ruining Just One Country
Donald Trump took his rare talent for dividing people overseas yesterday when he gave an interview to the U.K.'s Sunday Times. Trump said that he if he were a British citizen, he would be tempted to vote for leaving the European Union — and would most likely have much better manners, just saying. To the nation's great relief, he reminded Britons that "I am not a British citizen. This is just my opinion." If polling in the U.S. is anything to go by, Trump's endorsement of the Brexit will almost certainly assure it doesn't pass. [Reuters]
Incomplete Supreme Court Prepares for Historic Week
The eight justices of the Supreme Court are set to have a big week with major cases relating to assault rifles, abortion, affirmative action, and immigration all awaiting adjudication. The justices will decide if assault-weapons bans violate the constitution, if restrictive state laws against abortion providers violate Roe v. Wade, and if admissions programs that give preference to minority groups are legal. The courts will also decide on whether the president has enough authority to have enacted his sweeping immigration reforms through executive action. A win for the White House would be a serious defeat for Republicans, but could also open the door for Donald Trump to use his executive authority to enact strict immigration restrictions if he became president. We say the court "will decide," but more likely the divided court will be unable to decide anything, leaving lower-court rulings in effect. [Reuters]
THE STREET, THE VALLEY
U.S. Gas Prices See First Reduction Since Winter
The price at the pump has fallen in the United States for the first time since February. The average price of gas is down by 69 cents in the last two weeks, making the national average around $2.36 per gallon. Seriously? Where are those gas stations? [Bloomberg]
Regulators Say Prognosis Not Good for Medical-Insurance Megamerger
Antitrust regulators are not thrilled about a proposed $48-billion acquisition of Cigna by another health-insurance giant, Anthem. Although the deal has not been officially quashed, officials say they doubt the companies will be able to make satisfactory concessions to assuage fears about preserving healthy competition in the industry. [WSJ]
Chinese Courts Take Strong and Pretty Ironic Stance on Intellectual-Property Rights
Courts in China are giving Apple a taste of its own medicine, threatening to ban the sale of the iPhone 6 and iPhone 6S in the country because they look similar to the Chinese-made 100C phone. Apple is appealing — which is why it remains super easy to buy an iPhone in China — but the company has had a rough time in China of late. So far the government has ruled it doesn't have the right to trademark the name "iPhone," and has shut down its iTunes and iBook services. [CNet]
Cuomo Mulls Airbnb Ban
A bill to ban short-term apartment listings that could have serious repercussions for Airbnb is on the desk of New York governor Andrew Cuomo. Supporters of the ban have used arguments ranging from the claim that Airbnb takes valuable housing stock off the market and raises prices for everyone to the less-rational rhetoric of "What if a terrorist is staying in an Airbnb next door?" Cuomo could decide whether to veto the bill or sign it into law as early as today. [The Verge]
MEDIA BUBBLE
Finding Dory Breaks Box-Office Record
Disney Pixar's much-anticipated Finding Nemo sequel, Finding Dory, set the opening-weekend record for an animated movie, pulling in $136.2 million from North American theaters. As a point of comparison, the second-biggest movie of the weekend was Central Intelligence, which only managed to make $34.5 million. Poor, poor Kevin Hart. [Bloomberg]
Replacements Found for Mike Allen's Playbook
The future of Playbook, Politico's influential email newsletter, has been uncertain since its author, Mike Allen, announced his departure. Now, two replacements will pick up where Allen leaves off: Journalists Anna Palmer and Jake Sherman will take over producing Playbook starting next month. [Poynter]
Star Trek Actor Dies in Freak Accident
Anton Yelchin, the talented character actor and rising star best known for his role in Star Trek, was killed yesterday in a freak accident at home in Southern California. Yelchin was pinned against his security gate when his car rolled down his sloped driveway. He was 27 years old.
PHOTO OP
Thousands Protest U.S. Military in Okinawa
Thousands of people took to the streets in Okinawa over the weekend to protest planned new U.S. military bases there. Tensions between locals and military personnel have reached a breaking point after a local woman was recently raped and murdered — a U.S. contractor is the main suspect.

MORNING MEME
Nerd Rage Sweeps Nation
Oh, HBO Now, how could you? After higher-than-anticipated traffic — seriously HBO, you didn't see this coming? — for Game of Thrones' eagerly awaited "Battle of the Bastards" last night, HBO's streaming service went down, leaving fans with nothing to do but create memes to express their impotent rage.
OTHER LOCAL NEWS
Just When You Thought Marathon Running Couldn't Get Any Worse
A woman's day went from bad to worse when she was attacked by a bear while running a marathon through the Valles Caldera National Preserve in northern New Mexico. Incredibly, though she suffered multiple bites and scratches, she managed to survive. Leonardo DiCaprio has already expressed an interest in playing her onscreen. [SF Gate]
Modern-Day Godzilla Story: Sheriffs Irradiate Giant Lizard
A lonely lizard-lover's plans to bring his pet lizard into court with him were foiled over the weekend in Boulder, Colorado. The security guards noticed the lizard — honestly it was pretty hard to miss — when its owner put his bag through the X-ray scanner. If you want to see a picture of an X-rayed iguana, just follow the link. [AP]
HAPPENING TODAY
Government to Release Transcripts of Orlando Shooting
The government will release partial transcripts of the Orlando shooter's interactions with police negotiators to the public today. In the transcripts, the shooter apparently discusses his motivation, including criticizing U.S. foreign policy and pledging allegiance to radical groups such as ISIS and Al-Qaeda. [Bloomberg]
Dalai Lama Addresses Californian Lawmakers
The Dalai Lama, the exiled spiritual leader of Tibet, will address lawmakers at the California State Legislature today. His Holiness will discuss compassion and ethical leadership with lawmakers. [ABC]
Senators Will Have to Reject 4 Separate Bills About Gun Control Today
In the wake of yet another mass shooting, four separate bills relating to gun control come up for a vote in Congress today. Among the new bills are moves to give the attorney general the authority to delay anyone on the terrorist watch list who wants to buy a gun for up to 72 hours. Baby steps. [Chicago Sun Times]