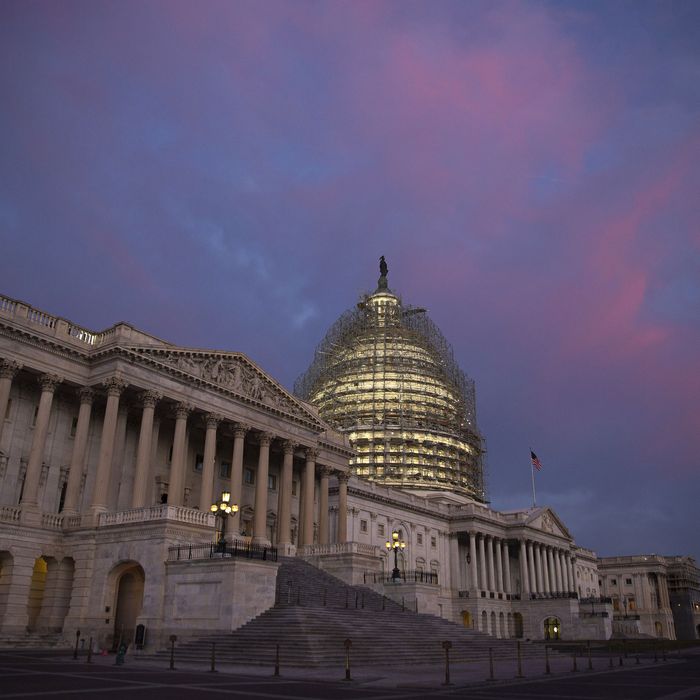 The Capitol: Where the party goes all night.
Photo: Drew Angerer/Bloomberg via Getty Images
Good morning and welcome to Fresh Intelligence, our roundup of the stories, ideas, and memes you'll be talking about today. In this edition, lawmakers filibuster through the night for gun control, Republican approval ratings hit their lowest point in ten years, and Hulk Hogan and Gawker call a temporary truce. Here's the rundown for Thursday, June 16.
WEATHER
Storms in the middle of the country will give way to stifling, dangerously high heat today with rain moving to the coasts. It'll be a wet one for both sides of the country, with showers in northern California and thunderstorms in the mid-Atlantic states. New York City will not be spared, with rain all day and temperatures hovering in the mid-70s. [USA Today]
FRONT PAGE
Gun-Control Filibuster Reaches Historic Length
Mostly Democratic frustration with mostly Republican inaction over gun control in the wake of Sunday's mass shooting in Orlando boiled over yesterday when Connecticut senator Chris Murphy kicked off an unexpected filibuster on the House floor in the hopes of forcing Republican lawmakers to face the national crisis of gun violence with more than prayers. The filibuster, which began in the late morning, went on for just short of 15 hours, making it the eighth longest in the chamber's history. Murphy and his fellow senators stayed on topic for the entire period, discussing the toll gun violence has taken on the United States. The hashtag #filibuster was trending on Twitter all night, and lawmakers are hopeful that, by drawing attention to the issue, they can force a vote on two gun-control amendments.
EARLY AND OFTEN
Russian Hackers Expose DNC's Elite Googling Skills
The Russian-government-backed hackers who infiltrated the Democratic National Committee — Hey, Cozy Bear! Hey, Fancy Bear! — have released the oppositional research on Donald Trump, and if anything it seems to be effective propaganda for the Democrats. The document is basically a compilation of research any intern with high-school-level Google skills could have put together, separated into sections such as "Trump's Ex-Wife Accuses Him of Rape" and dealing with topics like how terrible he is with business, how he would destroy the environment, and how he would basically kill us all. Donald seems to think the leak may actually end up hurting him, too, and has already accused the DNC of hacking themselves. Guys, stop hacking yourselves! [Gawker]
Donald Trump and the NRA Want to Take Your Guns
Donald Trump yesterday tweeted that he was planning on meeting with the National Rifle Association to draft legislation that would keep guns out of the hands of terrorists. For its part, the NRA said they supported keeping guns away from terrorists — brave of them — but wanted to make sure the Americans wrongfully put on the terrorism watch list could appeal. If you're clutching your rifle in a panic right now, you can relax; no one is coming for your guns, and Trump even appeared in Atlanta yesterday and promised to "save your Second Amendment," although from where we're standing, it really doesn't look like it needs saving. [NYT]
Republicans Hope the Third of Americans Who Like Them Are the Same Third That Actually Votes
Bloomberg is reporting that under the leadership of Donald Trump, the nation's affection for the Republican party has dropped to its lowest rate in the history of the Bloomberg Poll, which got its start in 2009. According to the latest poll, only 32 percent of Americans view the Republican party favorably compared to 49 percent that view the Democratic party favorably. On both sides of the aisle, only 24 percent of Americans have any affection for Congress, which, to be honest, seems a little high. [Bloomberg]
Trump Wants to Ban Anyone From Countries We Don't Get Along With From Entering the U.S. Except Kim Jong-un, Kim Jong-un Can Come
Feeling perhaps that he hadn't done enough RNC-confounding this week, everyone's favorite nerf-melt announced yesterday that he would be willing to invite the totalitarian despot and confirmed enemy of the United States Kim Jong-un over for a talk. Just, as he put it, to open a dialogue. But don't worry, he wouldn't be throwing any state dinners or anything, not because they'd send the wrong message, but because they're just so expensive. Maybe he'll just get Chris Christie to take their McDonald's order. [Politico]
THE STREET, THE VALLEY
Interest-Rate Fears Prove Unfounded
In her much-anticipated remarks yesterday, Federal Reserve chair Janet Yellen implied short-term interest rates would remain unchanged in the coming months, and that the prognosis for long-term interest rates into 2018 and beyond remained uncertain. [WSJ]
Judge to Throw Out Twitter Terror Suit
A judge will throw out a lawsuit against Twitter brought by the widow of a man who was killed in an ISIS attack at a police training center in Jordan. The widow claimed that by allowing ISIS operatives to open accounts and use Twitter to communicate, Twitter violated the Anti-Terrorism Act. The San Francisco judge said he would likely throw out the case and encourage the widow to revise her claims. [Bloomberg]
Google: More Than Just a Time Thief
Space Data Corporation is claiming that Google stole proprietary technology it developed more than ten years ago, which Google then used to develop Project Loon — the company's neo-Victorian fantasy project of deploying giant Wi-Fi bearing balloons. Is this the internet of things? [The Verge]
SpaceX Pulls a North Korea, Launches Rocket Into the Sea
Fourth time's the rocket crash. After successfully delivering a payload of two satellites into orbit, the Falcon 9 rocket stuck the landing … right into the ocean. This is the first time a rocket has been lost in the last four flights; usually, they are able to self-land on an autonomous drone-ship in the Atlantic Ocean named, "Of Course I Still Love You." The future is now, and the future is odd. [CNet]
MEDIA BUBBLE
Hogan, Gawker Call for Time-out
Both parties in the ongoing Gawker-versus-Hulk Hogan lawsuit have agreed to put proceedings on hold until July 13. Until then, Gawker founder Nick Denton will work towards keeping his enterprise afloat and negotiating its recently announced sale. Hogan, meanwhile, will probably go back to sabotaging his daughter's career. [Bloomberg]
BuzzFeed Ousts Producers Over Non-Competes
BuzzFeed's push to win over Latino and LGBT audiences hit something of a snag recently when the company fired its two most popular producers and personalities making Latino and LGBT content: Pero Like's Jenny Lorenzo and Lesbian Princess' Brittany Ashley. The two apparently violated the rules when they appeared in a non-BuzzFeed web series, but telling Millennials not to be in online videos is like telling the birds not to fly! [Politico]
Sumner Redstone Speaks! In an Email, Through an Assistant
Sumner Redstone has finally spoken out in the increasingly ugly battle over the future of Viacom and his media empire. In an 81-word email sent through his assistant, Redstone said that, "I am being sued by my fellow board members and my wishes are being ignored," and that he no longer had faith the board was acting in the interest of the company's shareholders. Board members believe Redstone, who is 93, is mentally incapacitated and being manipulated by his daughter. [NYT]
PHOTO OP
Hello Dalai: Lama Visits the White House
Take that, China!
MORNING MEME
Did Donald Trump Hire a New PR Team?
About time.
OTHER LOCAL NEWS
Sandwich Claus Comes Early, Does Terrible Job
Police in Marion, North Carolina, are looking for the criminal food-waster who dumped more than 520 pounds of meat and bread near a stream in McDowell County. It looks like some excitable duck-feeder managed to be both half-assed and totally overkill at the same time. [UPI]
Florida: Land of the Key West Sloppy Joe Fart Fight
A fist fight broke out at the Sloppy Joe's bar in Key West after two patrons got into a heated argument over a fart. The surveillance footage seems to show a Mr. Richard McBride shoving a woman and getting punched in the face over it, but McBride is sure "the argument was due to someone farting." Honestly, it was probably both. [UPI]
HAPPENING TODAY
President and Vice-President Visit Orlando
President Obama and Vice-President Biden will both be in Orlando today where they will meet with survivors and the families of the victims of Sunday's deadly shooting. They will be joined by Florida senator Bill Nelson. [Orlando Sentinel]
Bernie Takes His Message Online
Bernie Sanders has said he will speak to his followers in an online address today. There has been much speculation over what he will say, but Bernie has confirmed he'll discuss the future of his campaign and denies that he is dropping out the race. [The Hill]
When the Nation Needs Him Most, Gilbert Gottfried Is Here
Gilbert Gottfried, the visionary humorist, human claxon, and reclusive standup comedian of Problem Child fame, will make a rare public appearance today at Carolines on Times Square — a rare opportunity for comedy nerds and aficionados of the dirty mind. [NYT]