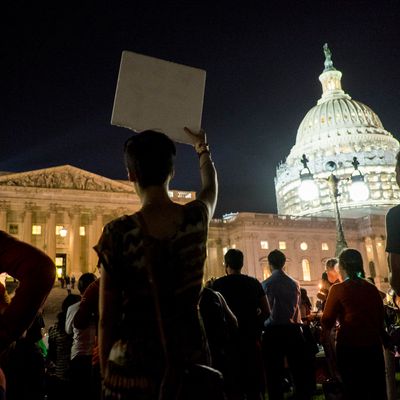 There is a sit-in going on in there.
Photo: Pete Marovich/2016 Getty Images
Good morning and welcome to Fresh Intelligence, our roundup of the stories, ideas, and memes you'll be talking about today. In this edition, Democratic lawmakers refuse to budge, Bernie Sanders acknowledges reality, and Bed Bath & Beyond falls on hard times. Here's the rundown for Thursday, June 23.
WEATHER
Extreme thunderstorms with high winds will continue to rage through the Midwest, Great Lakes, and Ohio Valley, with tornado watches in effect in Indiana, Ohio, and Kentucky. Today will be a rainy day in New York City, which should cool temperatures down to the mid-70s. [Weather.com]
FRONT PAGE
Democrats Stage Overnight Sit-in for Gun Control
House Democrats led by Civil Rights legend John Lewis took over the chamber floor yesterday to stage a sit-in (yes, they literally sat on the floor), calling for the passage of gun-control legislation. As the afternoon wore on, Republican speaker of the House Paul Ryan called the session to order, held unrelated votes, and talked over Democrats, ignoring their pleas and chants of "No bill no break." Republicans — who earlier shut off CSPAN cameras, leaving Democrats to live-tweet their protests — tried to break up the sit-in by bringing to vote a valuable piece of legislation on funding for combating the Zika virus, but with the protest now in its literal 14th hour, Democrats don't seem like they're going anywhere, and have even begun to unroll sleeping bags on the chamber floor.
EARLY AND OFTEN
Clinton Talks Economics, Trump Talks Clinton
The two presidential hopefuls gave major speeches today. Donald Trump used his speech to show off his new persona as a focused, teleprompter-tied candidate, calling Hillary Clinton "a world-class liar" with an "old and tired" message, and throwing in a few policy positions such as appointing judges who defend the Constitution and overhauling immigration. For her part, Clinton used her time speaking in North Carolina to elucidate her proposed economic policy, which includes raising wages, closing tax loopholes, beefing up Social Security, and other "old and tired" ideas. [Time]
News Flash: Bernie Sanders Has Realized He Might Not Get the Nomination
During an hour-long interview on CSPAN, Bernie Sanders appeared to admit for the first time that he wouldn't be the Democratic nominee for president. "It doesn't appear that I'm going to be the nominee, so I'm not going to be determining the scope of the convention," he said. Sanders stopped short of saying Clinton would get the nomination, but he did call her "very, very intelligent." We know what you're thinking, and yes, Sanders has clearly been drugged and brainwashed by a Clinton Foundation–Wall Street cabal. [NYT]
If You Were Afraid the Senate Might Get Too Charismatic, You Can Rest Easy
After proving he was terrible at campaigning, repeatedly bashing the Senate, and talking about seemingly nothing other than how much he hated being a senator, Marco Rubio has made the obvious choice to run for his old Senate seat. Rubio had promised — with relief so palpable we could practically hear his blood pressure drop — that he would join the private sector, but we guess once you get a taste of life on the campaign trail it can be hard to give it up. That, and it was looking pretty likely a Democrat was going to take his seat in November. [NYT]
The Fight to Abolish Superdelegates Begins
Everyone knew it was coming, but now the fight before the Democratic convention over superdelegates has become a reality. Maine lawmaker Diane Russell submitted an amendment to Barney Frank and Leticia Van De Putte, the DNC's Rules and Bylaws Committee co-chairs, calling for the abolishing of superdelegates. The move came the evening after Bernie Sanders gave an interview saying that he wanted to reform the Democratic party and address what many see as the undemocratic role of superdelegates. To pass, the amendment would need support from at least 20 percent of committee members and would not take effect until the election in 2020. [Politico]
THE STREET, THE VALLEY
Words No Hedge-Fund Investor Wants to Hear: The FBI Raid Was Unrelated to the Bribery Probe
New York hedge fund Platinum Partners was raided by the FBI yesterday. The cause for the raid is still unclear, but sources say it was not related to a separate, ongoing bribery probe. The raid comes after the embattled hedge fund was mulling shutting down its largest fund — guys, if you don't want attention, maybe don't give your company a name Bird Man would use for a record label. [Bloomberg]
Americans Take World's Most Amazing Store for Granted
Terrible news for people who spend their Sundays like we do: Bed Bath & Beyond stocks took a dive of more than 7 percent yesterday, after the company's announced earnings didn't live up to analyst estimates. The veritable miracle factory has been under pressure from online retailers, and it looks like their old standby marketing strategy of "More coupons!" just isn't cutting it anymore. [Bloomberg]
Conan Doyle Estate Lawsuit Waiting to Happen: Watson Training to Be a Doctor
IBM's super-computer and superstar is about to get some medical training. The company yesterday announced its Watson Health medical-imaging initiative, a collaboration between 16 members gathered from imaging-tech equipment vendors and academic medical facilities. The idea is to train Watson to work with medical-imaging technology to help in the early detection of health problems like breast cancer, diabetes, and heart disease. The world is getting so much like Star Trek, and it is awesome. [CNet]
Google Fiber Moves to Cover the Country
Google announced yesterday that its high-speed internet provider — and we're convinced urban legend — is acquiring the internet-service provider Webpass. This provides Google Fiber the commercial infrastructure to roll out its service in places that Webpass is popular, such as the Bay Area, San Diego, Miami, and Boston. [The Verge]
MEDIA BUBBLE
Amazon Video Overtakes iTunes, Yes Mozart in the Jungle Is That Good
New numbers out yesterday show Amazon Video has overtaken iTunes as the third-largest streaming-video service in terms of traffic. Still, Amazon only pulls in about one-tenth as many viewers as Netflix, which dominates the number-one spot with more than 32 percent of traffic. Don't get too comfy, Netflix — Season three of Bosch is dropping soon. [CNet]  
Who Are These People Watching Football on Twitter?
Twitter made waves by buying the rights to stream a handful of NFL games for $10 million a few months ago, and now the company is making more waves by trying to sell advertising packages on those streams for between $2 and $8 million per advertiser for a total of more than $50 million. We don't get it — is Twitter going to show the games in 30-second clips? [Re/code]
Vice Tries Its Hand at World Domination
Vice might be cutting jobs here in New York, but elsewhere it's expanding, as if possessed. Vice Media plans on launching in more than 50 new countries, including eventually launching 12 channels in Europe, bringing its new Viceland TV channel to 44 countries, and offering digital and mobile content in Asia, Africa, and the Middle East. [The Guardian]
PHOTO OP
Activism Takes an Adorable Turn
Bless you, Emanuel Cleaver. Bless you and your patriotic pillow.
MORNING MEME
Your Daily Soothing Throwback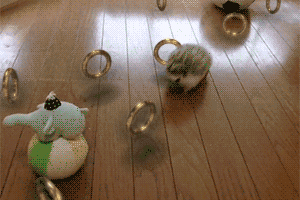 OTHER LOCAL NEWS
Our Condolences to Rocky
Bullwinkle, a beloved bull elk — hey, people can belove a bull elk — and for some reason a local celebrity in Ellensburg, Washington, has been shot and killed by wealthy trophy hunter Tod Reichert. The townsfolk are obviously heartbroken and up in arms, and Reichert faces criminal charges of unlawful hunting of big game in the second degree. [Seattle Times]
Short Story We Wrote in Middle School Comes True
An investigation is underway into how a Washington man managed to commit a murder while wearing a police-issued GPS monitoring device. The brilliant twist? Authorities had accidentally attached the device to the man's prosthetic leg — a leg that they now think he left at home to go kill somebody. [Fox]
HAPPENING TODAY
Britons Vote on the Future of Their Nation
Britons go to the polls today to vote on whether they should remain in the European Union. The vote will obviously have far-reaching consequences for the country, but it could also seriously affect international markets — most financial experts have said a vote to leave could undermine the economy. [BBC]
The Cycle Continues
Just as one of the most exciting seasons in NBA history comes to an end, the NBA draft kicks off today, with all eyes understandably on the team makeups for the champion Cavaliers and near-champion Golden State Warriors. [ESPN]
Sanders Addresses His Minions in Manhattan
Bernie Sanders announced yesterday that he will give a speech in New York City tonight titled "Where to Go From Here" this evening. Sanders is in the tricky position of tempering his many followers' expectations for his candidacy while harnessing their enthusiasm to effect changes in the Democratic party platform. [Market Watch]