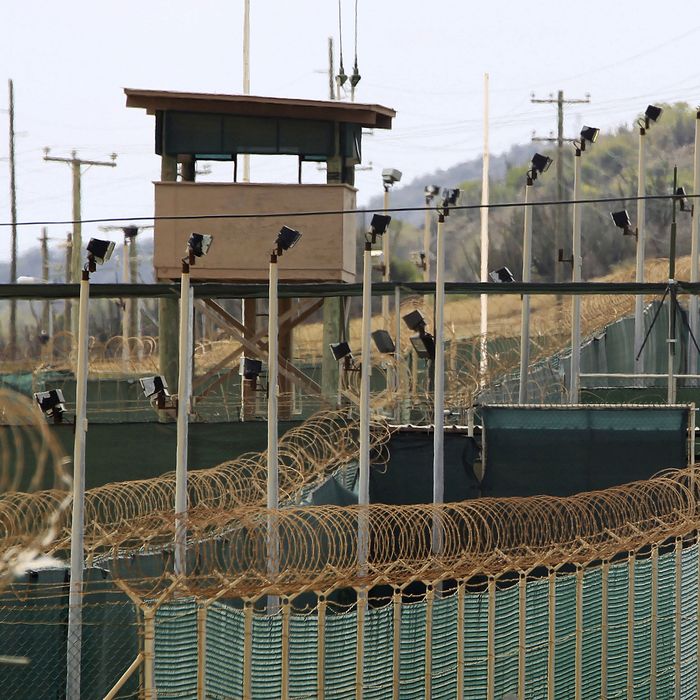 Guntanamo Bay.
Photo: Bob Strong/Corbis
Good morning and welcome to Fresh Intelligence, our roundup of the stories, ideas, and memes you'll be talking about today. In this edition, released Guantánamo detainees are implicated in the killing of Americans, Kasich mellows out, and Elizabeth Warren will fix everything. Here's the rundown for Thursday, June 9.
WEATHER
Brace yourself for what will be pretty much a nationwide heat wave today, except for near the Great Lakes, where showers throughout the day should take the edge off things, and in New England, where unseasonably cool temperatures will make things actually kind of pleasant. Today should also be a beautiful, if warm, day in New York City, with sunny skies and temperatures in the mid-70s. [USA Today]
FRONT PAGE
Released Guantánamo Detainees Implicated in Attacks
U.S. officials have admitted that the White House believes as many as a dozen released Guantánamo detainees have taken part in attacks against American soldiers in Afghanistan. The Washington Post is reporting that the onetime detainees are responsible for six American deaths, including one woman who was an aid worker in Afghanistan — the only non-military personnel among the casualties. The public has known that some prisoners who were released from Guantánamo Bay went on to attack American soldiers, but the Obama administration had refused to provide any details. Officials now claim that of the 12 detainees who took part in attacks, 9 are dead or back in custody. The disclosure could have serious political ramifications; Republicans have long claimed the Obama administration's plan to close the controversial Cuban prison complex endangers American lives. [WP]
EARLY AND OFTEN
John Kasich Had Us All Fooled, Does Something Cool
Despite the impression you might have gotten of him on the campaign trail, Ohio governor John Kasich is one hep cat, as the kids say. Yesterday Kasich signed a bill into law making his state the 26th in the nation to legalize medical marijuana. Before you get your tickets for Cleveland's next big laser light show, a few things:Patients will only be allowed to vape and eat marijuana, not smoke it; they will only be eligible for a prescription if they have a few specific conditions; they will have to buy their pot from out of state, and even with a prescription they can still be legally fired for failing a drug test. At least this explains all the eating. [Politico]
Without Sanders Endorsement, Clinton Goes for Next-Best Thing
Sanders may be refusing to endorse Hillary Clinton until the convention — and beyond, for all we know — but it looks like she may have pulled off another big progressive get: Elizabeth Warren. Warren hasn't endorsed anybody yet, making her the only female senator not to stump for Hillary, but she's signaled that her Clinton endorsement will be coming in the next couple of weeks. And not only that, but she said the vice-presidency wasn't necessarily off the table.
Same-Sex Marriage Legal in Alabama! Wait …
People say Alabama is backward, but would a backward state legalize same sex-marriage … just one year after the Supreme Court said it had to? That's right, as of today, thanks to a federal judge's injunction, Alabama government employees will no longer be able to deny marriage licenses to same-sex couples. What's next? Separation of church and state? [Reuters]
New York's Budget Approved
Next year's fiscal budget for New York has been approved. More than $80 billion has been earmarked for the city this year, with big outlays to prop up money-losing enterprises like public hospitals, and enough cash for a raft of social and educational programs. The budget represents the earliest agreement between the mayor and City Council since the budget deal in 2001. Record amounts of revenue certainly helped this year, but at this rate the budget will reach $90 billion by 2020, a 24 percent increase since de Blasio took office. [Bloomberg]
THE STREET, THE VALLEY
A Very Good Day for Samsung
Lots of good news today for Samsung: First, Tesla seemed to go back on an earlier statement that it would only use Panasonic batteries after Elon Musk tweeted that the company might still use Samsung batteries for its non-car products — news that sent Samsung's stock up 4 percent. Then, the Justice Department asked the Supreme Court to overturn a recent ruling that favored Apple — Apple and Samsung have been battling it out in the courts over smartphone patents for the last four years — sending the case back down to the lower courts and granting Samsung a kind of legal second chance. [Reuters]
Morgan Stanley Fined $1 Million Over Data Breach
Morgan Stanley agreed to pay a $1 million penalty to the Securities and Exchange Commission yesterday over accusations that it did not do enough to protect customer's private data. Galen Marsh, a former employee, is currently on probation — basically the strictest sentence anyone on Wall Street can get — after illegally accessing the company's computer system and taking home private customer information repeatedly between 2011 and 2014. [WSJ]
Teens to Return to the Widespread Celibacy of the Pre-2012 Era
Tinder announced yesterday that it was going to stop allowing people under 18 to use its service. If you're like us, you will be surprised to learn that anyone between the ages of 13 and 17 has been able to use Tinder since it launched in 2012, although they were only able to match with people in their age group. [Tech Crunch]
Lending Club Sure Knows How to Spook 'Em
Lending Club is in the news for the second time this week; earlier in the week, we reported that the peer-to-peer lending service's second-largest investor had dumped all of their stock, and that the company called off its annual shareholder meeting just moments before it began. Yesterday — with shareholders already jittery, to say the least  — Lending Club's website went offline and its phones went unanswered. According to the company's Twitter account, it was just a temporary data outage, but it's still not a good look. [Tech Crunch]
MEDIA BUBBLE
Ma Money, Ma Media
Arianna Huffington released details of her new media start-up yesterday. Called Thrive, the company will publish health and wellness content contributed by celebrities, bloggers, and celebrity bloggers. Thrive will also offer wellness consulting services to big companies. The outlet is being made possible by the largess of a fairly new media player, Jack Ma, the Chinese billionaire — and recent buyer of Hong Kong's South China Morning Post — who has agreed to become the company's benefactor. [Bloomberg]
Facebook Gets Back to Its Roots
Facebook has hired Ricky Van Veen, the founder of omnipresent humor site CollegeHumor, to become the company's first head of global creative strategy. In his new role, Van Veen will try to get — read: pay — media companies to produce unique content for Facebook's new live video platform. [Recode]
Times Editor Quits Twitter Over Anti-Semitic Bullying
New York Times editor Jon Weisman announced yesterday — on Twitter, obviously — that he is quitting Twitter because of the many abusive and anti-Semitic tweets he's received. Weisman's choice came after he sent a selection of the most egregious tweets to Twitter — including tweets with racial slurs and a threats to "put him in the oven" — and Twitter replied that none of the tweets violated the company's rules and refused to suspend any of the users. Twitter seems to have had a late change of heart and began banning the users Weisman pointed out after he announced he was quitting the platform. [CNN]
PHOTO OP
We Will Never Get Enough of Chewbacca Mom
Here she is at the CMT Awards for some reason.
MORNING MEME
Get Up, Get Down
The Cavs surprised everyone, and maybe even themselves a little, by beating the Golden State Warriors in game three in Cleveland yesterday. Anyone who still questions the Cavs' ability on the court should take a look at this.
OTHER LOCAL NEWS
Jealous of Gators' Attention, Florida's Turtles Try Getting into the Murder Business
Perhaps the recent rash of alligators eating people is actually part of a larger reptile uprising. Just ask this British couple on holiday in Orlando, Florida, who were driving down the road just after she had accepted his marriage proposal "when a turtle bounced off of the car in front and destroyed his windscreen, terrifying his fiancée." Incredibly, this article doesn't even attempt to explain how that could have happened. [The Sun]
Vandals Get A for Effort
Police in East Hampton, New York, would like to know if anyone is missing a 12-foot-tall wooden giraffe sculpture. It was discovered duct-taped and chained to a tree at the entrance of a nature trail, giving the workers who discovered it quite a fright, we'd imagine. If it is your giraffe, kindly pick it up, as it's really getting in the way — it's too large to fit in the local police impound lot. [UPI]
HAPPENING TODAY
Sanders to Meet With the President in D.C. to Pick Up His Red Ribbon
Things have gone far enough, and now the president is getting involved. President Obama will meet with for-some-reason-still-presidential-candidate Bernie Sanders today in a bid to get him to concede the race to Hillary Clinton and unite the party against Donald Trump. [Politico]
Donald Trump to Bully People in a Fancy Restaurant
We're finally going to see what kind of presidential candidate Donald Trump really is when he begrudgingly begins his first big push to woo Republican donors. Trump will have 70 of the party's biggest potential donors to Trump Tower today, where he will — we're guessing — show off his gold toilets and yell at them for a while. Then he will take them all to lunch at the Four Seasons hotel, where they plan to spend a few hours trying to split the check. [NYT]
The Summer's Best Thriller Might Just Be Paul Ryan's Security Agenda
Paul Ryan is releasing his security agenda today. So far it looks like a document carefully calibrated to both undo some of the damage of Donald Trump's domestic security pronouncements and terrify everyone as much as possible. Here's just a sample: "Extremist groups have opened up new battlegrounds across the world, even turning our own city streets into the front lines." Although we're not sure exactly which streets he's talking about, we have been looking for a new beach read. [NYT]