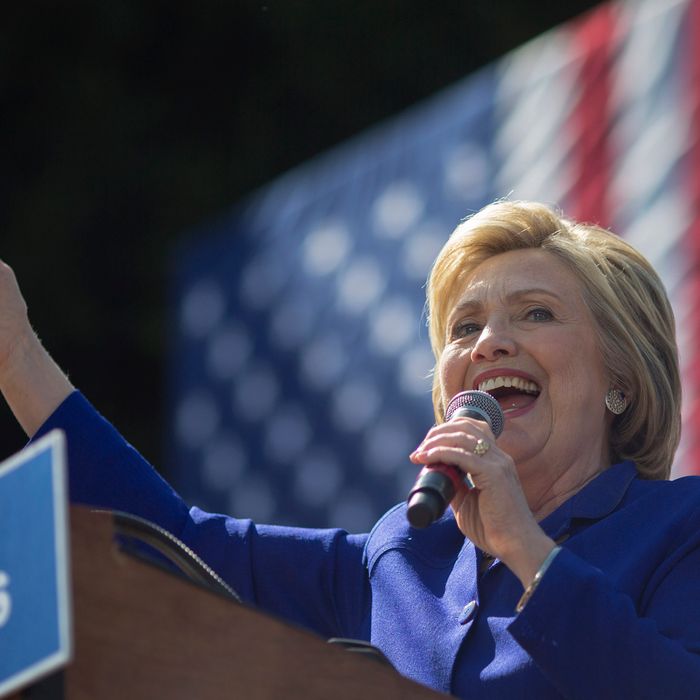 A good reason to smile.
Photo: David McNew/2016 Getty Images
Good morning and welcome to Fresh Intelligence, our roundup of the stories, ideas, and memes you'll be talking about today. In this edition, Hillary Clinton reaches the nomination threshold, Trump attacks his own campaign, and Ronald Reagan has spoken. Here's the rundown for Tuesday, June 7.
WEATHER
Tropical Storm Colin is unrelenting today, soaking the coasts of Florida, Georgia, and the Carolinas while a heat wave continues to bake the West Coast. Storms are also headed for New England and the coastal Northeast, while New York City should see another warm day with a chance of rain. [USA Today]
FRONT PAGE
Hundreds of Journalists Jump at Opportunity to Use the Word Clinch
Most major media outlets are in agreement that Hillary Clinton now has the necessary number of delegates to secure the Democratic nomination in Philadelphia at the end of July, making her the first woman to top a major political party's ticket in United States history. The media has mostly ignored Bernie Sanders's pleas to not call the nomination before July, and many Sanders supporters have responded to the announcement with frustration, claiming superdelegates, who can change their allegiances before the convention, should not be counted, and without them Clinton still doesn't have enough support to secure her party's nomination.
EARLY AND OFTEN
Stupid Information From People Who Aren't So Smart: The Donald Trump Campaign Story
As Democrats all over the country pulled together in a rare coordinated attack against Donald Trump and his supporters over his recent racist and anti-Muslim comments, Trump responded to the criticism with aplomb. No, wait, what's the opposite of aplomb? Trump responded by calling on his allies to attack journalists who were investigating the comments and call them racist, then when his aides sent out a series of talking points telling those same allies to avoid talking about the controversy, he told them to "Take that order and throw it the hell out," describing the talking points as "stupid information," and his own staff as "people that aren't so smart." [NYT]
The Supreme Court Will Hear Two Major Death-Penalty Cases
The Supreme Court has agreed to hear two potentially landmark cases about the death penalty. The cases raise questions about the role of race and intellectual disability in handing out death sentences. In the first, issues have been raised because a psychologist called by the defense told jurors that the defendant, who had murdered his girlfriend and one of her friends, was more likely to commit a crime again because he was black. In the second, the attorneys of a 72-year-old man who was sentenced to death more than 35 years ago are arguing that outdated standards were used to determine whether their client was mentally fit to be executed. [NYT]
Florida Attorney General Caught in Corruption Triangle
While trying to decide whether her state should join an ongoing investigation into criminal practices at Trump University, Florida attorney general Pam Bondi did what any civic-minded state official would do: reached out to the Trump campaign and asked for a campaign contribution. When the contribution came in, Bondi decided not to go after Trump University. Oh, and because the donation technically came from a Trump family foundation, it probably violated rules that govern political activities by charities as well. Good job, guys — you almost pulled off a corruption hat trick. [AP]
Trump Loses Republican Beyond-the-Grave Vote
The final signs of the Republican apocalypse are falling into place: Ronald Reagan has risen, and he will not vote for the Republican nominee. Well, not risen exactly, but his son did send off a pretty damning tweet. Michael Reagan tweeted yesterday that he would not be voting for the Republican nominee, and not only that, but his father — if he were alive — wouldn't vote for Trump either. Perhaps their hesitancy to fall in line with the Republican Party has something to do with Trump calling Nancy Reagan — Ronald's wife and Michael's mother — ugly in an interview. [Politico]
THE STREET, THE VALLEY
Yellen Statements Have Outsize Repercussions
Speaking yesterday, Federal Reserve head Janet Yellen said that she was still optimistic about America's economy despite "disappointing" job numbers, and that an interest-rate hike was still very much on the horizon. On her words stocks rallied to a seven-month high, and the dollar hit a four-month low. [Reuters]
Supreme Court Allows Lawsuit Against Google to Proceed
The Supreme Court has let stand a lower-court ruling that will allow a class-action lawsuit against Google to proceed. The suit is brought by advertisers who claim Google misled them over where their ads would be placed, running them on error sites and undeveloped websites. [Reuters]
All Hail the Bacon Emoji
It's that magical time of the year again when new emoji are announced. This year's roster includes the long-clamored-for bacon emoji, a cowboy, a clown, a stop sign, an adorable little foxy face, a carrot, and a wilting rose — they really get us. The emoji won't actually roll out for public use until later in the year or early next year. [The Verge]
Already-Creepy Face Swap About to Get Terrifying
It has emerged that Snapchat secretly acquired the 3-D image capture company Seene a couple of months ago. Seene technology allows users to make realistic 3-D face scans with only their smartphones, which could mean some seriously disturbing facial filters will be coming to Snapchat soon. [The Verge]
MEDIA BUBBLE
BuzzFeed Scraps $1.3 Million Ad Deal With the RNC
BuzzFeed has backed out of an advertising deal with the Republican National Convention over Donald Trump. In a note to his staffers, BuzzFeed founder and CEO Jonah Peretti equated ads for Trump to advertisements for cigarettes and pointed out that a Trump presidency would make it impossible for BuzzFeed's employees to do their jobs. Good point. [Reuters]
Verizon Bids Big for What's Left of Yahoo
Verizon will bid $3 billion for Yahoo's assets as it tries to outdo other potential buyers like AT&T. The communications company put forward its offer in the second round of bidding that took place yesterday. Still, nothing is sure yet as Yahoo plans to hold another round of bidding and maybe even another after that. [Bloomberg]
Spotlight Effect: AMC Develops Series About David Carr
AMC has tapped Bob Odenkirk to play legendary journalist David Carr in a series based on Carr's memoir about his struggles with addiction, The Night of the Gun. Carr, who died in February last year, acted as a mentor to many journalists and most recently worked as a media columnist for the New York Times. We really wish he was alive to comment on the public's recent embrace of the journalist-as-hero. [Hollywood Reporter]
PHOTO OP
Brock Turner's Mug Shot Finally Released 
After much hard work from activists and reporters, the mug shot of Brock Turner — the former Stanford student recently convicted of rape — has been released by campus officials. The judge in the case caused an uproar when he sentenced Turner to just six months in jail.
MORNING MEME
In Case You Forgot What the Internet Is For
Maybe don't watch this first thing in the morning.
OTHER LOCAL NEWS
Yelp Reviews, Lawsuits, and Anonymous Rape Threats: Fish-Food Fiasco Is the 21st-Century American Story
After a traveling couple caught their hired fish-sitter overfeeding their tropical fish on — of course — their aquarium cam, they responded with a one-star Yelp review. Now the allegedly delinquent fish feeders have retaliated with — you guessed it — a lawsuit for $1 million claiming the Yelp review not only harmed their business but led to online rape and death threats. Can we just have a do-over for this whole civilization? [Newser]
Texas Road-Sign Renegade Really Knows How to Hit a Nerve
The road-sign bandit has struck again. The Dallas, Texas, area — is hero too strong? — garnered widespread attention when he changed local road signs to read: "DONALD TRUMP IS A SHAPE SHIFTING LIZARD!!" over Memorial Day weekend. Now he has struck again and tried his hand at something more controversial: GORILLA DESERVED IT. Wow, he went there. [NBC]
HAPPENING TODAY
California and Apparently Some Other States Vote Today
California is voting today in a closely watched Democratic primary. If Hillary Clinton wins, she will have secured the nomination of her party beyond a reasonable doubt; if Bernie Sanders wins, Hillary will still have secured the nomination of her party beyond a reasonable doubt, but Bernie would have considerably more clout going into the convention. Oh, and Montana, New Jersey, New Mexico, North Dakota, and South Dakota are also voting, but who's counting? [CNN]
Infamous Gorilla Enclosure to Reopen
The Cincinnati Zoo gorilla enclosure where lowland gorilla Harambe was killed last week after dragging a toddler who climbed over the fence will reopen today with a higher fence. The opening comes just a day after officials in Cincinnati declined to press charges against the boy's family, saying that his mother was not negligent. [NYT]
Redstone Competency Hearing Gets Under Way
The opening hearing in a lawsuit challenging aging media tycoon Sumner Redstone's mental competency and claiming that he is being manipulated by his daughter begins today in Massachusetts. Mr. Redstone's mental acuity has taken center stage in what is becoming an ugly succession battle within the Redstone family for Sumner Redstone's considerable media holdings. [NYT]