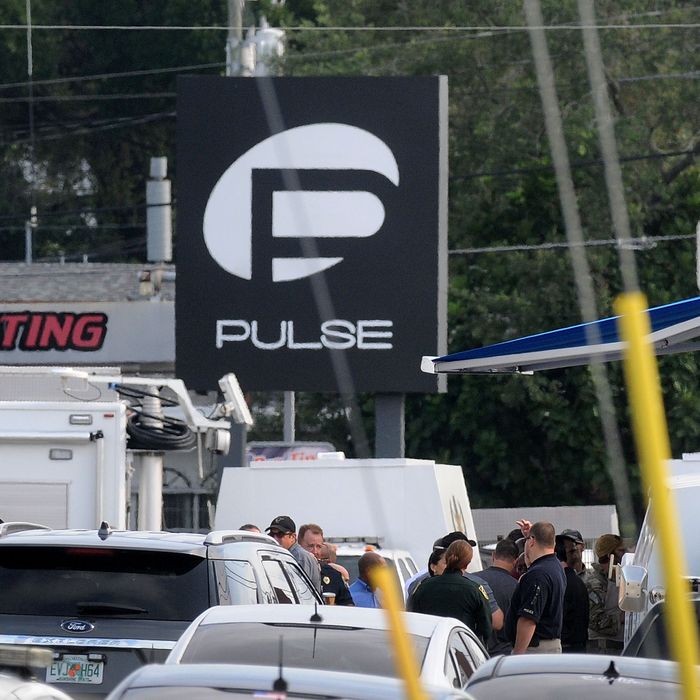 The Pulse shooter attended the club at least a dozen times before murdering 49 people there.
Photo: Gerardo Mora/Getty Images
Good morning and welcome to Fresh Intelligence, our roundup of the stories, ideas, and memes you'll be talking about today. In this edition, acquaintances say Orlando shooter was active in the gay community, Donald Trump makes a horrible situation worse, and lawmakers continue to yell at each other while accomplishing nothing. Here's the rundown for Tuesday, June 14.
WEATHER
This will be a week of thunderstorms in the Plains and the Midwest, with even a few instances of hail — in June — and maybe some tornadoes. A few tornadoes touched down yesterday, including one in rural Texas that damaged a wind farm. Today New York City will be hot and sunny with no clouds and very little wind. [Weather.com]
FRONT PAGE
Emerging Portrait of Orlando Shooter's Sexuality Complicates Search for Motive
As reports continue to come in that the Orlando shooter Omar Mateen had visited Pulse — the club where he murdered 49 people this weekend — many times over a three-year period, his ex-wife and classmate have also spoken out about his sexuality, complicating his motives in what was already a complicated case. One police-academy classmate said Mateen asked him out on a date and was "socially awkward." Speaking on Brazilian television, Mateen's ex-wife's husband said his wife noticed Mateen's "gay tendencies" and that his father even called him gay in front of her. For his part, Mateen's father says his son was definitely not gay; otherwise, "Why would he do something like this?"
EARLY AND OFTEN
Candidates, U.N. Respond to Orlando Tragedy
Responses to the mass shooting in Orlando have come in today from presidential hopefuls Hillary Clinton and Donald Trump, as well as from the U.N. Security Council. Clinton said that as president she would focus on stopping "lone wolves" and keeping military-grade guns off the streets. Trump spent the day focusing on the shooter's Afghan heritage and Muslim faith, saying we need to limit immigration from Muslim countries and spouting thinly veiled insinuations that Barack Obama was somehow involved in a cover-up over the shooting. He also painted a picture of himself as an ally to America's LGBT community — a status said community was quick to rebuke. And the U.N. Security Council made history by releasing a joint statement condemning the attack, which was the first condemnation of violence based on sexual orientation in the council's history.
Chaos Erupts on House Floor Over Gun Control
Chaos erupted on the House floor yesterday when Speaker of the House Paul Ryan called for a moment of silence for the victims of yesterday's mass shooting in Orlando. South Carolina representative James Clyburn asked for permission to ask a question about guns. When permission was denied, the chamber filled with shouts of "No leadership!" and "Where's the bill?" from Democrats. Increasingly Democrats had said they would not take part in a moment of silence for the shooting, resenting the constant use of "thoughts and prayers" and empty symbols in favor of actual policy change. [NYT]
Montana Superdelegate Keeps Her Word, Backs Bernie
Bernie Sander's presidential run is nearing its end — Sanders himself has said he will meet with Hillary Clinton after D.C.'s primary tomorrow — but that's not stopping him from picking up new endorsements. The latest is from superdelegate and Montana Democratic National Committeewoman Jean Lemire Dahlman, who announced she would support Sanders yesterday, fulfilling her promise to follow the choice of the voters in her state. Montana actually has six superdelegates, but the other five have decided to remain neutral and not back any candidate. [Politico]
Trump and Clinton Find Common Ground: Shady Email Habits
Donald Trump has been accused of destroying reams of emails relating to an investigation into his casino dealings in 2006. Trump employees have testified that Trump executives would delete all business emails as a matter of routine, leaving the Trump organization in the very suspicious position of having no records from 1996 to 2001 — yes, you read that correctly — with executives not beginning to save work emails until 2005. You know, Donald, maybe a personal email server wouldn't have been such a bad idea.
THE STREET, THE VALLEY
That Drain Cleaner You Ordered Might Have Cost Amazon $350,000
Amazon is facing fines of up to $350,000 from the Federal Aviation Administration over accusations that the online retail behemoth routinely flaunted hazardous shipment rules, shipping caustic chemicals like drain cleaner without proper storage or personnel training. Amazon violated hazardous-materials regulations 24 other times in just two years, once sending UPS workers for medical treatment after they were exposed to leaked chemicals. [Bloomberg]
Four Women Speak at Apple's Annual Conference, Make Headlines
All eyes were on Apple yesterday for the company's annual developers conference. Apple didn't have any new hardware to show off, but it did open up new software to outside developers, unveil new operating systems, and even promise users will soon have a way to delete factory-installed apps — good riddance forever, Pages! Apple also made headlines for having four women executives — one a woman of color — make presentations. The tech industry is so white and male that this was considered historic. [Reuters]
Market Proves Any Faith You Still Had in Humanity Is Misplaced
As has become commonplace after the mass shootings that have also become commonplace, gun-makers' stock surged yesterday as Americans rushed to arm themselves out of fear that President Obama was coming for their guns. You'd think they'd have learned by now that the few politicians who do want stricter gun control are totally powerless to make it happen. [Reuters]
Well, It Worked for McKinley: Facebook Declares War on the Philippines
Over the weekend, Facebook rolled out one of its annoying new "bespoke banners" for Philippine Independence Day. Unfortunately, the flag in the banner was inverted with the red at the top and blue at the bottom, which traditionally signifies the country is at war. Normally we'd say it wasn't too big of a deal, but this Duerte character seems like he'd go to war over less. [CNet]
MEDIA BUBBLE
Gawker Bankruptcy the Most American Thing to Ever Happen
Gawker has reached out to an American bankruptcy court for permission to borrow $22 million from Cerberus Capital Management so it can continue to function before its $90 million sale to Ziff Davis LLC goes through. Cerberus is most famous for helping to prop up the Freedom Group, the maker of the Bushmaster rifle, after it was sued by the families of those killed at Sandy Hook Elementary School. To recap: The media company brought down over a sex tape by a racist ex-wrestler and reality-TV star in secret cahoots with a gay tech billionaire will now be allowed to survive thanks to a firm best known for keeping an assault-rifle manufacturer in business after a mass shooting. [Reuters]
Trump Revokes Washington Post's Press Credentials for Daring to Listen to What He Said
Donald Trump's campaign has revoked the Washington Post's press credentials after the newspaper reported Trump's comments insinuating that the president was in some way involved in a cover-up relating to the shooting in Orlando. Trump, of course, claimed he was misrepresented and called the Post "dishonest." [The Verge]
New York Timesip So Fair and Balanced Reporters Don't Even Have Opinions at Home
An email from Phil Corbett, the New York Times associate managing editor for standards, to Times news staffers is making the rounds. In it he asks them not to share their opinions about the Orlando shooting, even on their personal social-media accounts: "People following Times newsroom staffers online expect them to be well-informed and thoughtful. But we should leave the opinions to our colleagues on the Opinion side." [Poynter]
PHOTO OP
What It Feels Like to Be a Warriors Fan Tonight
Just when things were going so well.
MORNING MEME
If Lacoste Followed Polo's Lead We'd All Be Dead
Fashion is a flat circle or something.
OTHER LOCAL NEWS
That Naked Guy With a Hatchet Is Probably Not Your Uber Driver
The everyday situation of a group of people mistakenly approaching a car believing it to be their Uber escalated very quickly in Crystal City, Virginia, Sunday morning. This time the person driving the car was a drunk, naked man who reacted to a bunch of strangers trying to get into his car by grabbing the hatchet he inevitably had on his back seat and menacing them with it. Nobody was hurt, but nobody had a very good night either. [WTOP]
But Where Did the Moose Get the Knife?
An Alaskan mystery is closer to being solved after officials said a man who was found in his driveway mauled by a bear and stabbed was more likely attacked by a moose. We really wish this article had more information — we're no animal experts, but our money is still on a knife-wielding bear. The victim is recovering but couldn't be interviewed due to the severity of his injuries. [CBS] 
HAPPENING TODAY
Non-State to Vote in Process That No Longer Matters
Today is the primary in Washington, D.C., and although the Democratic nominee has pretty much already been chosen — sorry, guys, it's Hillary — the primary in the nation's capital is still important, mainly because Bernie Sanders has made it clear he will stop campaigning after Washington votes. A win in Washington could give him greater momentum and influence going into the convention. [Bustle]
Bernie Sanders Has an Awkward Job Interview Today
Bernie Sanders is set to meet with Hillary Clinton today. Thanks to his strong showing in primaries and caucuses and his huge following of impassioned voters, Sanders is hoping to have some say in the Democratic Party platform and a part to play in shaping Hillary's presidency. [Naples Daily News]

Some Much-Needed Happy News
The National Aquarium in Baltimore will announce plans today to move eight of its dolphins into a still-unbuilt protected seaside sanctuary. The aquarium is exploring sites for the first-of-its kind habitat in the Caribbean and the Florida Keys and hopes to have everything move-in-ready by 2020. Your move, SeaWorld. [NYT]