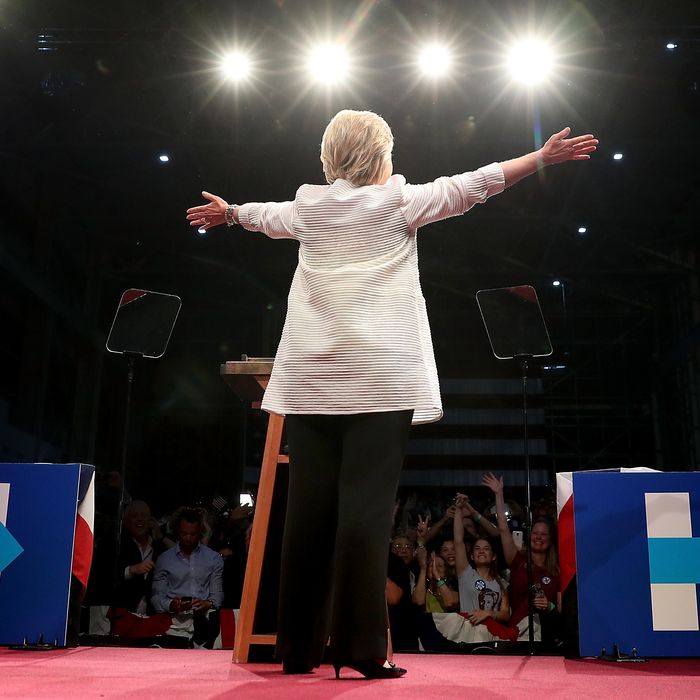 A well-deserved basking
Photo: Justin Sullivan/Getty Images
Good morning and welcome to Fresh Intelligence, our roundup of the stories, ideas, and memes you'll be talking about today. In this edition, Hillary Clinton makes history, Paul Ryan is well aware that Donald Trump is a racist, and oil prices continue to climb. Here's the rundown for Wednesday, June 08.
WEATHER
More of the same today with drenching rains in South Florida and stifling heat all along the West Coast. Storms are expected in New England and the North East coupled with below average temperatures. New Yorkers will get some thunderstorms of their own today with temperatures dropping into the low sixties. [USA Today]
FRONT PAGE
Hillary Makes History, Claims the Democratic Nomination
Before the ballots had even finished being counted in California — in fact, they are still not finished being counted — and following decisive wins in New Jersey and New Mexico, Hillary Clinton took the stage in New York and invoked generations of women who had fought for equal rights while she claimed the Democratic nomination. She used her speech to call for party unity at an especially tense time. Yesterday was in fact the second day in a row that headlines proclaimed Mrs. Clinton as the presumptive nominee after AP announced — much to the consternation of Bernie Sanders and his supporters — that it had confirmed enough super delegates were voting for Clinton to guarantee her the nomination. In a speech last night Sanders said that his supporters must stop Trump from attaining the White House but also vowed to keep fighting through Washington.
EARLY AND OFTEN
Donald Trump Makes History: Takes Back Something He Said
Maybe this is Trump 2.0. Responding to the widespread criticism of his recent racist and anti-Muslim comments — many from inside his own party — Donald Trump did something he pretty much never does: took them back. No, he didn't apologize, and technically he blamed other people for misconstruing his remarks, but he did vociferously claim that he wasn't racist — which for Trump represents a pretty serious policy change. How do we know he's not racist? Well, Trump explained, "I am friends with and employ thousands of people of Mexican and Hispanic descent."
New York Ruling Leaves Trump Cash Vulnerable
An unrelated verdict in New York's highest court might have repercussions that leave Trump vulnerable in the place he values the most, his wallet. Yesterday the court found that the Attorney General could go after money paid in bonuses to ex-AIG CEO Maurice Greenberg who is currently facing fraud charges. Using that same mechanism — which is called disgorgement — New York Attorney General Eric Schneiderman says he could also go after other money made unlawfully, like say the $5 million Donald Trump took home from Trump University. [Reuters]
For Paul Ryan "Textbook" Racism Not a Deal Breaker
Paul Ryan tore into Donald Trump yesterday calling his recent comments about the ethnicity of the judge in the ongoing Trump University case "totally unacceptable," and "the textbook definition of a racist comment." If that wasn't clear the speaker also expressly said that he disavows Trump's comments completely. Just in case you forgot what a funhouse-mirror-terror-dome this year's campaign season has become, Ryan wrapped up his comments by doubling down on his endorsement of the aforementioned "textbook racist," saying Trump will be better suited to help Ryan's policies become law. [CNN]
Trump Behavior Too Much For Illinois Man
While Ryan was busy disavowing Trump's comments, Illinois Republican Senator Mark Kirk went a step further disavowing the man himself. In a statement yesterday, Kirk became the first Republican lawmaker to publically rescind his endorsement for Donald Trump saying: "Donald Trump's statement, in context with past attacks on Hispanics, women and the disabled like me [Kirk suffered a stroke in 2012], make it certain that I cannot and will not support my party's nominee for president." That Kirk is trailing the Democratic challenger to his Senate seat in November almost certainly had something to do with his change of heart, but we say credit where credit is due. [Bloomberg]
THE STREET, THE VALLEY
In a First for 2016, Oil Tops $50 a Barrel
Oil prices hit this year's high, surpassing $50 a barrel after jumping more than one percent yesterday. There are many reasons for the unexpected surge, namely a dwindling stockpile here at home, production drops globally, and continuing attacks on oil producers in Nigeria. Just in time for your summer vacation! [Reuters]
Is the Toenail Fungus Gold Rush Over?
Just when you think things can't get any worse for scandal-riddled pharmaceutical company Valeant, the company's vital dermatology business — Valeant makes Jublia, a popular toenail fungus ointment — under performed and the newly installed CEO called the whole organization "distracted" before sharply reducing the year's earnings forecasts. Shares dropped 14.6 percent on the news. [Reuters]
A Modern Day David and Goliath Story, But with a More Realistic Ending
LendingClub, the peer-to-peer lending company and Silicon Valley darling that some people — looking at you San Francisco — believed was going to take the big banks down a peg and fundamentally change the way we borrow money has fallen on hard times. The annual shareholder meeting was abruptly cancelled with the company announcing it wasn't ready to face investors following recent personnel changes. Later in the day the company's second biggest investor announced he had already gotten rid of all his stock. [Bloomberg]
MEDIA BUBBLE
Hundreds of Thousands of Journalists Unable to Resist the Glamour of Online Media
For the first time ever the amount of people working in traditional news outlets has been eclipsed by people working for online-only outlets. According to the last numbers from the Bureau of Labor Statistics 183,200 Americans currently work for newspapers, while 197,800 work in "online publishing and broadcasting." In 1990, 457,800 people worked at newspapers. [NeimanLab]
Politico Would Really Love to Find a New Editor Before the Election
The hunt is on for a new Politico editor after the current editor, Susan Glasser, announced plans to step down after the election. According to people who know, Politico Co-founder John Harris has said he would like to find a candidate by late summer, before the conventions. He is considering candidates from within the organization as well as from other publications like Bloomberg, BuzzFeed, and the Daily Beast. [HuffPo]
Redstone Competency Hearing Postponed
The next-stage in the battle of Sumner Redstone's $40 billion dollar media empire has begun, though it looks like interested parties will be waiting a while for any kind of resolution. A Massachusetts Judge said yesterday that he needs more time to decide whether to move up the date when the proper trial over the 93-year-old's mental competence will commence. [Reuters]
PHOTO OP
Sanders Won't Give Up the Fight
Though he did call for unity in the fight to keep Donald Trump out of the White House, Sanders defiantly reminded his supporters that he would not bow out of the race and would battle Hillary for every vote all the way to Washington.
MORNING MEME
Kinky Boots Team Pens Response to North Carolina
Now you too can experience how awkward it is to have "Just Pee" stuck in your head all day. [The Cut]
OTHER LOCAL NEWS
Zoos Not Having a Great Month
In a reminder that you don't have to fall into their cages for zoo animals to menace you, an escaped leopard was tranquilized at Hogle Zoo in Salt Lake City yesterday while zoo visitors cowered in the gift shop. Maybe menaced is too strong a word, the big cat was tranquilized while sleeping just outside of his enclosure, and the zoo visitors weren't cowering as much as shopping. [KSL]
In Florida, There's a New Man-Eating Gator
Another day another story of an alligator snacking on mysterious human remains in Florida. Seriously, isn't this trend a cause for concern yet? Last week, there was a case near Fort Lauderdale. Today's "police discover an alligator with human remains in its mouth" story is brought to you by Lakeland, Florida where police say they spotted the gator chewing on the body of an unidentified man, before it got spooked and swam off. The reptile has since been killed and is being examined. [CBS]
HAPPENING TODAY
It was Only a Matter of Time: Will the Government Weaponize Elon Musk?
Elon Musk, the eccentric billionaire, visionary, and Fifth Element character come to life, is meeting Secretary of Defense Ash Carter at the Pentagon today. The meeting is part of a growing relationship between the Department of Defense and Musk's company SpaceX. Isn't it odd living in the first chapter of a dystopian sci-fi novel come to life? [Defense News]
Slow Progress on Puerto Rico
The House Rules Committee is meeting today to discuss legislation that would finally give Puerto Rico the means to restructure its crippling $70 billion debt. The meeting gives credence to the rumors that Puerto Rico will take up the House bill later in the week. [Morning Consult]
The Warriors Head to Cleveland
The Warriors are in Cleveland tonight for game three of the NBA Finals. The Warriors have been something of an unstoppable force this year, and they soundly beat the Cavs in game two in Oakland, but the Cavs are undefeated on their home court and basketball fas are looking forward to an exciting hard-won game. [NYT]