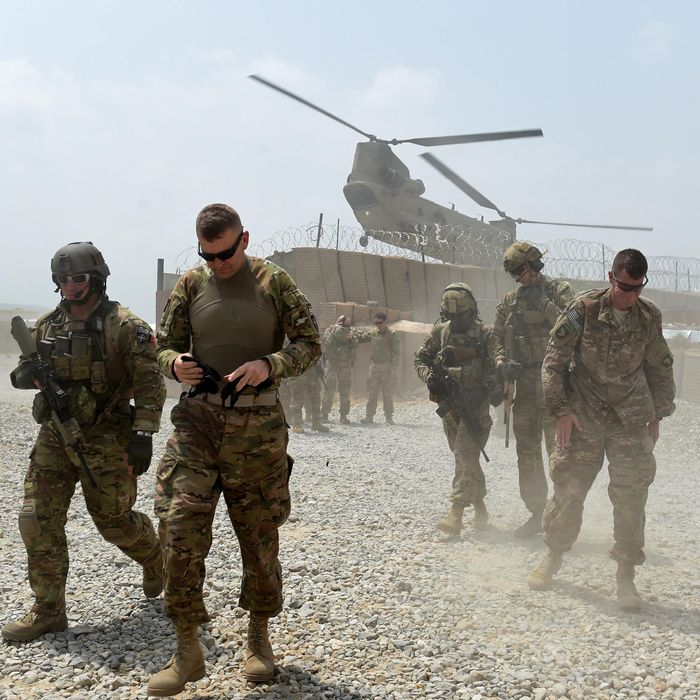 Fighting in the region usually escalates in the summer months.
Photo: Wakil Kohsar/AFP/Getty Images
Good morning and welcome to Fresh Intelligence, our roundup of the stories, ideas, and memes you'll be talking about today. In this edition, America changes its rules of engagement in Afghanistan, D.C.'s power players line up behind Hillary Clinton, and hackers target Wendy's, of all things. Here's the rundown for Friday, June 10.
WEATHER
Today's weather will be pretty much the same as yesterday's, with sweltering heat in the central states, cooler temperatures on the East Coast, and thunderstorms along the Gulf Coast. It should be a beautiful Friday in New York City thanks to sunny skies and temperatures in the high 70s. [USA Today]

FRONT PAGE
Obama Grows U.S. Military Role in Afghanistan
Reuters is reporting that President Obama has approved expanding the U.S. military's mission in Afghanistan. The new directive will give General John Nicholson, the U.S. commander in Afghanistan, the authority to decide whether American ground troops should accompany Afghan soldiers in the field and will give the United States more options in terms of the scope and type of air support it employs. The sharp change in the existent rules of engagement for Afghanistan comes on the heels of the Taliban leader's recent death by drone strike and coincides with the escalation in fighting that's common in the region in the summer months. [Reuters]
EARLY AND OFTEN
Hillary Gets All the Nominations
It seemed as though, mere moments after the president met with Bernie Sanders, big-name endorsements started coming in for Hillary Clinton from Joe Biden, First Lady Michelle Obama, Elizabeth Warren, and, most significant, the president himself. Obama endorsed Hillary in a video to voters, saying, "I don't think there's ever been someone so qualified to hold this office" — endorsements don't get much more ringing than that! Even Bernie strongly hinted that he would bow out after next week's Washington, D.C., primary and throw his lot in with Clinton to stop Trump.
Trump to Be World's First Grassroots Oligarch
Republican donors who met with Donald Trump yesterday are reporting that the angry ball of carrot-colored cotton candy running for president is toying with the idea of launching a push for smaller grassroots donations to fund his campaign. While pundits say Trump was inspired by the successes of grassroots fundraising in the Obama and Sanders campaigns, taking what little money poor people have has been a centerpiece of Trump's business strategy for decades.
Drone-Strike Emails Found on Clinton's Personal Server
Into what was a sunny day for Hillary Clinton, a little rain did fall. Namely, revelations in The Wall Street Journal about the ongoing criminal probe of Clinton's use of a personal email server while secretary of State are focusing on a series of emails between the State Department and diplomats in Pakistan over whether to oppose CIA-requested drone strikes. The carefully worded missives don't actually use the words drone or CIA, but their meaning is clear enough to be bad news for Clinton. To her credit, it appears as though officials only used personal emails when there was no ready access to secure modes of communication.
Puerto Rico Debt Relief Passes House
The anxiously awaited debt-relief package for Puerto Rico has passed the House after a rare bipartisan push in partnership with the White House. Like all good compromises, this one pleases nobody, leaving Democrats angry over requirements to lower the territory's minimum wage and Puerto Ricans bristling over the imposition of a federal oversight board to facilitate the island's restructuring. Still, relief for Puerto Rico was urgently needed as debt cripples its economy and Zika threatens to overrun its health-care resources. [Reuters]
THE STREET, THE VALLEY
And You Thought You Regretted That Spicy Chicken Sandwich Before
It looks like your fast-food habits really might haunt you forever, and probably not in the way you anticipated. Wendy's has announced that an attack by hackers early in the year was much larger than they previously thought, admitting that software to steal customers' payment information might have been installed at hundreds of locations. Thank goodness Dave Thomas isn't alive to see this. [Bloomberg]
Tesla's Autopilot Might Not Be Its Most Dangerous Feature
A rare bit of bad news arrived for Tesla yesterday as federal regulators revealed they were investigating reports of suspension issues in Tesla's Model S sedans that could cause the driver to lose control of the car. Even more shady are reports that Tesla actually had customers who complained about the problem sign agreements not to report it. [Reuters]
Terrible Internet Remains New York's Great Equalizer
For one moment yesterday, all of New York spoke with one voice. Tim Wu from the state's attorney general's office — who is investigating Time Warner — publicly scolded Time Warner Cable in a letter saying the internet service it provides is "abysmal" and ending with this: "In short, what we have seen in our investigation so far suggests that Time Warner Cable has earned the miserable reputation it enjoys among consumers." Yep. [The Verge]
Pioneering Venture Capitalist Dead at 84
Tom Perkins, the founder of the venture-capital firm Kleiner Perkins Caufield & Byers, died yesterday at home in the Bay Area. He was 84. Perkins is famous for providing the capital to fledgling start-ups such as Google, Amazon, and Genentech. Oh, and for writing a letter to The Wall Street Journal claiming that the criticism aimed at the "one percent" was analogous to the Nazis' treatment of the Jews. So we guess his judgment wasn't perfect. [CNet]
MEDIA BUBBLE
Jeff Bezos Enters Small-Town Essay Competition
You know what they say: There's never been a better time to get into the newspaper business. Ross Connelly, the owner of a local newspaper in Northeast Kingdom, Vermont, has decided that it's time to retire, and he's passing on his paper to whoever writes the best essay making the case for their ownership and explaining how they'll keep the paper alive in these increasingly uncertain times. [Boston Globe]
USA Today Editor-in-Chief Takes It to TheStreet
David Callaway, the editor-in-chief at USA Today since 2012, is moving to different pastures, taking over as CEO of TheStreet and replacing Larry Kramer — yes, that Larry Kramer — who has been acting as interim CEO since February. Callaway will get started in his new position in July. [TheStreet]
Pandora Pop-Ups Pop Off
Pandora is changing everything — well, some things. The streaming radio service is totally redoing its advertisements, jettisoning pop-up ads in favor of "responsive mobile display ads," which is just a fancy way of saying ads that appear where album art is usually displayed. To be fair, there's not a lot of difference between car ads and the album art for the Gucci Mane mixtape we're listening to, anyway. [Adweek]
PHOTO OP
Hottest Kicks in Boca
It looks like in some ways Michael Jordan still has Stephen Curry beat. If you don't know what we're talking about, Google "Steph Curry Shoes." You're welcome.
MORNING MEME
Troll-Exterminator-in-Chief
That's how it's done.
OTHER LOCAL NEWS
Something Here Doesn't Add Up
A Ypsilanti, Michigan, man is in jail today after police officers found him asleep behind the wheel while stopped at an intersection. When the officers looked in the passenger window, they spotted a "large quantity" of cocaine. Come on, guys, put two and two together! [M Live]
Further Proof America Is Already Great
Mount Pleasant, Illinois, residents don't know how to react now that Tykables has opened shop in town. What's Tykables? It's a store selling goods for adults who like acting like babies, of course! Tykables boasts "adult-sized items including a rocking horse, a high chair, a playpen, and a 7-foot-tall crib." Residents have been complaining, but the business isn't illegal and is protected by civil-rights laws. Shocked locals persist in their vocal protests, which raises the question: Who's really being the big baby here? [UPI]
HAPPENING TODAY
Muhammad Ali Laid to Rest
Muhammad Ali will be laid to rest today after a memorial service in Louisville, Kentucky — his hometown and the city where he began his boxing career. Ali carefully planned his own funeral, and it was important to him that it be open to all comers. Bill Clinton will deliver a eulogy, as will King Abdullah II of Jordan and the president of Turkey, Recep Tayyip Erdogan. [Yahoo]

Attorney General to Meet With Alaskan Native Leaders
U.S. attorney general Loretta Lynch is in Anchorage, Alaska, today to meet with leaders from Alaska's native community. Joined by the U.S. Attorney for the District of Alaska, Karen Loeffler, she plans to discuss issues that disproportionately affect the indigenous population and continue Obama's mission to give native peoples more autonomy in prosecuting criminal-justice matters in their own communities. [ADN]
America's Cup Breaks Saltwater Streak
For the first time in its history, an America's Cup race will be held in fresh water when the Louis Vuitton World Series events kick off in Chicago today and run through the weekend. Six teams will race in the waters of Lake Michigan just off Navy Pier in easy viewing distance of the weekend crowds. [NYT]