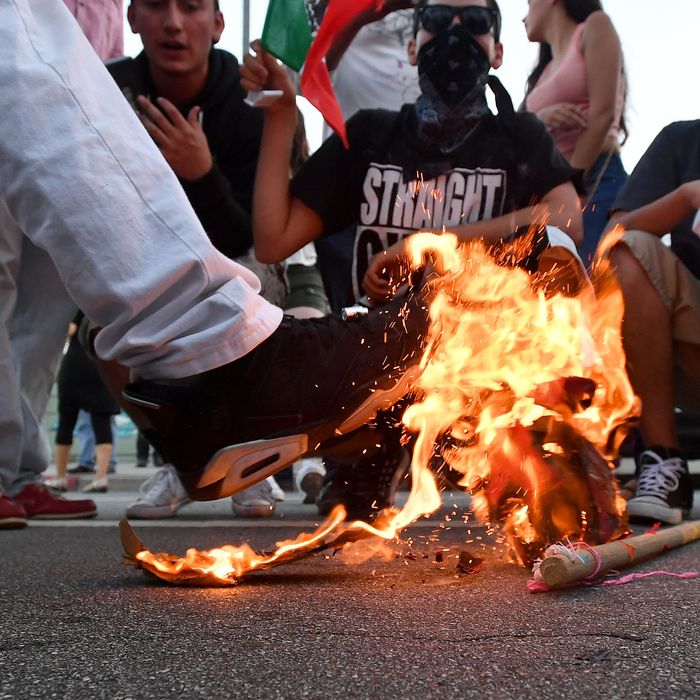 Some unambiguous symbolism.
Photo: JOSH EDELSON/This content is subject to copyright.
Good morning and welcome to Fresh Intelligence, our roundup of the stories, ideas, and memes you'll be talking about today. In this edition, protesters attack Trump supporters, Hillary Clinton attacks Donald Trump, and Donald Trump attacks a federal judge. Here's the rundown for Friday, June 3.
WEATHER
Five soldiers were killed yesterday and four are still missing in the flooding in Texas, and it looks like the rain shows no sign of letting up over the weekend; thirty-one counties have declared a state of disaster. New Yorkers should expect a warm and rainy Friday, followed by a hot Saturday, and thunderstorms on Sunday. [Weather.com]
FRONT PAGE
Protesters Attack Trump Supporters at San Jose Rally
Violence broke out at a Trump rally in San Jose, California, yesterday, and this time it looks like the protesters were the ones who set things off by attacking Trump supporters. Reports say up to 300 protesters demonstrated outside the rally where they yelled obscenities at Trump supporters, surrounded them, and in some cases, brawled with them as police looked on. One woman was pelted with eggs and bottles, and several "Make America Great Again" hats were set on fire. Top campaign officials from both Democratic candidates were quick to denounce the violence. [AP]
EARLY AND OFTEN
Clinton Equates Trump Presidency to Nuclear Annihilation, Makes a Pretty Good Case
A much-anticipated speech from Hillary Clinton yesterday in San Diego proved to be an eviscerating attack on her opponent's foreign-policy acumen, ability to govern, and personality in general. During the speech, she called Trump thin-skinned and said he was likely to lead the world into a nuclear war; described a potential Trump presidency as a "historic mistake"; and said his policy ideas were "not even really ideas, just a series of bizarre rants, personal feuds, and outright lies." These next few months should be fun. [NYT]
Paul Ryan Backs Fascist Human Cantaloupe
After a prolonged bout of tense negotiations that everyone knew to be ultimately meaningless, Speaker of the House Paul Ryan (inevitably) decided to throw his support behind Donald Trump. In a column published in his hometown newspaper, Ryan said he truly believed Trump would enact conservative laws that would "improve people's lives." Trump took a moment to express his appreciation before changing the subject and announcing that he doesn't think people of Mexican descent should be able to rule against him in a court of law. [NYT]
Trump's Latino Outreach Program Hits Giant Racist Stumbling Block
Instead of realizing that Latinos make up nearly 10 percent of America's voters and, you know, trying to appeal to them, Donald Trump doubled down on his racist attacks against federal judge Gonzalo Curiel (who recently unsealed documents relating to Trump's "university") saying the judge's ethnicity represented an "inherent conflict of interest." Pressed to say why Curiel might be predisposed against him, Trump reminded reporters that he was "building a wall." Yep, that would do it.
Congressional Activist Accountants Exposed As Left-Wing Puppets Out to Destroy American Prosperity
The staunchly non-partisan Congressional Budget Office is wading into the climate-change debate. In a report released yesterday, the agency warned that damage caused by extreme weather will increase in the coming decades because of man-made climate change and that it will inevitably cost money. The report encourages the government to combat climate change and even lays out — in simple eighth-grade science-textbook language — exactly how climate change works for the many members of Congress who clearly have no idea. [Politico]
THE STREET, THE VALLEY
United, Delta Conspire to Steal Colombia's Leg Room
Sources speaking to The Wall Street Journal have confirmed that United Continental and Delta are among potential bidders for Colombia's national airline, Avianca, as American carriers struggle to expand internationally in the face of stiff competition from overseas. We hope Colombians don't mind paying for water. [WSJ]
Morgan Stanley Turning Into Sarah Lawrence
Morgan Stanley is doing away with their age-old employee-evaluation system. Historically, employees were graded on a numerical one-through-five scale, but now they will be evaluated with up to five adjectives. Looks like it's time to break out that thesaurus. [NYT]
Redstone Psychiatrist Says Redstone Only Moderately Impaired
A spokesperson for Sumner Redstone, the 93-year-old media tycoon at the center of a succession scandal, read a report from his client's psychiatrist saying Mr. Redstone only had moderate age-based mental impairment, giving him the capacity to legally remove people from Viacom's board. [Reuters]
Tech Titan Goes Full Jetsons
The Code Conference, an annual tech conference where billionaires get together to discuss how many jobs they can render obsolete, took place yesterday. This year was all about AI and, as usual, Tesla founder Elon Musk stole the show saying humans will travel to Mars by 2025, all human existence is probably a video game played by a more advanced civilization, and humans might need to be injected with "neural lace" so we don't become the subjugated "house cats" of our AI overlords. Maybe we should slow down a bit, guys. [USA Today]
MEDIA BUBBLE
Did Tribune Lose a Bet or Something?
Tribune Publishing, which owns both the Chicago Tribune and the Los Angeles Times, announced yesterday it was changing its name to … wait for it … tronc (lack of capitalization theirs). It also announced that it would switch trading from the New York Stock Exchange to NASDAQ and that it will be "a content curation and monetization company" from now on. [Politico]
Warner Bros. Gets Into the TV-for-People-Who-Hate-TV Business
Warner Bros. Studio, the largest producer of television shows in the country, has inaugurated a new unit to produce online-video content in hopes of making inroads with the growing population of "cord-cutters." As part of the push into nontraditional media, Warner Bros. will also forge partnerships with Turner and HBO. [Bloomberg]
Prince Died of Opiate Overdose
A toxicology report released yesterday on deceased pop legend Prince found that the singer died from an unintentional overdose of the potent painkiller fentanyl. Prince was known for clean, sober living, but he had struggled with chronic, debilitating hip pain for years.
PHOTO OP
Protester Keeps Priorities Straight
Now this is a movement we can get behind.
MORNING MEME
Now get out there and enjoy your weekend.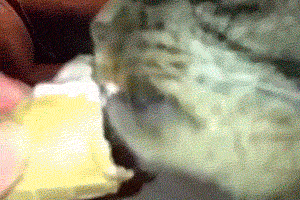 OTHER LOCAL NEWS
Reason #206 Skiing Is Terrible
If you recently skied at Eldora Mountain Ski Resort and are missing a foot, some Boulder, Colorado, police officers would like to speak with you. A worker at the resort found a ski boot with the remains of a human food inside it while cleaning earlier in the week. The foot was most likely buried in a snow pack that has since melted. Our guess is that someone cut off their own foot to get out of having to ski anymore. Been there. [ABC]
Partying Got Them in the End
Tennessee University's Pi Kappa Alpha fraternity announced yesterday that it will be back on campus come fall following a four-year suspension after a student was hospitalizing for receiving an alcohol enema — we believe the kids call it "butt-chugging." Remember when America used to be great? [AP]
HAPPENING TODAY
Save Us, Frank Ocean
According to the internet, and to many people with no actual connection to Frank Ocean, Frank Ocean's new album, Boys Don't Cry, is dropping today. The album has been promised for years and has been widely praised by the lucky few who have heard it. You're our only hope, Frank Ocean. [Time]
The High Hole-y Days
Today is National Doughnut Day! What that means is that you can get a free doughnut from any Krispy Kreme or Dunkin' Donuts location (at Dunkin' you have to buy a drink first), except if you live in Connecticut for some reason. Will somebody please let Connecticut people have a little fun? Just this once? [Delaware Online]
Nation Readies Self for Job Numbers
The job numbers are dropping today. Not dropping as in going down — although they might go down — but dropping as in coming out. The Bureau of Labor Statistics will release its monthly job report today and analysts will be watching it closely, as will the Fed as it looks to see if this is the right month to raise interest rates. [WSJ]