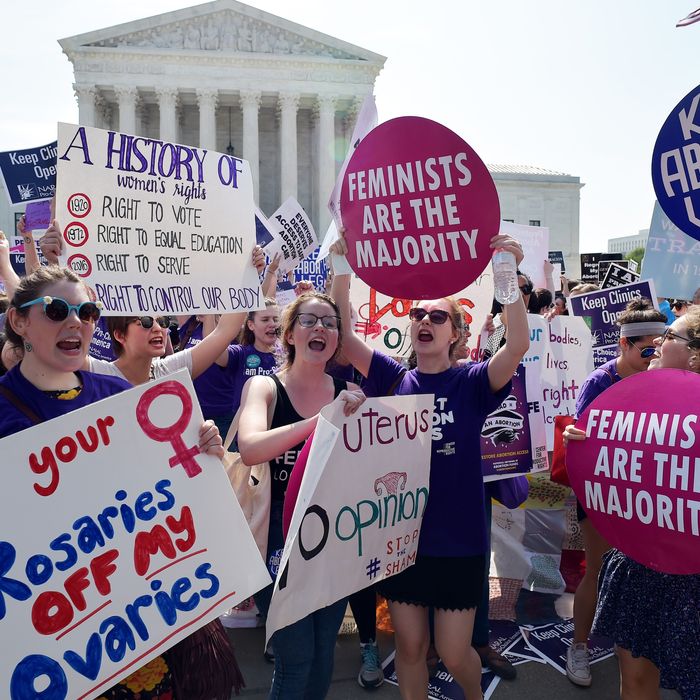 A rare celebration for pro-choice activists.
Photo: MANDEL NGAN/This content is subject to copyright.
Good morning and welcome to Fresh Intelligence, our roundup of the stories, ideas, and memes you'll be talking about today. In this edition, the Supreme Court rules on abortion access, Volkswagen is out billions, and Britain doesn't make the grade. Here's the rundown for Tuesday, June 28.
WEATHER
More large storms will move across the Plains today and into the Northeast, affecting the Mid-Atlantic coast. New York City won't be spared, with rain and thunderstorms throughout the day. That won't do much to cool temperatures, which will likely remain in the high 70s. [USA Today]
FRONT PAGE
Landmark Abortion Ruling's Effects Will Take Time
Hopes that Monday's landmark Supreme Court ruling could restore access to abortion, which Republican state legislatures have been chipping away at for years, may be overblown. The Texas law that the court struck down had already closed more than half of the state's 41 abortion clinics, and providers say opening clinics to replace them will be logistically daunting. Also, Texas's Republican-dominated state legislature is sure to do everything in its power to make opening new clinics as difficult as possible. Texas Lt. Gov. Dan Patrick has already said he will "go through this line by line and see what it is that we can address in a way that a Supreme Court would approve." It is still unclear how the ruling will affect restrictive abortion laws in other states, though it certainly puts them in a more precarious position. [AP]
EARLY AND OFTEN
Trump Turns to Lying Ted's Camp for Guidance
Donald Trump has hired Jason Miller as his new senior communications advisor, tasking him with clarifying the campaign's platform and communicating with the media. Miller's last job was with Ted Cruz, a runner-up to Trump both for the presidential nomination and the award for America's least-likable person. Trump is expected to announce more new hires in the next few days as he tries to transform his presidential campaign into something that actually resembles a presidential campaign. [Bloomberg]
Clinton to Lay Out Tech Agenda, Though We Already Know Her Thoughts on Email
Politico took a peek at Hillary Clinton's 14-page "technology and innovation agenda," which touches on everything from surveillance to the employment status of Uber drivers. It takes a hard line in favor of net neutrality, lays out plans for a special commission on encryption, and — perhaps most exciting for those of us working using a hot-spot on our phones — Clinton promises to make broadband internet access available to 100 percent of American homes by 2020. [Politico]
Senator Stops Sweeping Spy Bill
Oregon Democratic senator Ron Wyden stepped in yesterday to effectively put on hold this year's annual Intelligence Authorization Act. Among other intelligence-gathering operations, the legislation would have allowed the FBI to force internet companies to share information on their users with national-security letters, which do not require a warrant or any oversight by a judge. The hold does not kill the legislation, it just means that the Senate will have to submit it to a normal roll-call vote. [Reuters]
For Some, Presidential Campaign Just Not Unpredictable Enough
The unpopularity of both Hillary Clinton and Donald Trump has led to third-party candidates considering serious runs for the White House. A recent Wall Street Journal/NBC News poll had Libertarian Gary Johnson and Green Party candidate Jill Stein getting 16 percent of the vote combined. Tellingly, when the 1,000 people surveyed were given a choice of a third-party candidate, Clinton's lead over Trump dropped from five points to just one. [WSJ]
THE STREET, THE VALLEY
Lyft Puts Itself Out There
The ride-sharing app Lyft — Uber's largest competitor — has hired the investment bank Qatalyst Partners to help it find parties interested in buying a stake in the company. Companies reportedly approached by Lyft include major car manufacturers like General Motors. It is still not clear why Lyft is exploring a sale. [WSJ]
Volkswagen Owners Prepare for Windfall, Environmental Damage Totally Worth It
Volkswagen has negotiated a jaw-dropping settlement that will cost the company $15 billion over its cheating on emissions tests. The billions will go toward compensating Volkswagen owners — as much as $10,000 per vehicle — and paying for them to replace their car, as well as nearly $3 billion to offset the unreported diesel emissions, and $2 billion to invest in making the company greener. [Reuters]
British Economic News Goes From Bad to Whatever Is Worse Than Worse
Fallout from Brexit continues, and America's glee that we're not the only ones embarrassing ourselves in the voting booth is becoming nearly uncontainable. Yesterday brought the worst news for the British economy yet: S&P reduced the U.K.'s credit rating by two whole grades from AAA to AA, and Fitch followed suit, docking it one grade to the same level as S&P. [Bloomberg]
Windows User Gets Sweet, Sweet Justice
Microsoft has paid a California-based Windows user $10,000 after she argued that Windows 10 installed itself on her work computer without her permission, rendering it useless and costing her thousands of dollars in lost wages and in having to replace the computer. We have a feeling she won't be the last person to explore this avenue. [The Verge]
MEDIA BUBBLE
Newsletters Finally Getting the Respect They Deserve
The New York Times is rolling out its first state-specific daily newsletter with "California Today." As one snarky Twitter user pointed out, the inaugural newsletter featured news about raging forest fires, California's Nazis, and "some quaint Summer festivals."  Newsletters really are the most exciting innovation in contemporary journalism. [NiemanLab]
Huge Loss for SCOTUSblog, a Giant Get for Constitution Daily
Octogenarian Supreme Court reporting powerhouse Lyle Denniston is leaving SCOTUSblog, the hugely influential Supreme Court resource he helped put on the map, to take over the Constitution Daily blog at the National Constitution Center. He will also do some lecturing at the University of Baltimore law school. Wow, it really is getting harder and harder to retire in this country. [Politico]
Americans Spend 11 Hours a Day Watching Screens, One Hour Complaining Nothing's On
The just-released Nielsen's Q1 2016 Total Audience Report contained some disturbing findings, chief among them that Americans are now consuming media for an average of ten hours and 39 minutes a day, six hours of which are dedicated to Seinfeld reruns. [AV Club]
PHOTO OP
Doppelganger for Co-President
The steadily building buzz around an Elizabeth Warren–Hillary Clinton ticket is certainly exciting, but do they need to be dressing alike? If this spreads to the Republican side, maybe Trump could tap Boris Johnson, who already has the trickiest bits of the Trump look down.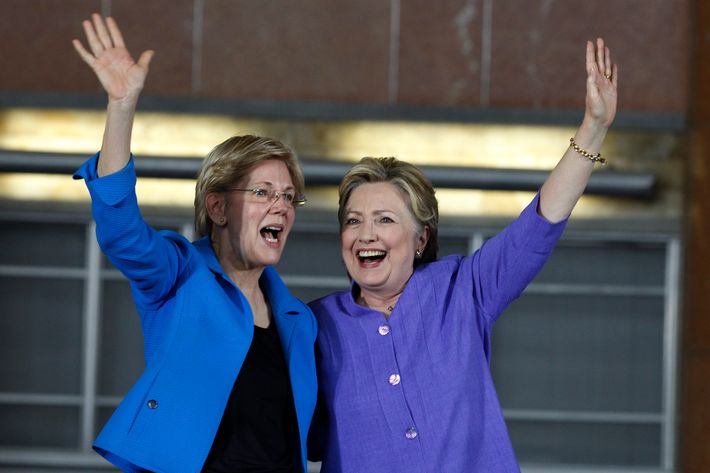 MORNING MEME
Racist Poster Angers Many
This obviously racist Red Cross poster about pool safety is being phased out by the company after people pointed out it was obviously racist. Also it is just ridiculous. Everyone knows rule-following is not cool.
OTHER LOCAL NEWS
Seattle Man Questions His Self-Worth
A 31-year-old man from Seattle, Washington, is in big trouble after repeatedly scanning a certain portion of his anatomy in the self-serve checkout line of a local grocery store. When noticed by employees, including one woman Fisher called over and a male cashier who came to see what all of the commotion was about, Fisher apparently just laughed. He is now facing charges for indecent exposure and assault. Another reminder to always disinfect those self-check scanners. [Deccan Chronicle]
High School's Disaster-Preparedness Kit Insufficient
As we're sure you're already aware, today is the 40th anniversary of George Stevens Academy's Twinkie in Blue Hill, Maine. The Twinkie originally came into the classroom as part of a lesson on food additives — a pretty effective lesson from the looks of it — but has remained for four decades because the Twinkie has proved easier to take care of than a class gerbil. [UPI]
HAPPENING TODAY
Just When You Thought Primaries Were Over
There are state congressional primaries today in four states: Colorado, Oklahoma, Utah, and New York. These primaries don't tend to get people very excited, even though they often have a greater direct impact on their lives than anything at the national level. For example, in 2014 only 3.5 percent of potential voters turned out in New York's contested elections. Nice job, America. [Gothamist]
Something Much Cooler Than Burning Man Is Happening in the Desert Today
NASA is planning on testing out one of its massive rocket boosters today in the Utah desert. The booster will run for two minutes. We really like this description from the Verge: "the huge combustion will send an impressive plume of flames and rippling exhaust clouds shooting out into the desert." That is just totally awesome. [The Verge]
E.U. Nations Meet to Determine How to Punish Britain
Representatives from each of the 28 European Union member countries will meet in Brussels today and tomorrow to discuss precisely how to handle the island-sized tantrum that Britain has become. Many in the U.K. and abroad have started to cautiously hope that somehow they will be able to remain in the E.U., despite the recent nationwide vote to the contrary. [NYT]