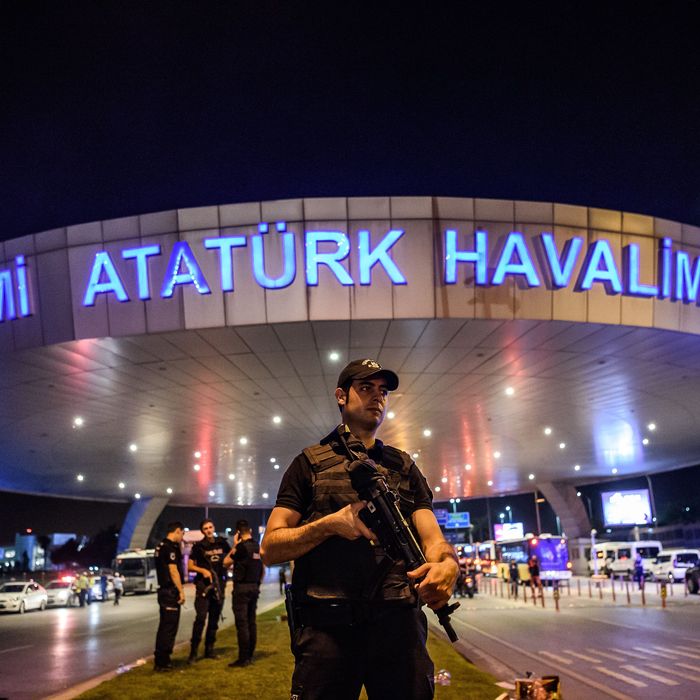 A Turkish police officer patrols Istabul's Atatürk airport.
Photo: OZAN KOSE/This content is subject to copyright.
Good morning and welcome to Fresh Intelligence, our roundup of the stories, ideas, and memes you'll be talking about today. In this edition, suicide bombers attack Istanbul's airport, Donald Trump is not super-charitable, and the EU watches Britain squirm. Here's the rundown for Wednesday, June 29.
WEATHER
Today will be a stormy day in much of the country with rain expected across the South, the Rockies, and the Plains states, where thunderstorms will continue unabated from yesterday. The west should stay dry — and hot — while New York City will broil with temperatures threatening to near the 90s.  [USA Today]
FRONT PAGE
Suicide Bombers Kill Scores at Istanbul Airport
Three suicide bombers attacked the international terminal of Istanbul's Atatürk Airport on Tuesday evening. At least 36 people were killed in the attack with 147 wounded. Three terrorists tried to gain access to the international terminal and were shot by police, but they still managed to detonate their suicide vests. At least one attacker was able to fire an automatic weapon into the crowded terminal building. No group has yet claimed responsibility for the attack, but officials speaking under the condition of anonymity believe it was the work of ISIS. Emergency services rushed to the building, and even taxis helped ferry the wounded to local hospitals. Officials say the death toll is likely to climb to as high as 50 in the coming hours and days.
EARLY AND OFTEN
Newly Presidential Donald Trump Talks Rape, Three Amigos
Donald Trump gave his most comprehensive speech on trade to date yesterday. Believe it or not, he has some big changes in mind. First, he will somehow force Canada and Mexico to renegotiate the longstanding terms of the NAFTA trade agreement, and if they don't play ball, he says he'll just trash the whole thing. He called Hillary Clinton and the leaders of Mexico and Canada the "three amigos" — which is possibly racist? We honestly can't tell anymore. He also said he would stop ongoing trade negotiations with 12 Asian countries and use his executive power against China, whatever that means. At a rally after the speech — in what might actually count as a restraint for Trump — he said the Trans-Pacific Partnership was "a continuing rape of our country." [Reuters]
Government Gets Taste of Its Own Medicine
A letter that circulated yesterday to lawmakers and their staff from U.S. House office-buildings superintendent William Weidemeyer warned that a recent water test found the House office building's water contained higher than normal lead levels. Bottled water was immediately provided for everyone affected by the lead-tainted water, and Weidemeyer apologized and promised an immediate investigation into the cause of the lead. So, not exactly like Flint. [Politico]
Trump Takes on Much Needed Help
The acceleration in hiring over at the Trump camp is now in full swing! Today's new hire is Vincent Harris, the former chief digital strategist for Rand Paul's presidential campaign and Mitch McConnell's 2014 reelection bid. With Harris comes the full power of his Austin-based media firm, Harris Media, which will begin building an electronic-fundraising platform for the ironically cash-strapped billionaire. Harris is only in his 20s and his youthful viewpoint could be invaluable in reaching younger voters. You know what they say, he who controls his memes, controls his destiny. [Politico]
He's Just Like Us: Donald Trump Lies About Giving to Charity
A Washington Post investigation is asking questions about Donald Trump's charitable giving. Reporters added up the amounts Trump had promised to donate in the last 15 years — more than $8.5 million — and compared that to how much he really gave. Surprising nobody, the two numbers didn't quite match up. In fact, it seems Trump only gave $2.8 million to charity in the last decade-and-a-half — not counting his recent much publicized million-dollar gift to a veterans charity. This paragraph from the Post will give you some idea of what the reporters found: "In the 1980s, Trump pledged to give away royalties from his first book to fight AIDS and multiple sclerosis. But he gave less to those causes than he did to his older daughter's ballet school." [WaPo]
THE STREET, THE VALLEY
Conflict-of-Interest Criticism Dogs NASA, SpaceX
Paul Martin, the National Aeronautics and Space Administration's internal watchdog, released a report yesterday that found that NASA showed poor judgment when it let SpaceX take the lead on the investigation of the explosion of one of its rockets that was transporting $118 million of cargo to the International Space Station. The report found that NASA relies too heavily on SpaceX and other private space companies to determine the risk for rocket launches, and that their relationship is ripe for conflicts of interest. [WSJ]
Merkel to Britons: No Backsies
After a meeting of the European Union member states yesterday, German chancellor Angela Merkel said she didn't see a way out of Brexit. Other leaders reiterated that the U.K. won't receive good treatment from the EU once it exits the body, and French president François Hollande confirmed that Britain should not expect access to the EU single market without ensuring freedom of movement, one of the biggest reasons the leave camp pushed for Brexit. Ouch. [Bloomberg]
IKEA Recalls Child-Killing Furniture
IKEA is recalling 29 million sets of drawers and dressers after they were implicated in the deaths of six children. IKEA will provide owners of the furniture with refunds or free anchoring kits. The recall is one of the biggest in U.S. history and a long time coming; the first tip-over accidents were reported in the late-'80s. [Bloomberg]
Black Girls Code Will Room With Google
Google has gifted Black Girls Code, a nonprofit that teaches young women of color technology skills, office space in its New York City headquarters valued at $2.8 million. Black Girls Code works with 1,000 girls in the New York area, and hopes to teach 1 million girls nationwide to code by 2040. [CNet]
MEDIA BUBBLE
Rolling Stone's Rape-Article Lawsuit Dismissed
A federal judge yesterday dismissed a lawsuit brought by three University of Virginia fraternity members against Rolling Stone magazine over an article about a campus rape that the magazine ran and then retracted. The judge ruled that the article did not involve the three men specifically, that any similarities between the men in the story and the plaintiffs were unintentional, and that they were not ultimately defamed. [Reuters]
Musicians to Get Terrorism Insurance
ProSight Specialty Insurance Group, a major insurer for the music industry, has said it will begin offering coverage for terrorism. Specifically, it will insure venues, performers, and promoters if shows are called off because of terrorism and the performance has to be rescheduled. Its clients will have to reschedule the show within 90 days and within 100 miles of where the terror attack took place. [WSJ]
Marc DeBevoise to Helm CBS Interactive
CBS Interactive has a new president and chief operating officer. Marc DeBevoise will take over the post, overseeing the more than 25 brands under the CBS Interactive umbrella including CNet, TV Guide, CBS News, and CBS Sports. DeBevoise will also spearhead creating original content for the company. [The Wrap]
PHOTO OP
Stiff Upper Lip
Prime Minister David Cameron was visibly emotional after his meeting with the EU member states yesterday, where they made it clear there was no turning back from Brexit.
MORNING MEME
Donald Trump Has a Goblin Problem
We don't know the context and we don't want to know the context.
OTHER LOCAL NEWS
Kitty Prison Break Goes Awry
A carefully laid cat plan, which we are just imagining was code-named "Noah's Arc," backfired in Pompano Beach, Florida, earlier in the week, when some cats at the local Humane Society managed to turn on a faucet, flooding their shelter and causing thousands of dollars in damage. The cats were fine, of course, but will now have to be moved to a second location while their old shelter is repaired. So, maybe the flooding was just stage one of the plan. [ABC]
Customer's Anger Issues Take the Cake, Drop-Kick It
In a shocking reveal, the Bloomfield Township, Michigan, woman who garnered media attention after she had a meltdown in a local Kroger's Supermarket over what she perceived to be the bad decorating job on her son's birthday cake, may have suffered from anger issues. The first sign was when she "drop-kicked a custom-ordered 'Batman v Superman' cake and then stomped all over it." [Detroit Free Press]
HAPPENING TODAY
Democrats Plan Day of Action on Gun Control
As part of a concerted push to demand a vote on gun-control legislation, Democratic lawmakers are calling for a "nationwide day of action" today with local politicians hosting press conferences, town-hall meetings, and pro-gun-control events. Leader of the recent sit-in John Lewis will hold a town-hall meeting in Atlanta. [Advocate]
Lawmakers Vote on Puerto Rico Rescue Package
Lawmakers are expected to vote on the much-anticipated — especially by Puerto Ricans — Puerto Rican rescue package today. Yesterday, Bernie Sanders made a rare appearance in Congress to decry what he saw as the bill's dependence on debunked trickle-down economics, calling it "colonialism at its worst." [NYT]
Caitlyn Jenner Makes Historic Return to Sports Illustrated Cover
Caitlyn Jenner returns to the cover of Sports Illustrated, on newsstands today, posing with her Olympic gold medal from 1976. The cover is for the magazine's "Where Are They Now" double issue. [NYT]