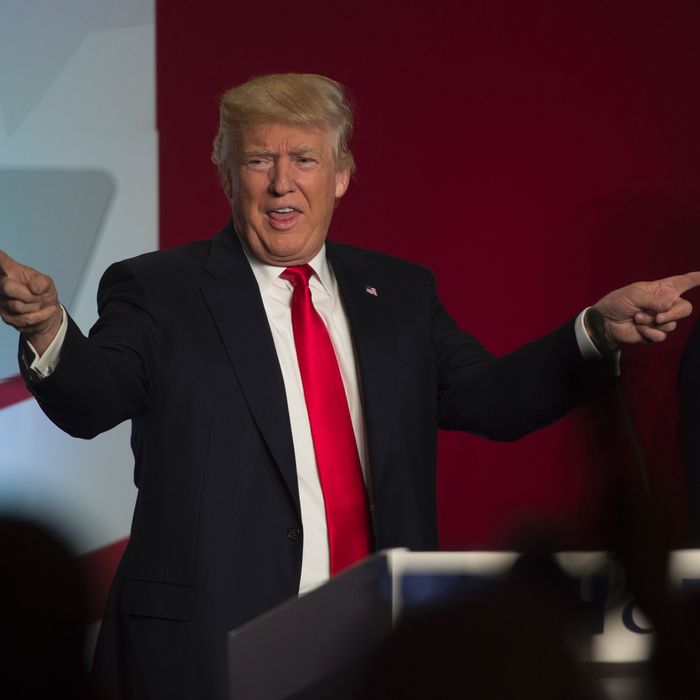 Promises like pockets.
Photo: Molly Riley/AFP/Getty Images
Good morning and welcome to Fresh Intelligence, our roundup of the stories, ideas, and memes you'll be talking about today. In this edition, Donald Trump is terrible at making money, doctors can't get enough free food, and gun control isn't going to happen. Here's the rundown for Tuesday, June 21.
WEATHER
Potentially deadly heat continues to affect Southern California, exacerbating fires that threaten Los Angeles. Meanwhile, storms will blow across parts of the Midwest and Ohio Valley today, but New York City should miss all of the excitement, with highs in the upper 80s and a small chance of rain. [USA Today]
FRONT PAGE
Real-Estate Mogul's Campaign Can Almost Afford to Buy an Apartment in Manhattan
Reports filed last night by the Federal Election Commission show Hillary Clinton's campaign came into June with $42 million, an obviously large amount of money, but nothing too surprising seeing as running an American presidential campaign is among the most expensive things anyone can do. The real surprise was in Donald Trump's campaign's numbers. His campaign entered June with only $1.3 million on hand — yes, you read that right — meaning he's operating with, as reported by the New York Times, the "worst financial and organizational disadvantage of any major party nominee in recent history." And the closer you look at the numbers, the more damning they become: A full 20 percent of Trump's campaign expenditures this month went to his children and to companies that bear his name. To recap, Hillary Clinton's campaign now has 32 times as much money as Donald Trump's. And having money was kind of his thing! [NYT]
EARLY AND OFTEN
Trump Turns Over New Professional Leaf With Embarrassing Day of Public Turmoil
Yesterday was an action-packed day for Garfield's mangy grandfather, Donald Trump. First, he fired his embattled campaign-husband, Corey Lewandowski — a move obviously planned to appease Establishment Republicans who balked at Lewandowski's abrasive style — and then he had to compel campaign adviser Michael Caputo to resign after Caputo posted a celebratory Tweet over Lewandowski's firing saying: "Ding dong the witch is dead!" Speaking on Fox News, Trump said the shake-ups were the beginning of a "different style" campaign.
PSA: Please Do Not Martyr Donald Trump
It has emerged that a British national arrested at a Trump rally in Las Vegas had planned to kill Donald Trump and expected law-enforcement officers to kill him in the ensuing confusion. Michael Steven Sandford was arrested after reaching for a police officer's gun at the rally, and in subsequent questioning over the weekend, he admitted that he had been planning to kill Trump for more than a year.
Senate Fails to Pass Even Most Basic Gun-Control Measures
All four gun-control measures before the senate were rejected yesterday. Lawmakers voted largely along party lines, blocking Democratic legislation for being too sweeping and Republican legislation for being too limited — this despite public support for gun control being at its highest level in years. Another bill that would make it harder for people on the "no-fly list" to buy guns could still pass later in the week, but nobody is too hopeful. Good work, everyone.
Tim Cook Plans Paul Ryan Fundraiser, Cements His Reputation As Least-Cool Apple CEO
House Speaker Paul Ryan's aides have confirmed that Apple CEO Tim Cook is planning a fundraiser for Ryan on June 28 in Menlo Park, California. The move reflects Cook's desire to help Establishment Republican candidates who are struggling under the polarizing influence of Donald Trump. Apple recently said it would not sponsor the Republican party's convention in protest of some of Trump's more hateful rhetoric. [Bloomberg]
THE STREET, THE VALLEY
Doctors Will Pretty Much Do Anything for a Free Lunch
A study published yesterday shows that doctors are more likely to prescribe branded drugs to Medicare patients over cheaper generics if drug reps treat them to a free meal. No one was exactly surprised that doctors were influenced by the largesse of drug companies — the surprising thing was how not-large that largesse needed to be to get results. [Bloomberg]
Walmart Has New Plan to Gain Foothold in Chinese Market: Buy It
Walmart announced yesterday that it would sell its Chinese retail website, Yihaodian, to Chinese retail-giant JD.com in exchange for a 5 percent stake in the company and access to its infrastructure and shoppers' list. JD.com is valued at $1.5 billion. [WSJ]
Facebook's Hulk Hogan–Obsessed Board Members Prevail
Facebook's shareholders have voted to keep PayPal co-founder Peter Thiel on the company's board despite Thiel's confession that he had been secretly bankrolling lawsuits against his old nemesis, Gawker Media. [CNet]
Did You Buy an Acer Computer Online? Because We Have Some Bad News for You
Taiwanese computer maker Acer admitted in a letter to customers yesterday that hackers had accessed customer information for people who shopped at its North American web store between May 2015 and April 2016. They got customers' "name, address, card number, expiration date, and three-digit security codes." So pretty much their entire identities. [The Verge]
MEDIA BUBBLE
Finally, an Online Live-Video-Streaming Platform
Recently unearthed information has brought to light Tumblr's plans to launch a new live-video-streaming platform. The site, livevideo.tumblr.com, is set to go online sometime today. [The Verge]
For Those Willing to Pay, the New York Times Website Will Go Ad-Free
New York Times CEO Mark Thompson has confirmed rumors that the paper will roll out a new ad-free digital subscription for subscribers willing to pay a premium. The move is in response to the widespread use of ad-blocking software and is meant to give readers who want to avoid ads a more (in the view of news publishers) ethical way to consume news. [WSJ]
Taylor Swift Joins Battle Against YouTube
Taylor Swift has added her name to an open letter addressed to Congress over legislation she — along with other major artists such as U2 and all the big music companies — claims allows YouTube too much free reign in using artists' music while not reimbursing them enough. The letter calls on Congress to pass more up-to-date laws governing online music in the era of widespread streaming. [Re/code]
PHOTO OP
Wildfires Threaten Los Angeles
This shot captures the scene in Los Angeles as fires rage around the city and a stifling heat wave broils unabated.

MORNING MEME
#TrumpSoPoor Is a Thing, a Wonderful Thing
And Twitter is enjoying it way too much.
OTHER LOCAL NEWS
Maine Police Officers Put Intensive Training to Good Use
Police in Auburn, Maine, were left with no choice when confronted with a "mean cow" who had escaped on the way to the slaughterhouse. Although officers were able to corral the animal, it ultimately proved too mean to control, so they shot it "10 to 15" times with what sure looks like an assault rifle. That must've been one mean cow! [Lewiston-Auburn Sun Journal]
Neighborhood Youth Wisely Avoid Cursed Birthday Party
During a child's birthday party in Niagara Falls, New York, a sudden gust of wind lifted the family's rented bounce house into the air, dashing it on some overhead power lines. No children were in the bounce-house-death-trap at the time of the incident, but it nonetheless shocked many partygoers. [UPI]
HAPPENING TODAY
Apple Customers Will Get $400 Million Today, But Don't Get Too Excited
Payouts begin today in the recent iBooks price-fixing case, with Apple paying customers as much as $6.38 per book in the form of store credit or straight cash. While nobody — except lawyers obviously — stands to get rich, the payout will cost the company $400 million. [Apple Insider]
First Free Apple Money, Now This — It's Going to Be a Very Good Day
Taco Bell is giving away tacos today as part of a deal the chain made with the NBA. Taco Bell promised to give away a free taco each time a team won one of the seven games on the road during the NBA Finals, and because Golden State won a game in Cleveland, everyone gets a free taco. Please don't follow this logic to its inevitable conclusion and start wondering how much Taco Bell tacos must cost to make. [Popsugar]
Attorney General Loretta Lynch to Visit Orlando
The attorney general is in Orlando today to get an "on the ground briefing" about the recent mass shooting at a gay nightclub in the city. She'll also take the opportunity to meet with members of the LGBT and Latino communities there: groups she said have "come under fire before, but never in as horrific a manner as this." [Politico]