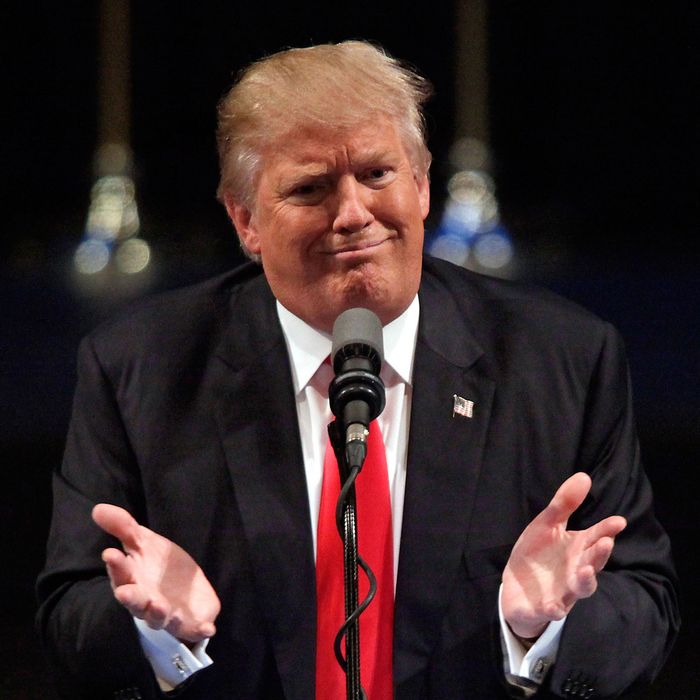 What's the problem?
Photo: John Gurzinski/AFP/Getty Images
Good morning and welcome to Fresh Intelligence, our roundup of the stories, ideas, and memes you'll be talking about today. In this edition, Donald Trump makes some illegal pen pals, Mitt Romney ignores his family, and the Oscars try to be not so white. Here's the rundown for Thursday, June 30.
WEATHER
Today will be hot and sunny in New York City with temperatures hovering in the mid-80s. Elsewhere, heavy rainfall and thunderstorms will continue to affect the Plains States, Midwest, and parts of the Southeast including Georgia, Northern Florida, and South Carolina. [Weather.gov]
FRONT PAGE
Trump Asking Foreign Leaders for Money Is Illegal, Tacky
Today's morning dose of Donald Trump getting into trouble is brought to you by the fundraising emails he sent the leaders of other sovereign nations. Two watchdog groups filed complaints with the Federal Election Commission yesterday over emails from Trump's campaign asking lawmakers in places like Australia, Iceland, and the U.K. for donations. If we need to explain to you why it is not allowed for a presidential candidate to ask foreign politicians for campaign contributions, then you are probably Donald Trump.
EARLY AND OFTEN
Mitt Romney's Family Really Tired of Spending Time With Him
Many politicians decide not to run for office to spare their families, but Mitt Romney is staying out of the 2016 election despite his family basically begging him to take on Trump. Yesterday at the Aspen Ideas Festival he explained, "My wife and kids wanted me to run again this time, interestingly enough." That is interesting. Romney said his family is concerned about the direction the Republican Party is headed, but didn't mention how tired they are of watching him spend all day in his underpants watching DVR'd This Old House reruns.
More Than 40 Events in National Day of Action for Gun Control
Democrats are trying to keep their push for gun-control legislation moving after their sit-in on the House floor last week. Lawmakers returned to their home districts and joined activists and community organizers to host more than 40 events across the country, from town-hall-style meetings to rallies. Democrats are intent on passing gun-control laws in the wake of the mass shooting in Orlando, and all of the other mass shootings that keep happening every year. [NYT]
Senate Passes Bill to Save What's Left of Puerto Rico
The long-time-coming Puerto Rico rescue package is finally heading to the president's desk. Despite vocal criticism from Bernie Sanders, who called the legislation "colonialism at its worst," the bill passed handily with a vote count of 68-30. Puerto Rico is currently facing down $70 billion worth of debt. The rescue bill would put together a federal-oversight committee that would be in charge of restructuring the American territory's bills. [Reuters]
"Three Amigos" Less Funny Than the Original
Leaders from Canada, Mexico, and the United States met yesterday to discuss trade in a meeting that Donald Trump has hilariously been calling the "three amigos" summit. There was a bit of room for comedy when the new double act of President Obama and Mexican president Enrique Peña Nieto took turns taking shots at Donald Trump. Speaking after the meeting, Obama went off on the Republican nominee — without ever mentioning his name — in a performance that would make Jeff Ross proud, if Jeff Ross could feel pride.
THE STREET, THE VALLEY
Bank Stress-Test Results Belong on Country's Fridge
Almost all of America's major banks managed to pass a recent stress test intended to determine if they could weather a major financial downturn. We say almost because the U.S. subsidiaries of the foreign banks Deutsche Bank and Banco Santander both failed. USA! USA! [Reuters]
Seagate Struggles As Nobody Uses Disks Anymore, or PCs at All Come to Think of It
It turns out people increasingly using mobile devices for computing can put quite a strain on companies that create disk drives for personal computers. Such is the story at Seagate, which announced yesterday that it will be cutting 1,600 jobs or 3 percent of its total workforce. [Bloomberg]
Facebook Reminds Users That Lil' Wayne Is Not Their Friend
Facebook is changing its feed again, and this time it might actually not piss everyone off. The company that is becoming our lives announced that it would change its algorithms to limit posts from publishers like celebrities and organizations in favor of real people and actual friends. But what about those of us who only log in to see what Fetty Wap is up to? [USA Today]
Google to Start Caring About People
In its first investment in a public company, Alphabet's (read:Google's) growth-equity division will invest $46.35 million in Care.com. Google Capital will become the largest shareholder in the company. Care.com is kind of like TaskRabbit for people: a site where you can hire a nanny or someone to sit with an elderly relative, for example. [Bloomberg]
MEDIA BUBBLE
Too Bad the Name Stargate Is Already Taken
It looks like the long-rumored acquisition of the cable channel Starz by the studio Lions Gate is actually going through. The final deal will reportedly be announced in the next couple of days. Starz has a market value of around $2.8 billion. Lions Gate will most likely resolve recent negotiation disputes between the two companies by making the purchase in almost all cash and a little stock. [Bloomberg]
Finally, Netflix Read Our Emails
Danger! Danger! Super-awesome danger! Netflix announced yesterday that it ordered ten episodes of a new series remaking 1965's sci-fi classic Lost in Space. This one will be written by the talents behind Dracula Untold and Last Witch Hunter, two shows we've never heard of. Fingers crossed because remakes of Lost in Space haven't always gone so well. [CNet]
The Days When the Motion Picture Academy Was Just for Gold Men Are Over
It appears that the Academy of Motion Picture Arts and Sciences is going to keep the promises it made in the wake of the "Oscars so white" controversy to bring on more diverse members. The Academy, as we insiders call it, just sent out invitations to 683 new members in a bid to bring on more people of color, women, and LGBT members, who will have a say in voting for next year's Oscars.
PHOTO OP
Economy Off the Rocks
Just look at the size of this diamond that failed to sell in London yesterday.
MORNING MEME
Canada's Politeness Nearly Derails Summit
Thank God there were only three of them, someone could have gotten hurt. [Gawker]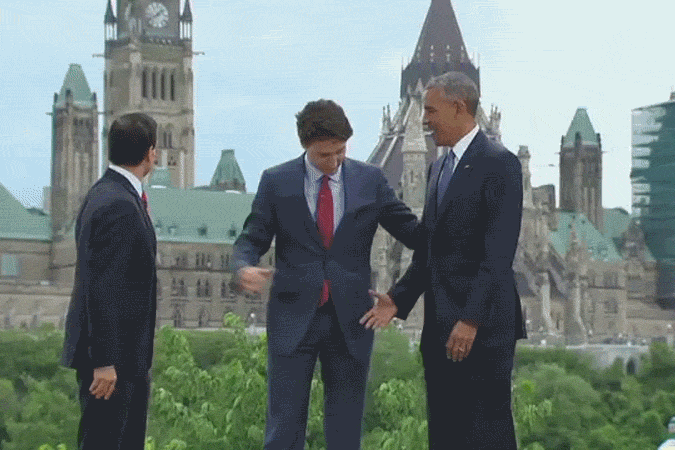 OTHER LOCAL NEWS
Cats Are Bastards
What began as a small tragedy has turned into a huge insult as a pet cat Bloomingdale, Illinois, resident Nichole Milone reported missing more than two years ago has been found living at a neighbor's house just three doors away. Now, because this is America, both households have lawyered up and are awaiting a custody battle. The cat's scheme is going exactly as planned. [UPI]
Looks Like Somebody Got a Star
Please take the time to watch this video of a man on a go-kart being chased by police down an Oakland, California, freeway. The man on the cart, we must say, looks like he is absolutely chillin', but the best part by far are the crowds gathering along the highway to cheer him on. It looks like he might have effectively avoided capture, as no news outlets can figure out what happened to him. [UPI]
HAPPENING TODAY
Google Takes a Dive
A massive underwater internet cable linking Oregon with Japan goes online today with the potential to give internet speeds and connectivity a major boost for millions of people. The cable was funded in part by Google in partnership with other global internet companies. The cable is named "Faster," probably because it is so long. [The Verge]
Cuomo Operative Charged in Judge Bribing
G. Steven Pigeon, a political operative with ties to Governor Cuomo, will be charged today for unspecified crimes related to him allegedly bribing a judge. Unfortunately for Mr. Pigeon, the judge, John A. Michalek, has already pled guilty to receiving the bribe. This lends more credence to our rule that if your job description includes the word "operative" you're up to no good. [NYT]
Now in Serious News: Rihanna Has a New Video!
The video for Rihanna's new music video, for her song "Sledgehammer," will premiere this morning at an as-yet-unannounced IMAX theater — the first music video to ever premiere in IMAX, apparently — and then will be available to stream on TIDAL. Kids these days think they're too big for TRL or something? [Idolator]