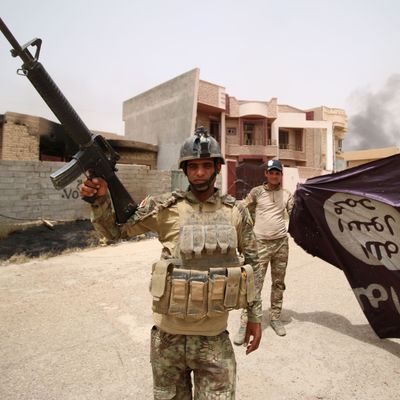 Iraqi pro-government forces hold an ISIS flag.
Photo: Haidar Mohammed Ali/AFP/Getty Images
Good morning and welcome to Fresh Intelligence, our roundup of the stories, ideas, and memes you'll be talking about today. In this edition, convictions for two Californian ISIS supporters, a glimmer of hope for gun control, and more drones for everyone. Here's the rundown for Wednesday, June 22.
WEATHER
It's still not looking good out there. The already bad storms in the Midwest will get worse today, while heat waves in Southern California and the Southwest show no signs of abating. Most of the East Coast will be warm but dry, with temperatures as high as 88 in New York City. [USAToday]
FRONT PAGE
Two Men Convicted of Conspiring to Support the ISIS
A Santa Ana federal jury has convicted two Anaheim, California, men — 25-year-old Nader Elhuzayel and 24-year-old Muhanad Badawi — of offering support to the Islamic State. In May of last year, Elhuzayel was arrested at Los Angeles International Airport on his way to board a plane bound for Israel while Badawi was arrested at a gas station in Anaheim. Both men had made pledges to "fight for the cause of Allah and to die in the battlefield;" law enforcement first became aware of the duo after they posted suspicious comments on social media. The jury deliberated for just over an hour before finding Elhuzayel guilty of trying to provide material support to the Islamic State, while Badawi was found guilty of aiding and abetting him. The duo was also found guilty of 26 counts of bank fraud and one count of federal financial-aid fraud, which they perpetrated to support ISIS. [LA Times]
EARLY AND OFTEN
Hope for a Rare Compromise on Gun Control
Following a discouraging day for supporters of gun control, a bipartisan group of senators put forward a plan to ban the sale of guns to anyone on the government's "no fly" terrorist watch list, which is 109,000 names long. The bill, whose required catchy slogan is "no fly, no buy," is the brainchild of Maine's Republican senator Susan Collins and Democratic senator Heidi Heitkamp from North Dakota and would not apply to the million-name-long federal terrorist watch list. The NRA is strongly opposed to the measure and is suggesting instead a law that would allow people to carry concealed weapons nationwide. Makes sense!
Republican Congressman Continues to Give Bestselling Author a Bad Name
Steven King, the Republican congressman from Iowa, filed an amendment yesterday to an appropriations bill that would block the Treasury Department from redesigning the $20 bill to feature the courageous abolitionist and famed "conductor" on the Underground Railroad, Harriet Tubman. When pressed why he would introduce an amendment like that, King said — not joking here — that putting a black woman on currency was "racist" and "sexist." By nightfall, the rules committee had already blocked his amendment from being considered. Look at that — government working. [Gawker]
Judge Hits Pause on Clinton Email Lawsuit
The Freedom of Information Act lawsuit over Hillary Clinton's use of a private email server while secretary of State was put on hold yesterday. To the consternation of both sides, U.S. District Court Judge Reggie Walton said the suit would remain paused "pending the completion of discovery" — or until Clinton's aides are finished giving their depositions — in two other simultaneous investigations into the presumptive Democratic nominee's email use. Conservative groups had wanted the judge to release more information about Clinton's email habits, while the Department of Justice had hoped the case would quickly be decided in its favor. [Politico]
New York City Passes Sweeping Unisex Bathroom Law
The New York City Council passed a law yesterday that would require all public single-stall bathrooms to be unisex. Many single-stall bathrooms in the city are already gender-neutral, but lawmakers said they intended the law to send a signal to the transgender community that the city recognizes them and stands with them. The law is pretty much the opposite of the infamous recent bathroom bill in North Carolina, which forced people to use the facilities that corresponded to the gender on their birth certificates. [Reuters] 
THE STREET, THE VALLEY
Minority Report, Reality Inch Closer Together
The FAA passed sweeping new legislation on drones yesterday that would let companies legally use drones for a variety of tasks such as news reporting, aerial photography, and emergency response. Drones have to be under 55 pounds, flown by a qualified pilot who is 16 or older, and can never leave the pilot's sight. So, that means no fugitive hunting or package delivery yet. [NYT]
Shareholders to Tesla: Stick to Making Cars
On the news that Elon Musk's car company had offered to buy solar-installation firm SolarCity — where Musk is the chair — for $2.8 billion, shares in Tesla fell more than 13 percent, losing about $4.3 billion. Musk had called the offer a "no brainer," but Tesla investors clearly disagreed, feeling that Tesla should focus on what it does best: making cars. [Reuters]
California's Last Nuclear Plant to Shutter, Presumably Slowly Erode Into the Sea
Clean energy has expanded so much in California that PG&E claims that the state won't even need its last nuclear power plant, Diablo Canyon — why do nuclear reactors have to have such scary names? — after 2025, as the high cost of operations become untenable. The company plans on shutting down the reactors completely by 2024, or 2025 at the latest. Three other American nuclear power plants have recently announced plans to close for similar reasons. Springfield just won't be the same. [Bloomberg]
NASA's New Apple TV App Renders Human Interaction Obsolete
NASA has announced a new app for Apple TV that will let viewers watch streaming feeds from the International Space Station, live shuttle launches, and even enjoy NASA's radio station, "Third Rock." The app had been available on mobile devices, but now that it's come to the big(ger) screen, we are officially quitting our jobs and shutting down our social lives. We love you, outer space. [The Verge]
MEDIA BUBBLE
Mystery of Why People Use Facebook Live Solved
Documents uncovered by The Wall Street Journal show that Facebook has paid out more than $50 million in nearly 140 separate contracts to media companies and celebrities to get them to use Facebook's live-streaming video platform. The company has long been open about paying people to use the service, but until now, the scale of the payouts hasn't been known. The highest-paid contract went to BuzzFeed, which received $3.05 million to use the service for a year — totally worth it for that watermelon video alone. Other notables that entered lucrative deals with Facebook include Kevin Hart, the New York Times, and Gordon Ramsey. [WSJ]
Hulk Hogan Not Finished Just Because Gawker Tapped Out
Hulk Hogan is still trying to be involved in the future of Gawker after his successful lawsuit against the media company forced it to file for bankruptcy. Now lawyers for Hogan have filed a challenge saying that Gawker's creditors, and not the company's eventual new owners, should retain the right to sue Gawker's suppliers — a move that would make it much more difficult for any new owners to run the company and considerably sour the deal for anyone interested in buying it. [WSJ]
Family of Murdered Journalist Believes His Work Got Him Killed
Jacinto Torres Hernández, a journalist and photojournalist living in Dallas, Texas, was found dead of a gunshot wound in Garland, Texas, last week, and now his family has made a statement saying they believe he was murdered because of his reporting. Hernández had reportedly been working on stories about human trafficking and illegal immigration and had become increasingly concerned for his personal safety. He was a fixture in the area's Hispanic community and reported widely on the issues that affected it. [Journalism in the Americas]
PHOTO OP
Messi Continues to Do No Wrong
When a fan rushed the field in yesterday's match between Argentina and the United States and bowed down before superstar footballer Lionel Messi, Messi reacted how all celebrity athletes would: He signed the kid's jersey, and then hugged him. Twice.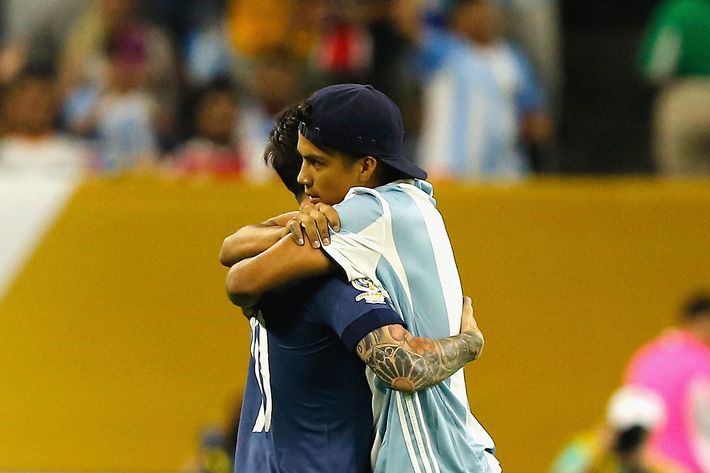 MORNING MEME
Optics, People!
"But put on the Lord Jesus Christ, and make no provision for the flesh in regard to its lusts." Romans 13:14 [The Cut]
OTHER LOCAL NEWS
A Contest Trump Could Win
The online Cheetos Museum is accepting submissions for its first "weird-shaped Cheetos" contest. If you submit your weirdly shaped Cheeto to the website by August 15, you could be one of ten lucky winners to receive $150,000. There is, of course, a nice slideshow of funny-looking Cheetos; the Abraham Lincoln Cheeto is our favorite. Such gravitas. [USA Today]
We Have a Great Idea for a New Ben & Jerry's Flavor
Congratulations "rock snot," you're home. Scientists announced yesterday that a type of algae — known by its scientific name, "rock snot" — long believed to be an invasive species is actually native to the northern United States. Surely apologies are in order. Following the announcement, Vermont will put an end to its ban on felt-soled waders — a kind of shoe, maybe? — which were believed to spread the snot, as it were. [AP] 
HAPPENING TODAY
Clinton to Rub the Warm Embrace of Her Party in Donald Trump's Face
Hillary Clinton will come to Capitol Hill today to meet with House Democrats for the first time since securing her party's nomination. The appearance is expected to be a love-fest, with lawmakers vying to seem closest to the presumptive nominee. [Politico]
Conservative Moral Crusader and Serial Child Molester Dennis Hastert Heads to Prison
Former U.S. House of Representatives Speaker Dennis Hastert is headed to the Federal Medical Center in Rochester, Minnesota, today where he will begin serving his 15-month sentence for financial misconduct related to paying his child-molestation victims hush money. Hastert, who was the longest-serving Republican House speaker in history, has been plagued with health issues, hence the medical center. [Reuters]
New York Asian Film Festival Kicks Off Today
The 15th New York Asian Film Festival opens today at the SVA Theater and the Film Society of Lincoln Center, where it will run through July 9. The festival opens with Twisted Justice, a Japanese drama about the career of a corrupt cop in Hokkaido. [NYT]