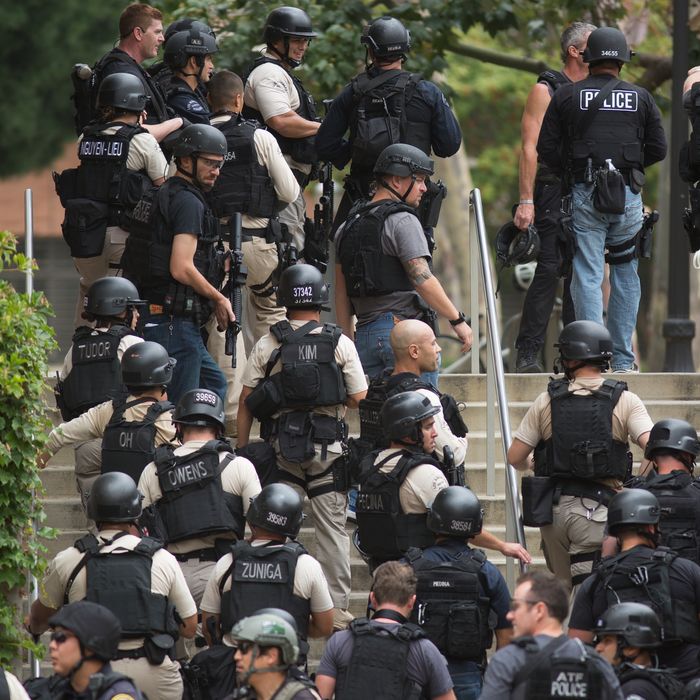 Police out in force at UCLA.
Photo: David McNew/Getty Images
Good morning and welcome to Fresh Intelligence, our roundup of the stories, ideas, and memes you'll be talking about today. In this edition, new information comes to light in the UCLA shooting, another aide abandons the RNC, and the country braces itself for a second Clinton email scandal. Here's the rundown for Thursday, June 2.
WEATHER
Today will bring no relief for Texas, where a state of emergency has been declared because of deadly widespread flooding. Temperatures remain high along the West Coast, while in New York City, you can expect more of the same, meaning temperatures in the mid-70s with a bit of cloud cover. [Weather.com]
FRONT PAGE
UCLA Student Shoots Professor, Self Over Grades Dispute
More details have emerged about yesterday's murder-suicide at the University of California, Los Angeles. It now appears that a student shot his engineering professor because he was unhappy with his grades. The professor was William Klug of the Department of Mechanical and Aerospace Engineering, but the shooter's identity has not been released. The shooting took place shortly before 10 a.m. yesterday in the university's engineering building, prompting a massive police response that shut down the school for the day. [LAist]
EARLY AND OFTEN
Mystery at the RNC: Why Would Committee's Hispanic Media-Relations Head Possibly Want to Quit?
Ruth Guerra, the 28-year-old head of Hispanic media relations for the Republican National Committee, is leaving her post. Although she has not commented on why she's stepping down, we can only guess the Mexican-American did not relish the prospect of having an outspoken racist and anti-Hispanic boss. Guerra will be taking a job at the American Action Network, a conservative super-pac, where she will focus on promoting Republicans in congressional races. Guerra joins a growing list of RNC officials who have stepped down out of discomfort with Donald Trump. [NYT]
Clinton Takes Legal Hit in Entirely Different Email Scandal
The Republican National Committee scored something of a legal victory over the Clinton campaign yesterday when a federal judge ordered that the U.S. Agency for International Development must turn over a raft of emails sent between the Clintons, the Clinton Foundation, and USAID during Hillary Clinton's time as secretary of State. Clinton has long been dogged by accusations that the Clinton Foundation and her private business dealings unduly influenced her work at the State Department. USAID has until July 11 to turn over the nearly 800 pages of emails. [Politico]
State Department Action Shady Even by Government Standards
The State Department keeps an online archive of videos of all of its press briefings, and Fox News' James Rosen was perusing those archives when he discovered a question he'd asked in 2013 had been cut and replaced with a white screen (Rosen had asked if the State Department ever lied about secret negotiations between Iran and the United States). At first, the government blamed a glitch for the missing footage, but yesterday it admitted it had been removed at someone's request. Whoever it was, they cut the video but forgot to redact the written transcript, which has been on the website the whole time. Oh, and in case you were wondering what was cut: It was a State Department spokesperson admitting that, yes, they do, in fact, lie to the public sometimes. Nice work, everybody. [Politico]
Trump's Worst Nightmare Comes True: Mexicans Now Stealing American Golf Tournaments
The prestigious World Golf Championship has been held at the Doral golf course for 55 years, a course that has been owned by Donald Trump for three. Now it looks like the tournament is moving south of the border and will be hosted in Mexico City for the first time. Although the PGA claimed the move was not political, a representative did confess that Trump's reputation made it difficult to find willing sponsors. Trump is, of course, pissed. He accused organizers of putting profit ahead of American jobs, which is coincidentally the name of a course taught at Trump University. [BBC]
THE STREET, THE VALLEY
Whistleblower Comes After Oracle
A former senior finance manager at Oracle has hit her old company with a whistleblower lawsuit, saying she was pushed out for exposing shady accounting practices in the massive tech company's cloud-computing department. An Oracle spokesperson denied the claim and said the company will "vigorously defend the matter." [Reuters]
Cheater Not Prospering
Volkswagen's U.S. sales are still falling, continuing a seven-month decline; the car company is struggling under the weight of a reputation marred by admissions of cheating on emissions tests. The company's CEO announced yesterday that he would be open to diverting money away from actually building things and into taxi apps and software opportunities. [Bloomberg]
Viacom Goes Full I, Claudius
The drama continues for those of you following the succession battle over at Viacom. Now the company's aging owner's granddaughter has said she will do her part to support the company's directors and hopes to save her grandfather, Sumner Redstone, from the manipulations — the word she used was "clutches" — of his daughter, her aunt. The Redstones have seven months to prepare for an awkward Christmas. [Reuters]
Thiel Still Welcome on Facebook Board
As Facebook tries to court news services, it finds itself in the uncomfortable position of also shielding one of its board members who's spending his billions to destroy one. We are, of course, talking about Peter Thiel, who Facebook COO Sheryl Sandberg said could stay on the board, arguing basically that what people do in their free time is their own business. [Bloomberg]
MEDIA BUBBLE
Hundreds of 21st Century Fox Employees Take Buyout Offers
Variety is reporting that between 300 and 400 employees at 21st Century Fox have accepted buyout offers. That number represents about half of all the people offered buyouts in the company's push to cut $250 million from its budget. That may sound high, but representatives from Fox have said they're confident that the company can tighten its belt without resorting to layoffs. [Variety]
Bloomberg Picks Up Mark Gurman From School
Bloomberg has announced that it's hiring Apple scoop savant Mark Gurman to cover consumer products. Gurman, who is 22 and graduated from the University of Michigan last month, made a name for himself while still in high school for breaking one impeccably sourced scoop after another about Apple products from the iPhone to Siri. Now Gurman will bring some of that expertise to bear on other tech companies, reviewing products from Apple and its competitors. [Re/code]
The Internet Makes Room for Three New Verticals
There must be something in the water because new verticals are sprouting up everywhere. Yesterday both Vanity Fair and NBC launched new sections: NBC OUT features news aimed at the LGBT community, while Vanity Fair's "The Hive" will focus on stories from the "intersection of business, politics and tech." And let's not forget the most exciting vertical of all: "Extra Crispy," Time's new "digital brand dedicated to covering breakfast, brunch, and the culture surrounding it all," which might just be the best thing to happen to the media since Gutenberg.
PHOTO OP
Rare Bug Gets High Honor
Meet Ilomantis ginsburgae, a new species of mantis that was discovered on Madagascar and named for Supreme Court Justice Ruth Bader Ginsburg. It was so named because of Ginsburg's fight for gender equality — the mantis is unusual in that it's identified by its female sex organs — and her love of one-of-a-kind neck adornments.
MORNING MEME
The World Could Not Possibly Love Young Hodor Any More
A song can be a meme, right? We don't think you'll mind after you hear this song written and performed by Sam Coleman, the 19-year-old actor who played young Hodor in a recent heartbreaking episode of Game of Thrones.
OTHER LOCAL NEWS
Woman Dyes Hair Pink, Gets Face Tattoo to Avoid Attention
A suspected hit-and-run driver who left her victim brain dead was arrested over the weekend in Santa Ana, California. Police were somehow able to see through her disguise: a pink wig and an honest-to-god face tattoo of a dragon, which she got hoping it would help her avoid detection. [LAist]
Cam'ron Would Have No Love for This 6-Year-Old From Massachusetts
When 6-year-old Robert's dad ran a red light in Quincy, Massachusetts, the tiny snitch knew just who to call: 911. During the call — and yes there is audio — Robert describes the incident in detail and even describes the car his father was driving. His adorable little voice will fill you with civic pride and dystopian dread. [UPI]
HAPPENING TODAY
Classes Resume at Shaken UCLA
Classes are set to resume today at the University of California, Los Angeles, which was shut down following yesterday's murder-suicide. A student who was reportedly upset about his grades shot his engineering professor before turning the gun on himself. [NYT]
New Rules Could Revolutionize the Payday-Loan Industry
The Consumer Financial Protection Bureau will unveil new rules today that could radically change the payday-loan industry. The rules will require payday lenders to make sure their customers can afford to repay any loans they're offered. The move could cut the total number of loans by more than half. [NYT]
Finally, Politics As Usual: Clinton Will Go After Trump Foreign Policy in Speech
Speaking in San Diego, California, Hillary Clinton is expected to set out a case-by-case argument as to how a Trump presidency would make the world a more dangerous place, make America less secure, and set American diplomatic efforts back by decades. Remember when Trump got a ringing endorsement from North Korea? [NYT]