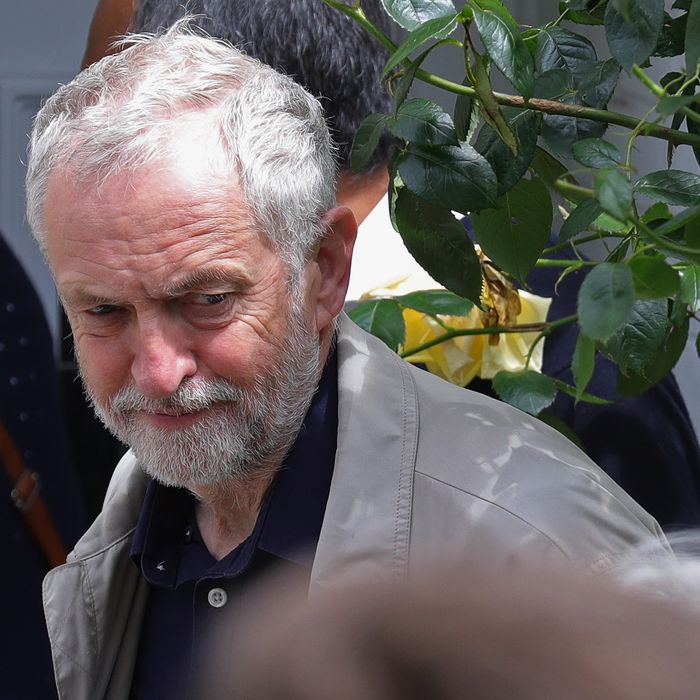 Corbyn's had a rough couple of days.
Photo: Christopher Furlong/2016 Getty Images
Good morning and welcome to Fresh Intelligence, our roundup of the stories, ideas, and memes you'll be talking about today. In this edition, political chaos grips the U.K., Clinton joins a parade, and tech companies take on extremism. Here's the rundown for Monday, June 27.
WEATHER
Historic flooding in West Virginia looks like it will get worse before it gets better, with more rain heading that way today. Severe storms and heavy rains will also batter the Plains States in the next few days. New York City will be hot today — temperatures in the lower 80s — with scattered showers. [Weather.com]
FRONT PAGE
Coup Attempt Rattles an Already-Shaken U.K.
Turmoil continues to roil the U.K. following the country's historic vote last week to leave the European Union. Both of Britain's ruling parties have been thrown into confusion, with Conservatives scrambling to address the imminent resignation of Prime Minister David Cameron and an attempted coup against Labour leader Jeremy Corbyn that prompted the firing or resignation of 11 of his cabinet ministers. Meanwhile, Scottish First Minister Nicola Sturgeon threatened to leave the U.K. and join the E.U., or to block a separation from the E.U. altogether, saying that such a move would require the agreement of Scotland's parliament. It's unclear how the law would apply in that situation, which is true of pretty much everything related to Brexit.
EARLY AND OFTEN
Clinton Crashes New York's Pride Parade
Hillary Clinton made a surprise appearance at yesterday's pride parade in New York City for a 15-minute walk from the historic Stonewall Inn along the parade route. Following the recent mass shooting at a gay night club in Orlando this was an unusually mournful celebration of the LGBT community, and the symbolism of Clinton's march was hard to miss. Her likely presidential opponent, Donald Trump, tried to capitalize on the tragedy by styling himself as an ally to the LGBT community. We're not sure how Trump passed Pride Day — golfing in a silly hat, probably. [NYT]
Polling Dispute: Is Clinton's Lead Merely Considerable or Totally Bonkers?
Two new polls out over the weekend agree that Clinton is opening up her lead over Donald Trump. A Wall Street Journal/NBC News poll found Trump trailing Clinton by five points. Not bad, but nothing close to the monster 12-point lead she was showing in yesterday's Washington Post/ABC News survey, which has Clinton pulling down 51 percent of the vote to Trump's 39 percent. Then again, it is July, so maybe we shouldn't really care about polls too much. 
Sanders Stops Campaigning — But Not That Sanders
Symone Sanders, Bernie Sanders's national press secretary, is leaving the campaign. She announced her career change to Politico yesterday saying, "I believe my time at the campaign has come to an end." Even though Sanders — no relation to Bernie — claims that she is leaving on good terms with the senator and his other campaign staffers, her departure is yet another sign that the Sanders campaign is winding down ahead of the convention and basically inevitable nomination of Hillary Clinton. [Politico]
Sanders Not About to Endorse Anyone
Even though he has admitted that there is pretty much no way he could be president, Bernie Sanders continues to prove that he is a master of leverage. Speaking on CNN yesterday, Sanders made it clear that he would not endorse Hillary Clinton until she adopts some of his policy positions like a $15 minimum wage, a ban on fracking, and free college tuition. Clinton will likely be listening very carefully to Sanders; a third of his voters have said they will not vote for her, a figure that she hopes a Sanders endorsement could change. [WSJ]
THE STREET, THE VALLEY
Nice Job Britain: Brexit Wipes Out $2.08 Trillion in One Day
Standard & Poor's Dow Jones has shown that, following Brexit, global-equity markets lost $2.08 trillion, the largest one-day loss in history. Adding insult to injury, it was Europe's markets that were hit the hardest, falling more than 12 percent, while England's wound up only just over 3 percent down. [Reuters]
U.S. Economy Affected by Brexit But It Could Be Worse — We Could Be Britain
Goldman Sachs has revised its expected growth of the U.S. economy from a 2.25 percent growth rate to a 2 percent growth rate, thanks to fallout from Brexit. Meanwhile, in the country whose fault this all is, Goldman is predicting that Britain will enter a recession by early next year. That was fast! [Reuters]
Intel May Sell Security Business for Billions
Intel is considering selling off its Intel Security cybersecurity business. The sale will most likely also including the anti-virus company that was once McAfee. Intel only bought the security business six years ago, and it paid $7.7 billion. [Bloomberg]
Tech Companies Move to Automate Hate-Speech Removals
As tech companies like Google and Facebook increasingly come under scrutiny for — some argue — being too lenient on extremists, they are reportedly looking into ways to automate finding and taking down hate speech, maybe by modifying the software used to flag and remove content for copyright infringement. At the very least, an automated solution should save some poor intern from reading all of that garbage. [The Verge]
MEDIA BUBBLE
Journalist Insults Weasel Hosts
A CNN panel discussion about the network's recent hiring of Donald Trump's former campaign manager Corey Lewandowski got heated over the weekend when Baltimore Sun media critic David Zurawik accused CNN of "paying weasels" to talk about politics instead of "earning your paychecks" by doing actual reporting. [Raw Story]
New York Times' New Public Editor Ready for a Tough Job
Elizabeth Spayd, who begins at the New York Times as the paper's new public editor on July 5, spoke to Poynter over the weekend about her new post. Internal criticism is an integral part of the gig, and Spayd said that doing a good job is more important to her than bonding with co-workers. "I'm not there to make friends, I have a lot of friends, thank God," she said.
BET Awards Take On Purple Hue
At the BET Awards on Sunday night, artists used the show to celebrate the memory of Prince at every opportunity. The most moving was probably the performance by Sheila E., Prince's longtime musical collaborator and muse, who closed the show by playing a medley of Prince songs, and was even joined by the artist's ex-wife for a stirring rendition of "Purple Rain." [AP]
PHOTO OP
New York Pride
The Manhattan skyline all done up for Pride Week was especially lovely to behold this year.
MORNING MEME
Sometimes a Meme Is More Than a Picture of a Cat
This moving speech from Jesse Williams at the BET Awards last night is the viral video of the moment.
OTHER LOCAL NEWS
Activist Women Fight to Change Family Yacht Club Into Depraved Bar
A yacht club in Westerly, Rhode Island, is in the news after its commodore sent out an email arguing against a recent movement to change the club's rule that only men can vote on club business. Asking why he opposed women voting, the commodore said that women would ruin the club's "family atmosphere," and that if women could vote, "the club would become a bar." Well that's confounding. [Providence Journal]
Even Mayors Aren't Safe From Florida-Man Meme
Three carjackers in Sanford, Florida, really neglected their civic duty over the weekend when they carjacked the mayor. Mayor Jeff Triplett was standing outside his house at 2:15 in the morning — as you do — when three men approached him, robbed him at gu point, and stole his wallet and Mercedes. As is often the case when you rob the mayor, the police response was swift and two teenage suspects are already in jail; it can't be long before the third joins them. [NBC]
HAPPENING TODAY
Historic Abortion Ruling Expected Today
The Supreme Court will rule today on whether Texas state laws that make it more difficult for women to have abortions, in fact, violate their constitutional right to have one. The decision will be the court's first about abortion since 2007. [Reuters]
Kerry Heads to the U.K.— Does He Have Golf Courses There, Too?
John Kerry is visiting both Brussels and London today. His mission is to calm E.U. fears, soothe hurt feelings over Britain's vote to leave, and reassure the British government that, despite its rapid descent into political chaos, America will still value the "special relationship." [Express]
Guess What Everyone Will Be Talking About at Europe's Annual Banking Conference
Federal Reserve Chief Janet Yellen is in Portugal today for the annual European Central Bank conference. The meeting brings together many of the world's central-bank chiefs and influential economists. We have a feeling Brexit might come up. [NYT]