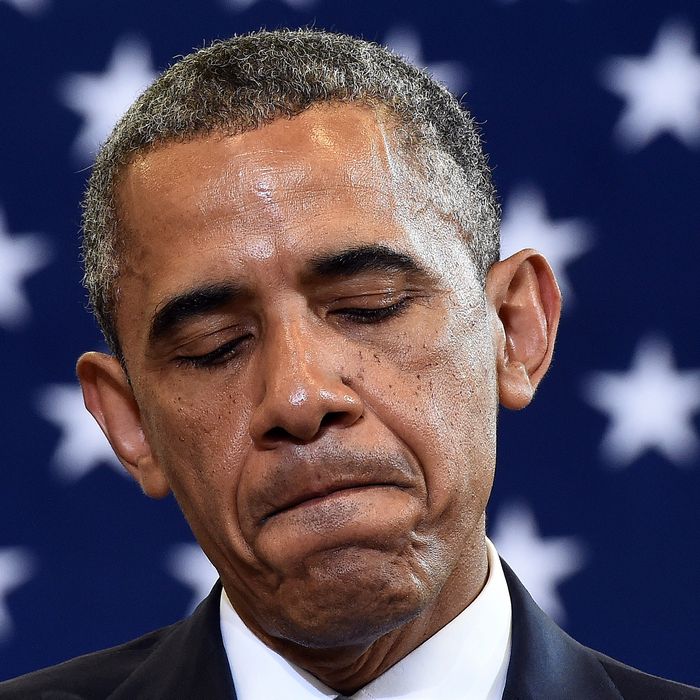 Diplomats to Obama: Do more.
Photo: Jewel Samad/AFP/Getty Images
Good morning and welcome to Fresh Intelligence, our roundup of the stories, ideas, and memes you'll be talking about today. In this edition, American ambassadors turn on their boss, John McCain takes everything back, and a grieving family sues Google. Here's the rundown for Friday, June 17.
WEATHER
The already overheated United States will get even hotter today and through the weekend. It will be hot pretty much everywhere — except, notably, northern California and the Northwest — but temperatures in the Southwest will truly be horrifying and potentially dangerous, topping out at 120 in Phoenix over the weekend. New York City will also be very warm, but temperatures shouldn't go much above 80. [Weather.com]
FRONT PAGE
More Than 50 U.S. Diplomats Urge Airstrikes in Syria
More than 50 American diplomats working at the State Department signed onto a letter criticizing President Obama directly and saying the White House should change its policy in Syria. The letter called for American airstrikes and military operations against the embattled government of Syrian president Bashar al-Assad if he continued to break internationally recognized cease-fire agreements. The memo was filed in the State Department's "dissent channel," and although such memos are not uncommon, the number of signatures on this one is unheard of. [NYT]
EARLY AND OFTEN
Slaying of U.K. Lawmaker Shocks World, Draws Clinton's Response
Hillary Clinton responded yesterday to the brutal slaying of U.K. Parliament Member Jo Cox, who was murdered by someone who allegedly espoused anti-immigration British nationalist sentiments. Hillary Clinton condemned the murder in no uncertain terms, calling it "a violent act of political intolerance," and said that the U.K. and the United States must stand united "against hatred and violence." Gabby Giffords, who herself was shot in 2011, said she was sickened by the murder and described Cox as a "rising star, mother, and wife." [Politico]
CIA Chief Reminds Americans That ISIS Is Still Capable of Terror — As If We Had Forgotten
Central Intelligence Agency Director John Brennan spoke yesterday to remind Americans that ISIS is still capable of carrying out terrorist attacks despite years of military and non-military action taken by the U.S. government. Brennan said ISIS was capable of carrying out terrorist attacks directly, as well as influencing others to carry out attacks through its radicalizing presence online. [WSJ]
Huckabee, If Israel Jumped Off a Bridge, Would You?
Former Arkansas governor Mike Huckabee — who would like you to know that he can play the bass — came out in favor of Donald Trump's anti-Muslim immigration policies, pointing out that they're not so different from those of America's most steadfast ally, Israel. Speaking on an Israeli radio show, Huckabee explained: "Muslims don't just get to come into Israel without some clearance. In fact, I am not sure that they are allowed to immigrate here at all. So … when everybody acts like 'Oh what Trump has said is so amazing,' it's not that amazing in Israel." Perhaps Huckabee would do well to find a different poster child for his brand of second-wave compassionate conservatism. [Politico]
John McCain Must Have Amazing Calves From All This Backpedaling
John McCain has released a statement saying he misspoke when he implied that President Obama was directly responsible for the shooting in Orlando. What he said was: "I am making [my constituents] realize that Barack Obama is directly responsible for it." What he meant to say was that we're all responsible as lawmakers and public figures for contributing to a pervasive atmosphere of Islamophobia, homophobia, vilifying difference, and encouraging the use of violence, in general, and guns, in particular, as a way to air grievances and solve problems. Wait, no, of course he didn't say that. What he said was, "I was referring to President Obama's national security decisions, not the president himself." [Reuters]
THE STREET, THE VALLEY
Just in Time for That Weekend Road Trip: Oil Prices Are Up
Oil prices rose yesterday — Brent crude futures were up 38 cents — their first rise in seven days. The horrible reason for the rise was the postponement of the Brexit vote following the murder of Jo Cox, a U.K. lawmaker, on Thursday. [Reuters]
A $420 Million Deal to Save Face
Cosmetics company Revlon has announced it will buy rival Elizabeth Arden for $420 million in cash — balllerrrr — in a bid to grow its presence in the skincare marketplace. Both companies have been struggling of late and hope this acquisition will turn back the hands of time, as the products they peddle are meant to. [WSJ]
Paris Terror Victim's Father Sues Google, Facebook, and Twitter
California design student Nohemi Gonzalez was killed in the Paris terror attack in November. Now her family has filed suit in San Francisco against Google, Facebook, and Twitter, claiming the three companies knowingly allowed terrorists to open accounts, spread terror, and recruit people to their cause, thereby providing material support to terrorists and violating the Anti-Terrorism Act. A similar suit was recently thrown out. [The Guardian]
Microsoft's New Billion-Dollar Idea: Remember Drug Wars on the TI-83?
Hippy Bill Gates has been waiting his whole life for this: Microsoft has announced that it's working on software for the increasingly legal marijuana industry. In partnership with Californian marijuana startup Kind, Microsoft will develop software for governments struggling to track legal marijuana in their states. [The Verge]
MEDIA BUBBLE
Grammys Now Just Letting Anyone In
The National Academy of Recording Arts and Sciences — the group behind the Grammy Awards — announced yesterday that they would change their eligibility standards to reflect a world dominated by streaming. Now it will accept for consideration music only released on a streaming service, even if it is never released for traditional download or in any physical format. So everyone send them your SoundClouds. [NYT]
Redstone Antics Should Hold You Over Until Game of Thrones on Sunday
The long-simmering tension between Viacom's major shareholder Sumner Redstone — or the people manipulating him — and his company's board has finally bubbled over as Redstone unilaterally removed five of Viacom's directors, including its outspoken CEO Philippe Dauman. All five will remain in their posts until a Delaware court can approve the changes. [Reuters]
Backchannel Heads to Condé Nast
Widely respected tech blog Backchannel announced yesterday that it would be moving to Condé Nast where it would publish under the Wired Media Group, the home of other similar publications such as WIRED and Ars Technica. Prolific tech journalist Jessi Hempel will also come onboard as the head of the editorial department. [Backchannel]
PHOTO OP
Obama and Biden Pay Their Respects in Orlando
"They don't care about the politics," Obama said. "And neither do I, and neither does Joe."
MORNING MEME
The Shade That Lit Up the Internet
That dude is lucky to be alive.
OTHER LOCAL NEWS
Birds Give Minnesotans the Finger
There's no solution yet in the East Grand Forks severed-fingers case, in which a six-year-old child found two severed fingers on a picnic table at his family's campsite. The current theory is that the fingers might've belonged to a man from two towns over who blew up his hand with a firework last year and that they were carried to the campsite by birds with a very dark sense of humor. [Twin Cities Pioneer Press]
Hunger Affects Judgment
Two mightily stupid EMTs from Newark's University Hospital are out of a job today after they livestreamed themselves ignoring a call for assistance while waiting in line at a White Castle drive-through. This is so wrong on so many levels — everyone knows only In-N-Out is worth killing for. [CBS]
HAPPENING TODAY
Obama to Meet With High-Ranking Saudi Official
President Obama will meet with Deputy Crown Prince Mohammed bin Salman of Saudi Arabia today at the White House. The influential statesman is in town to promote his kingdom's move away from its dependence on oil, to discuss plans to combat ISIS, and to help improve the increasingly frayed relationship between the two countries. [Reuters]
Today Could Be a Historic Day for Track and Field
Olympic officials are meeting today to determine whether the Russian track and field team will be disqualified from taking place in this summer's Olympics after its rampant systematic cheating was exposed last year. [LA Times]
Great News for States With Legal Weed
Have you been wanting to try virtual reality but can't afford an Oculus Rift? Well, starting today you can head down to GameStop or Best Buy, where PlayStation's new VR system will be up and running for eager customers to try. It wouldn't be the first time we threw up in a Best Buy! [Endgadget]