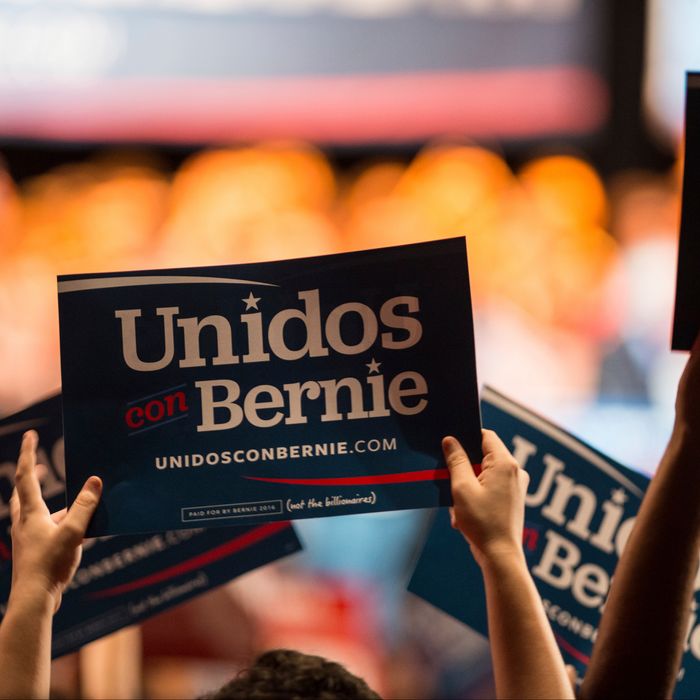 Puerto Rico wasn't a good sign for Sanders.
Photo: David Gasser/LatinContent/Getty Images/2016 David F. Gasser
Good morning and welcome to Fresh Intelligence, our roundup of the stories, ideas, and memes you'll be talking about today. In this edition, Hillary Clinton goes from success to success, Governor Cuomo boycotts boycotts, and the world's Muslims begin fasting for Ramadan. Here's the rundown for Monday, June 6.
WEATHER
Prepare for a stormy week. A tropical storm threatens the Florida coast today and tomorrow, while other severe storms are expected to make landfall up and down the East Coast including the coastlines of Maryland, Delaware, Virginia, and the Carolinas. Somehow, all of those storms should miss New York City where today will be hot — nearly 90 degrees — and cloudless. [Weather.com]
FRONT PAGE
Hillary Clinton's Puerto Rico Victory Marred by Long Lines and Harsh Words
Even as press outlets began calling Puerto Rico's Sunday Democratic primary for Hillary Clinton, tales of long lines and voting irregularities threatened to overshadow her victory, with voters often waiting for more than two hours to cast a ballot. Puerto Rico decided last month to cut its more than 1,500 polling stations down to 455. Harsh words flew from the Sanders campaign as Puerto Rican Democratic officials claimed the campaign had called for the reduction in polling places: "That's completely false. The opposite is true … They cannot blame their shoddy running of the primary on our campaign." [The Hill]
EARLY AND OFTEN
Trump Hires Another Seasoned Advisor to Ignore
Donald Trump's unorthodox campaign style continues to make Republican power players very nervous — though, apparently not nervous enough not to vote for him. Now, in a move to perhaps calm some nerves, Trump has hired Jim Murphy as his new national director and is planning more major hires in his communications team. Murphy made a name for himself in politics by heading both of Bob Dole's presidential runs — how did those turn out again? — and went on to work on the floor of three Republican conventions where he ran operations. [NYT]
Trump's Ramadan Address Misses the Mark …
Just in time for Ramadan, Donald Trump has reminded the world's 1.6 billion Muslims that he doesn't think they would make very good judges — at least not in cases involving himself. His comments followed recent similar comments that a judge in the suit brought against Trump University is biased against Trump because he's Mexican. There's been no shortage of overt racism and Islamophobia from the presumptive nominee, but obvious bigotry aside, how many times does the potential future president of the United States think he's going to be taken to court? [NYT]
… And Somehow Makes Obama Seem Even More Presidential
As a nice counterpoint to Trump's comments, President Obama made an address to the nation's Muslims saying that despite recent divisive rhetoric — who is he talking about? — he would continue to fight to accept Muslims into the United States and that he stands "committed to safeguarding the civil rights of all Americans no matter their religion or appearance." Notice the unspoken "for the next six months." [Politico]
Cuomo Boycotts Boycotts
New York governor Andrew Cuomo signed an executive order yesterday banning New York State from doing business with any groups that have signed on to the Boycott, Divestment, and Sanctions movement against Israel. In announcing the move, he took a moment to disparage Bernie Sanders, who has said the Democratic Party should take a more even-handed approach toward the Israeli-Palestinian conflict. Cuomo, who's a close ally of Democratic front-runner Hillary Clinton, made his announcement just before walking in Manhattan's annual Salute to Israel parade. [Politico]
THE STREET, THE VALLEY
The Moon Sells Out
The government is preparing to allow a private enterprise to travel beyond the earth's orbit for the first time. In a move that must equally thrill and frustrate SpaceX, a lesser-known space startup by the name of Moon Express should soon get the go-ahead to land scientific equipment on the moon next year. [WSJ]

Hackers Target Mark Zuckerberg, Don't Even Post a Fake Status
A group of hackers successfully hacked Facebook founder Mark Zuckerberg's Instagram, Pinterest, Linkedin, and Twitter accounts yesterday, leaving a message that read "Hacked by OurMine Team." Surely hacking his Facebook account would've made for better optics? [CNet]
American Airlines Switches to Internet Provider that Provides Internet
American Airline has given the contract to provide internet access in its new fleet of 737 MAX planes to ViaSat, passing over its previous service provider, Gogo. The move isn't all that surprising, as American recently sued Gogo for failing to offer adequate internet access. [TheVerge]
Tor Developer Forced Out Over Sexual-Assault Accusations
Journalist and security expert Jacob Appelbaum has left his position as a developer for the Tor Project — the anonymous web browser — after multiple accusations of rape, harassment, and sexual assault. Representatives from Tor admitted they had been aware of rumors regarding Applebaum's behavior in the past. [TheVerge]
MEDIA BUBBLE
Photojournalist and Translator Killed in Afghanistan
Veteran American photojournalist David Gilkey and Afghan translator Zabihullah Tamanna were both killed yesterday while working on assignment in Afghanistan for National Public Radio. They were killed when their vehicle was hit by a rocket during a Taliban ambush. Two other NPR employees traveling with them were unharmed. [NPR]
Kanye West Narrowly Avoids Getting Wet
The final day of New York City's most-anticipated music festival, Governors Ball, was cancelled yesterday due to weather concerns — namely thunderstorms and potential lightning strikes. Kanye West and Chvrches were slated to headline. In response to the cancellation, artists planned to perform free concerts at venues all over New York City, but Kanye's rumored 2 a.m. show at Webster Hall was canceled, leading to confusion and near riots. [Governors Ball]
Not Exactly News: Twitter Awful, J.K. Rowling Awesome
J.K. Rowling has responded — again — to the non-controversy surrounding the casting of Olivier Award–winning actress Noma Dumezweni as the series' best character, Hermione Granger. The fact that Dumezweni is black is apparently more than a vocal group of trolls can handle, but Rowling has responded to the casting choice with enthusiasm, pointing out that Hermione's race was never specified in the books.
PHOTO OP
She's Beauty and She's Grace
Deshauna Barber, a.k.a. Miss Washington, D.C., was crowned Miss USA yesterday, making her the first Army officer to ever hold the title. When not winning pageants, the 26-year-old works as an IT analyst.
MORNING MEME
The Warriors beat the Cavs in Game Two of the NBA finals last night, and to be honest it wasn't even close. Here's a good meme to send your Cavs fan friends.
OTHER LOCAL NEWS
Redneck Mud Park Aptly Named
A Florida man is in jail after an altercation over a broken cooler at Punta Gorda's Redneck Mud Park took a turn for the worst. The 24-year-old, whose ice chest was damaged, made good on threats to run over the tent of the person he thought damaged it with his ATV, not realizing that the man and his girlfriend were both sleeping inside the tent at the time. Both survived, but they look as though they've been run over by a four-wheeler. [Palm Beach Post]
Metaphorical Wings No Use for Grocery-Store Thieves
Five extremely hyper men were arrested over the weekend in Vacaville, California, when they were caught stealing flats of Red Bull energy drinks from a local grocery store. The robbers had been prolific in the way that only someone who's consumed their weight in Red Bull can be: Police discovered their U-Haul rental van packed to capacity with stolen energy drinks valued at nearly $5,000. [KOIN]
HAPPENING TODAY
Annual Dialogue With Chinese Leaders Kicks Off Today
The annual dialogue between the Obama administration and high-level Chinese officials kicks off today in the Chinese capital. This will be the last such talks of the Obama presidency, and the agenda is long to say the least: It ranges from North Korea and tensions in the South China Sea to China's currency, overproduction, and the two countries' continued co-operation over trade. [NYT]
Ramadan Mubarak!
Today is the first day of Ramadan, a holy month for the world's 1.6 billion Muslims. For the next month, devout Muslims will fast during daylight hours and will forgo drinking water. Ramadan commemorates the first revelation of the Koran to the Prophet Muhammad.
Like Everyone Else, Ohio Prosecutor Has an Opinion About Harambe
Hamilton County prosecutor Joe Deters will hold a press conference today where he will announce whether his office will press charges against the parents of the 3-year-old who fell into the Cincinnati Zoo's gorilla enclosure, forcing zoo employees to shoot and kill the gorilla: Another reminder to never underestimate how much worse something awful can get. [AP]