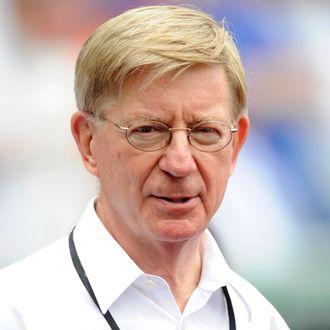 Where there is a Will, there is no way Trump will ever be acceptable.
Photo: Mitchell Layton/Getty Images
Longtime conservative columnist George Will has left the Republican Party, thanks to the impending nomination of Donald Trump. Appearing at a Federalist Society luncheon on Friday, Will, who writes for the Washington Post, confirmed that he had officially changed his voter registration from the GOP to "unaffiliated" because of Trump. The party of Trump "is not my party," Will declared in his speech. In an interview with PJ Media following the event, Will had this advice for his conservative voters: "Make sure he loses. Grit [your] teeth for four years and win the White House."
The influential columnist, who is one of the original and most die-hard #NeverTrump proponents, said in his speech he was still hoping the GOP would maintain control House and Senate, noting that, presuming Hillary Clinton wins in November, "Gridlock is not an American problem. It's an American achievement." He added that, in his estimation, a President Trump without opposition from a GOP congress would be worse for the country than a President Clinton with it.
Will also insisted that, when it came to the inevitability that a President Clinton who be able to fill at least one, if not more, Supreme Court vacancies, a GOP president was not the guaranteed path to a conservative SCOTUS anyway, pointing out that "I do not really believe Republicans think clearly enough about what they really want in judges. Republicans have given us Earl Warren, Brennan, John Paul Stevens, Burger, who was kind of mediocre, Blackmun. Having a Republican president is not an answer in itself."