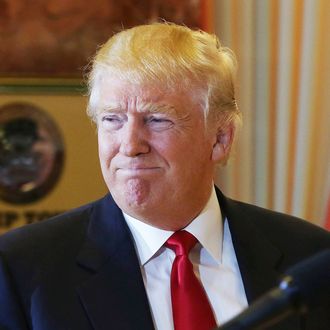 Trumped.
Photo: Spencer Platt/Getty Images
Congressman Blake Farenthold of Texas once lamented the House's failure to impeach Barack Obama. As of 2013, Farenthold was still questioning the authenticity of the president's long-form birth certificate and, thus, his qualifications for the presidency. But now the right-wing representative is trying to pass a bill promoting free speech online before the illegitimate tyrant leaves office — because he doesn't trust the great patriot he'll be voting for in November to support his conception of the First Amendment.
The legislation, co-sponsored by California Democrat Anna Eshoo, would make it harder to sue people for what they say online. About half of the states currently have statutes protecting individuals from what are known as "Strategic Lawsuits Against Public Participation" (or SLAPP) — frivolous acts of litigation designed to intimidate someone into silence. Farenthold and Eshoo co-sponsored federal anti-SLAPP legislation after a Virginia carpet cleaner's attempt to punish Yelp reviewers for defamation garnered national headlines.
The bill boasts the support of Silicon Valley titans looking to protect online speech — and conservative politicians looking to antagonize trial lawyers. But the bill's greatest enemy might be Farenthold's favorite presidential candidate.
"Obama will sign this. I don't think Trump will," the Texas Republican told Politico Wednesday.
But why wouldn't the GOP nominee support legislation that prevents the powerful from using their financial resources to suppress free speech online? I mean, besides the fact that he loves using his financial resources to suppress free speech online.
After a New York Times business editor published a book that called his stated net worth into question, Trump boasted, "I spent a couple of bucks on legal fees, and they spent a whole lot more … I did it to make his life miserable, which I'm happy about."
Trump lost that case. Politico catalogues some of the mogul's other frivolous lawsuits from just the past four years:
In 2012, the Miss Universe Organization Trump co-owned at the time brought a legal claim against a contestant in its Miss USA pageant, in part over Facebook posts in which she called the event "fraudulent." In 2013, he threatened a $25 million suit against the creator of an online petition that encouraged Macy's to "Dump Trump." That same year, he said he would teach rapper Mac Miller "a big boy lesson about lawsuits" after the musician posted a YouTube video of a wealth-fetishizing song called "Donald Trump." (Trump praised the song at first, but changed his tune after it went viral.)
In an interview with the Washington Post earlier this year, Trump suggested that he would like to expand the scope of libel laws to make it easier for public figures to sue media outlets for printing inaccurate information about them.
Critics of the Farenthold-Eshoo bill argue that nothing in the legislation limits its protections to meritless lawsuits — the Church of Scientology recently tried to use Texas's anti-SLAPP law to get a harassment case against it dismissed. However, that attempt was ultimately shot down on appeal.
Regardless, Farenthold believes his bill protects Americans' constitutional rights. And he trusts Obama — but not Trump — to sign it. This fact may have some bearing on the partisan squabble over which of these men is, in fact, a power-mad tyrant who threatens our democracy.