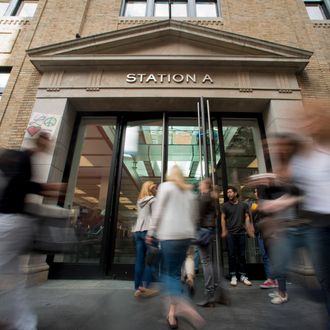 Photo: Craig Warga/Bloomberg/Getty Images
While Apple's Cupertino campus is a notoriously secretive facility with Fort Knox–like security measures, the company's thousands of Apple stores around the globe are less so.
A recent example: Some guy stole 19 iPhones by just wearing a certain shirt and walking into the back room.
As DNAinfo reports:
Police said the thief "dressed similarly" to store employees — who usually wear blue T-shirts imprinted with an Apple logo — and walked right into an electronics repair room at about 5:30 p.m. on June

 

1.
Dastardly. The Mobile Device Marauder then allegedly grabbed the iPhones from a drawer and handed them to an accomplice in the showroom. The accomplice then put them under his shirt (shirts: clearly important for this heist) and walked out.
The phones, valued at $16,130, have not yet been recovered.