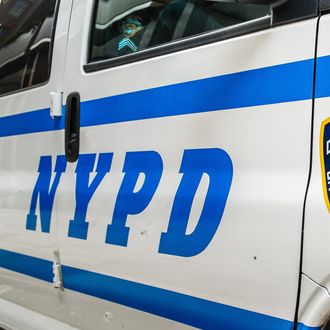 The NYPD is under scrutiny for connections to de Blasio's fundraising activities.
Photo: Edi Bähler/Getty Images
The head of the NYPD's Force Investigation Division has been placed on modified duty after being implicated in an ongoing FBI corruption probe centered around major fundraisers for Mayor Bill de Blasio.
According to the New York Daily News, Deputy Chief John Sprague, who had received a subpoena last Friday, informed the U.S. Attorney's office on Thursday that he would invoke his Fifth Amendment rights if called to testify before a federal grand jury convened as part of the investigation. He was subsequently stripped of his badge and gun.
Sprague is willing, however, to answer questions about the matter from the NYPD's Internal Affairs Bureau, his lawyer told the Daily News.
The FBI investigation, made public in April, mainly concerns Jona Rechnitz and Jeremy Reichberg, two businessmen who were prominent de Blasio fundraisers and served on his inaugural committee. The Feds are said to be looking into free meals, trips, and even diamonds the men might have given to prominent city cops, possibly in exchange for escorts at funerals and other events.
Investigators might be interested in Sprague, the Daily News adds, because he used to command Brooklyn's 66th Precinct, to which many of the officers involved in the scandal are linked. A rising star in the force, he was the first officer appointed to the Force Investigation Division, a unit formed last year to investigate all police-involved shootings, and was promoted to deputy chief on March 29, shortly before the investigation was revealed.
Sprague is one of several high-ranking cops whose careers have been derailed by the scandal. Since last week, Deputy Chiefs Eric Rodriguez, Andrew Capul, and David Colon, as well as Deputy Inspector James Grant, filed retirement papers after their names came up in the probe. Last month, Deputy Inspector Michael Ameri committed suicide after being questioned in the investigation.
For his part, de Blasio doesn't appear to be sweating the scandal: In a press conference held Thursday, the mayor said he and his office feel "very comfortable" about the investigation and expected to come out of it unsullied.