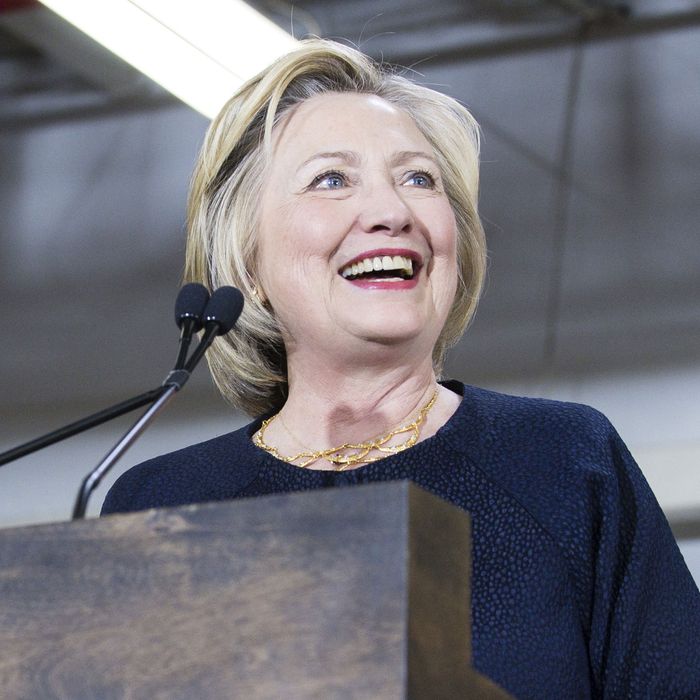 The meeting took place half an hour after Clinton won the D.C. primary.
Photo: Angelo Merendino/Getty Images
About an hour after polls closed, multiple outlets called the Democratic primary in Washington, D.C., for Hillary Clinton. Clinton won easily against Bernie Sanders — with all precincts reporting, she held around 79 percent, while Sanders held 21, according to the New York Times. Clinton became her party's presumptive nominee last week when she surpassed the number of delegates needed to clinch the Democratic nomination. At the time, Sanders declined to drop out of the race, saying he would remain in the running until the party's convention next month. In recent weeks, however, Sanders has shown signs that he'll concede to Clinton and work to unite the party against Donald Trump.
One of those signs is the nearly two-hour-long meeting Sanders had with Clinton about 30 minutes after polls in D.C. closed Tuesday night. The pair met behind closed doors at a hotel near the Capitol, with Sanders accompanied by his wife and campaign manager Jeff Weaver and Clinton flanked by campaign chair John Podesta and campaign manager Robby Mook. Although press reportedly lined the lobby and hotel perimeter, neither candidate took questions.
It was the first time the two had had a face-to-face encounter in months, and in nearly identical statements released after the meeting, both campaigns characterized it as "positive" and said the two "agreed to continue working to develop a progressive agenda that addresses the needs of working families and the middle class and adopting a progressive platform for the Democratic National Convention."
Advisers from both camps told the New York Times that things were "a little tense" going into the meeting, in part because the candidates have rarely had a chance to interact off-camera during their 14-month campaign. And while the question now is not if, but when Sanders will throw in the towel, he's reportedly willing to take his time:
Two advisers to Mr. Sanders described him as concerned that Mrs. Clinton might say all the right things now but embrace more politically moderate positions later if she thinks it necessary to win states like Florida, Ohio and Virginia.

The advisers, who spoke on the condition of anonymity because the campaign had not authorized them to speak, said Mr. Sanders felt no pressure to endorse Mrs. Clinton quickly. He wants her to take steps to win his confidence in the five and a half weeks before the Democratic convention, where his voters and delegates expect him to speak and Clinton advisers hope he will give a full-throated speech backing her.
In a news conference just before the meeting, Sanders reiterated his call for change within the Democratic party. "We're going to be bringing somewhere between 1,900 and 2,000 delegates to Philadelphia, and let me tell you what they want, they want to see the Democratic Party transformed," he said. "They want to see the Democratic Party stand up to the wealthy and powerful, and stand up for people who are hurting."
Of note was his failure to mention his master plan to win the nomination by convincing superdelegates to change their allegiances to him. But Sanders spokesperson Michael Briggs said Sanders won't drop out "today, or tomorrow, or the next day" and "plans to stay in this through the Democratic convention."
His campaign announced that he'll address supporters via livestream on Thursday to talk about how the "political revolution continues," presumably after he drops out of the race.
This post has been updated throughout.