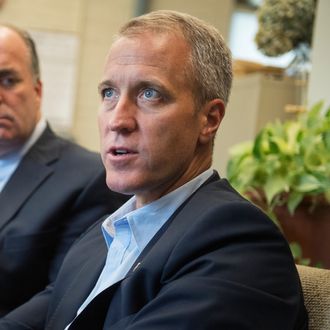 Representative Maloney has now introduced the amendment three times.
Photo: Tom Williams/2016 CQ-Roll Call, Inc.
House Republicans are yet again blocking the passage of an amendment barring federal contractors from discriminating against employees on the basis of sexual orientation or gender identity — this time by refusing to allow it to come to vote. The same amendment, proposed by New York Representative Sean Patrick Maloney, has been attached to two previous bills, both of which were quashed by Republicans: the first failed to pass after anti-gay Republicans strong-armed their colleagues into changing their votes at the last minute, and the second collapsed a few weeks later.
This third bill was slated to come up for a vote this week, the Hill reports. But the House Rules Committee failed to green-light it for a vote Tuesday night. This time, the timing is significant. Maloney and his supporters argued that passing the amendment in the aftermath of the Orlando shooting, in which a lone-wolf gunman murdered 49 people at a gay club, would show solidarity with the victims.
"It's hard to imagine that any act that is so horrific could lead to anything positive," he said. "But if we were going to do anything, it would be a very positive step to say that discrimination has no place in our law and to reaffirm the president's actions in this area. Seems to me a pretty basic thing to do." 
He compared his legislation with laws passed after the shooting at a historically African-American church in Charleston, South Carolina, restricting the use of the Confederate flag symbol. "They also responded by acting and by recognizing that symbols and language matter," he said. "Because hate has no place in our flags, in our workplace, or in our country. And it should have no place in federal law."
House leadership's decision to postpone the vote on Maloney's amendment came the same day Democrats protested Congress's failure to pass gun-control measures following the shooting. After House Speaker Paul Ryan called for a moment of silence for the victims, many Democrats walked out or loudly chanted, "Where's the bill?" "The moment of silence is an act of respect and we supported that, but it is not a license to do nothing," Representative Nancy Pelosi said at the time. "And Republicans have afforded it that power."