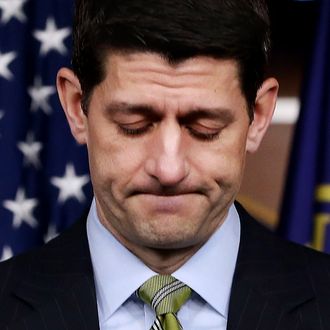 Paul Ryan was displeased.
Photo: Mark Wilson/Getty Images
A moment of silence held in the House to honor victims of the mass shooting in Orlando didn't quite proceed as House Speaker Paul Ryan had anticipated. On Monday, following the moment of silence, the House floor erupted in shouts of "Where's the bill?" as frustrated House Democrats protested their colleagues' inaction when it comes to gun-control legislation.
After the moment of silence ended, Representative James Clyburn of South Carolina requested recognition. "I am really concerned that we have just today had a moment of silence and later this week the 17th … " Clyburn said before he was interrupted by a question from Ryan.
"Yes, Mr. Speaker," Clyburn continued. "I am particularly interested about three pieces of legislation that have been filed in response to Charleston."
But Ryan, concluding that Clyburn was not in fact posing a parliamentary inquiry, shut him down and proceeded with the day's agenda, causing Democrats to take up their cry again: "Where's the bill?"
According to CNN, Clyburn was seeking action on three gun-control measures that were introduced following the shooting in Charleston, South Carolina, last year: one that allowed the gunman to buy weapons because his background check wasn't completed in three days; one that would prevent people on the FBI's terrorist watch list from buying guns; and one that would block anyone convicted of a hate crime from buying a gun. "We think having moments of silence every time something like this happens rather than fashioning some response [is a problem]," he later told reporters.
His fellow Democrats agreed. "The moment of silence is an act of respect and we supported that, but it is not a license to do nothing, and … Republicans have afforded it that power," said Representative Nancy Pelosi, while Representative William Clay of Missouri called Republicans "tone deaf" when it comes to gun control.
Meanwhile, a spokesperson for Ryan called Democrats' protest "shameful" and accused them of "us[ing] a moment of silence honoring victims of a brutal terrorist attack to advance their own political agenda."